Dure: Time to make "travel" youth soccer a part-time thing for single-digit-age kids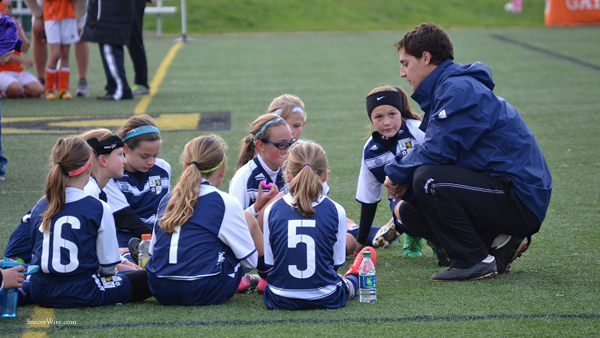 US Youth Soccer could not be clearer in its recommendations:
Under-10 players should not:
Be involved in results-oriented tournaments, only play days, jamborees or festivals with a participation award.
Be exposed to tryouts.
Be labeled recreational or competitive
You might have noticed your local club doesn't follow these recommendations. If you mention them to your fellow travel soccer parent, you'll get a blank stare, possibly followed by some rationalization of how "we have to be playing travel." People don't like to be told they've poured a couple thousand dollars into something they're not supposed to be doing.
And if you point out these recommendations, you'll find a backlash from a few different schools of thought. At the risk of going meta, we'll probably find that backlash in the comments below, but let's try to anticipate them anyway:
We're going soft and coddling our kids. (This defense was recently used in an ugly Twitter exchange in which one side was speaking on behalf of team parents taunting opposing players.)
Kids need to learn winning and losing.
Elite players need elite coaches.
Please don't make my kids play "house league"!
A couple of these are legitimate points. But suppose you could find a middle ground that backs away from tryouts and cutthroat tournaments while still encouraging challenging competition?
The answer: Part-time travel. Have house leagues and travel tournaments, the latter made up of teams assembled on an ad-hoc basis.
Note the third pillar of the US Youth Soccer recommendations: Don't label kids as "recreational" or "competitive." Frankly, they're misleading labels in the first place. Some travel coaches have managed to get their parents to buy into long-term development over short-term "competition," while a lot of "recreational" soccer borders on Thunderdome.
The real harm is that kids who may be late bloomers — in some cases, "late" being three months after the all-or-nothing tryout — are left on the outside. Clubs draw an iron curtain on the basis of a tryout in which the kid who's 8 and 11 months outshines the kid who's 8 and 1 month, leaving the latter falling farther behind.
The USA's strength should be its talent pool
As Bart Simpson said in the classic "You Only Move Twice" episode (the one with the classic Scorpio character, a New Age boss/James Bond supervillain): "Let me get this straight. We're behind the rest of our class and we're going to catch up to them by going slower than they are?"
We so often see that the "A" team at a young age is not the "A" team when they all grow up. Why deny the potential "A" teams of the future top-notch coaching at age 9?
Some clubs are pooling their travel teams into "academy" systems, sharing the exposure to the most experienced trainers and sometimes shuffling teams with generous club passes. That's a start. Opening the door even wider to allow players previously known as "recreational" to take part would be even better.
"Star" of one team, "role player" on another
You can still have "A" teams, but they would be more fluid, giving more kids an opportunity. Maybe a truly precocious and athletically advanced player is on the "A" team half the time and on other teams in different tournaments. Maybe an enthusiastic kid who doesn't yet have the speed or coordination of the top U-9s just plays a couple of travel tournaments. Those kids benefit from playing with each other in house leagues, and they learn different roles — "star" of one team, "role player" on another.
And in these tournaments — please, dial it back. We know people are going to keep score. But any parent (or coach) who thinks we need to be out for blood because our soccer culture needs to be toughened up should take a look at how they actually do things in Europe — most professional clubs' academy teams aren't playing in competitive leagues with standings until U-11 or U-12.
European countries also cast a wide net. Germany, as part of its heralded youth development reorganization, sends coaches out all over the country to work with players in or out of professional academies.
Around the world, if kids aren't in these development-first academies, they're honing their games on the streets and in the parks, where no coaches are selecting the teams and trying to win to justify their choices.
The USA's strength should be its talent pool. We are, with apologies to the late Stuart Adamson, a big country. We have to cast our net wide.
Slapping labels on 8-year-olds and segregating them is no way to cast that net.