Cal men's soccer program signs pair of Real So Cal products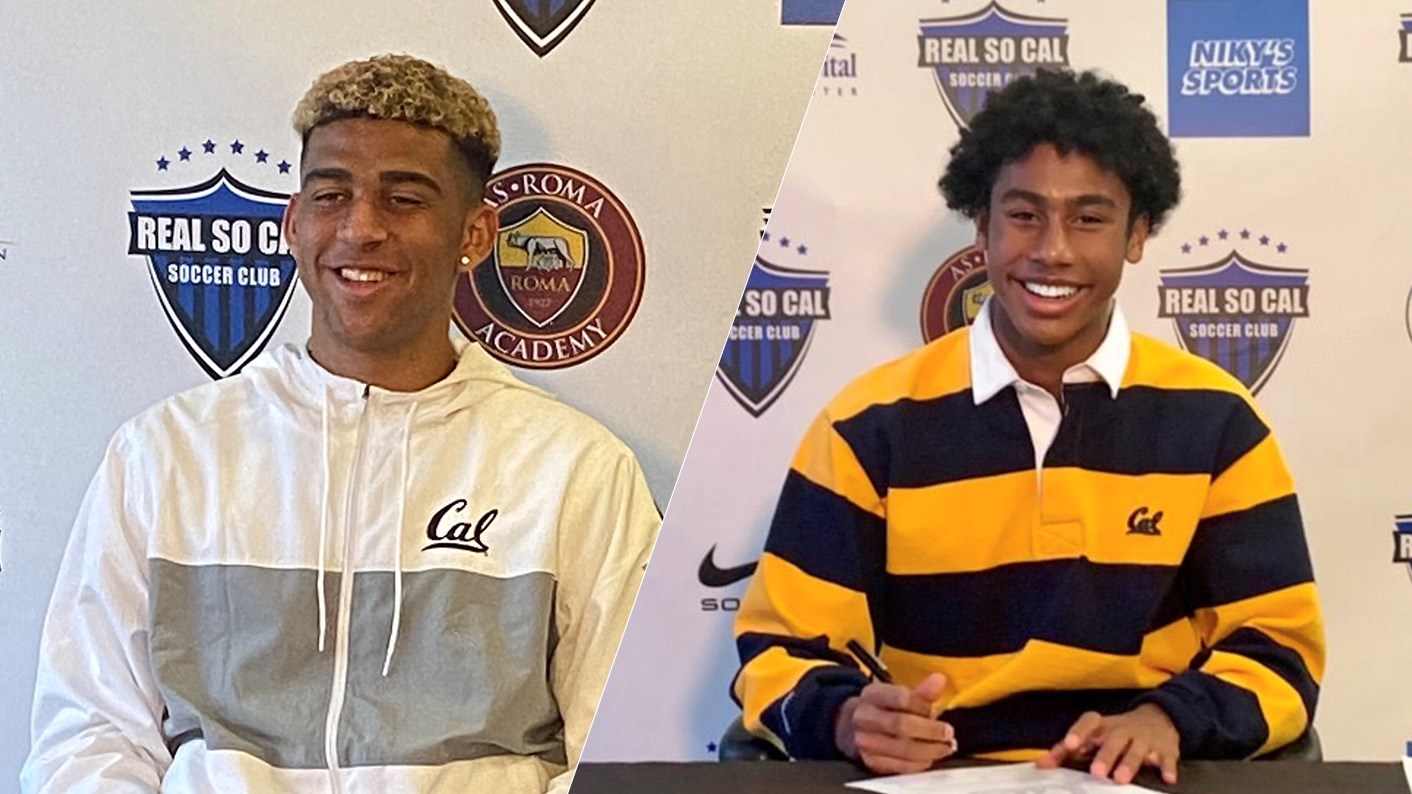 BERKELEY – The California men's soccer team has signed Kevin Carmichael and Santiago Hopkins to National Letters of Intent, head coach Kevin Grimes announced.
Both talented recruits are defenders from Southern California and compete for the Real So Cal Academy, the same club that produced Cal players Francisco Perez, Taylor Davila and Evan Davila.
"We are very pleased and excited to add both Kevin and Santiago to our team," Grimes said. "Both players come from Real So Cal Academy and have been playing extremely well leading up to the stoppage of the season. Kevin is considered one of the nation's best centerbacks and will bring a tremendous presence to the backline. With his talent, he could even play the six [defensive midfielder position] with all of the skill sets he possesses.
"Santiago has been identified as an excellent two-way player that has versatility to play 2-3 different positions on the field.  Immediately, you notice his exceptional speed along with great defensive instincts.  Both Kevin and Santiago are going to fit in perfectly with Cal."
A 6-2 native of Thousand Oaks, Carmichael attends Oaks Christian High School. He comes from an athletic family, as his mother, Beth, played softball at Cal State Northridge, while his dad, also named Kevin, played football at CSUN.
"I chose Cal because opportunities there are endless whether it's educationally or athletically," Carmichael said. "The University of California is a place where I can better myself and be put up against the best of the best. In my recruiting process I could only say that one school gave me their all and made me feel a part of their big family and that was Cal."
Hopkins, a 6-0 defender, hails from West Hills and attends El Camino Real Charter School. His father, Allen, played soccer at Westmont College and is a broadcaster who has worked for the Pac-12 Networks. The sport runs in the family, as Hopkins' older sister, Sydney, is a sophomore defender at the University of San Diego.
"To be a part of a community of such diversity and history, and to be taught by Nobel laureates, all while being able to compete for a national title, was an opportunity I just couldn't pass up," Hopkins said.
The two join a Cal program that has produced several talented defenders who have gone on to the professional ranks, including A.J. Soares (New England Revolution, MLS), Steven Birnbaum (D.C. United, MLS), Nick Lima (San Jose Earthquakes, MLS), Sam Junqua(Houston Dynamo, MLS) and Simon Lekressner (New England Revolution II, USL League One).
Lekressner was a big contributor to Cal's run to the postseason in 2019, when Cal finished 8-7-3 and upset No. 1 Washington and No. 4 Stanford in the last week of the regular season. The victory over the Huskies also made Grimes the Cal program's all-time winningest coach.