University of Portland men's soccer solidifies No. 2 ranked recruiting class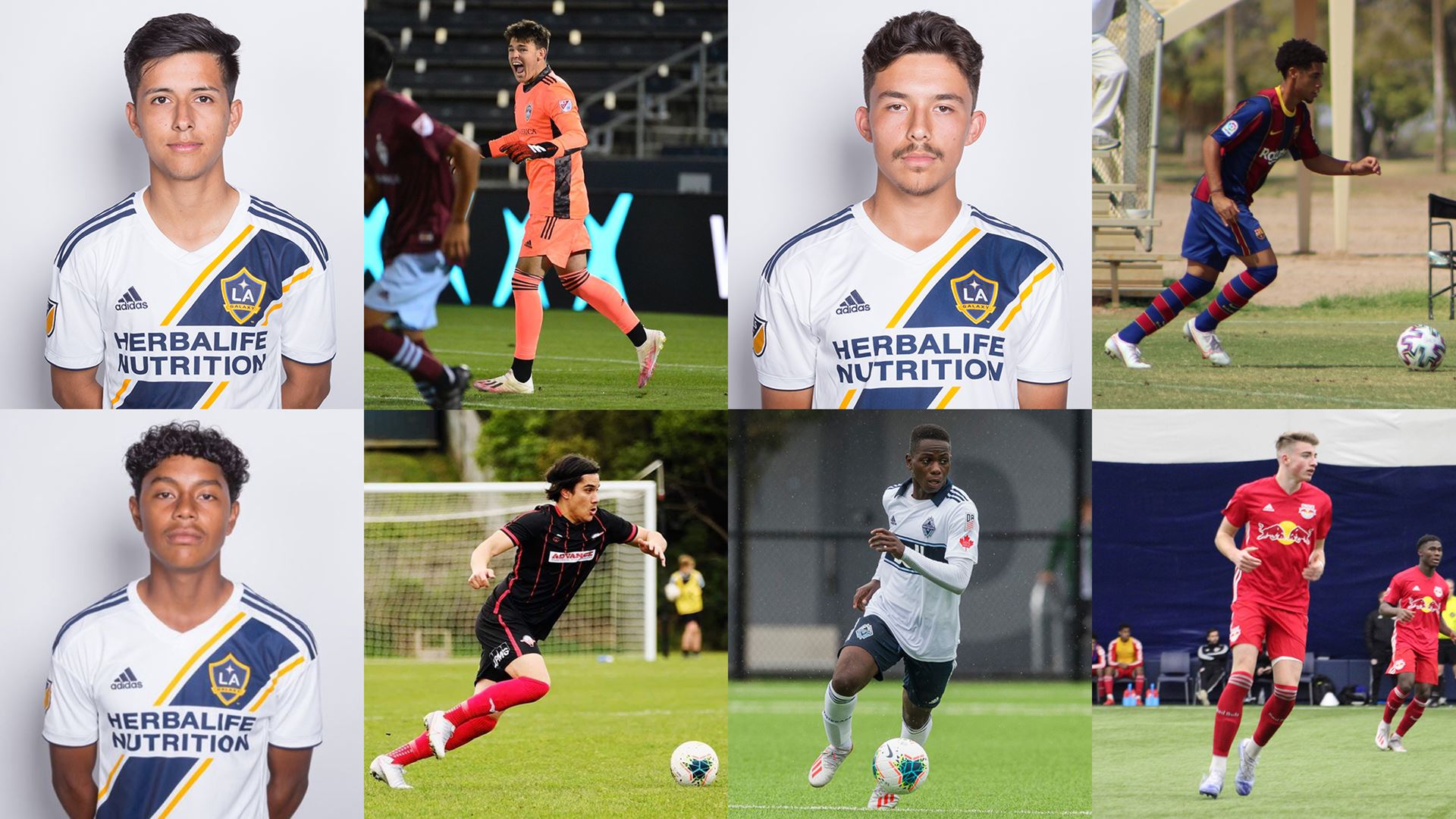 PORTLAND, Ore. – The Portland Pilots men's soccer team has received commitments from eight incoming recruits, and the group has been tabbed as the No. 2 class in the nation, ranked by Top Drawer Soccer. It's the fifth straight top 20 recruiting class for the Pilots and head coach Nick Carlin-Voigt.
"This is a versatile recruiting class that is full of high-achieving student-athletes committed to representing Portland," Carlin-Voigt said. "Academically, this group has a combined GPA average of over 3.6 and they are excited about the whole person education they will receive at UP. On the field, this class is balanced positionally and we feel we have become deeper while replacing some of the experience that graduated this past season. Geographically we continue to cast a specific footprint and dive into our established markets while developing new relationships and recruiting pipelines. We feel like this talented and hard-working group helps us reload for both the immediate and long-term future."
The Pilots will be adding eight freshmen to the roster as Adrian Aguilar (Los Angeles, Calif./Connections Academy), Andrew Cordes (Denver, Colo./East High School), Sebastian Hernandez (Lompoc, Calif./California Connections Academy), Miles Lyons (Tucson, Ariz./Catalina Foothills HS), Sebastian Nava (Wilmington, Calif./Capistrano Connections Academy), Jaylen Rodwell (Auckland, New Zealand/Tawa College), Muslim Umar (Edmonton, Alberta/Archbishop O'Leary Catholic HS), and Ty Walker (Davidson, N.C./Scholar Athletes Leadership Academy) have all committed to the program.
"In goal, Andrew Cordes will come in right away and strengthen our goalkeeping position," Carlin-Voigt said. "In the backline, we have signed five freshmen defenders we are excited about in Sebastian Hernandez, Jaylen Rodwell, Adrian Aguilar, Ty Walker, and Miles Lyons, three of whom have national team experience. We have high expectations for Sebastian Nava and Muslim Umar to help our team continue to score and create chances. When you combine members of our 2020 recruiting class like Kevin Bonilla, Oliver Larrez, and Nick Fernandez, who all reclassified and are now part of the 2021 class, we feel great about what this group can achieve together. I would also like to acknowledge the tireless work of Austin Nyquist and Ben Zemanski in helping bring in this group and assisting every step of the way in our process."
"While the national recruiting rankings reflect our hard work, the most important work is ahead as we relentlessly develop these players to reach their full potential," Carlin-Voigt added. "Looking back, our 2016 class was truly special and helped reestablish Portland soccer on the national map with three players going on to sign MLS contracts. We have high expectations for this class as well and can't wait to welcome them to The Bluff in Soccer City USA."
Adrian Aguilar
5-7, D/MF
Los Angeles, Calif./Connections Academy
Club: LA Galaxy Academy
National Ranking: 84th (Top Drawer Soccer)
Adrian Aguilar is a left back/midfielder from Los Angeles, Calif., where he played for the LA Galaxy Academy for the past four years. Aguilar also has extensive experience with the US National Team, starting with the U14's and stretching to the U18's.
Aguilar on Portland: "I chose the University of Portland because of the great academic and athletic programs the school has to offer. The school is also in a great city and the coaching staff made me feel welcome when I arrived for my visit. I knew Portland was the right place for me when I went on my visit. When I see Portland play they like to possess the ball and progress forward to play aggressively."
Carlin-Voigt on Aguilar: "Adrian is a wonderful young man who is very humble and totally committed to the student-athlete experience that is central to our mission at UP. Adrian simply loves the game and has found ways to continue to improve. He values the character instilled here at Portland and wants to be part of our special community. On the field, Adrian is a very technical player who is comfortable playing out of tight space. Once he transitions to the physical demands and speed of the college game, we see him developing into a very solid player."
Andrew Cordes
6-1, GK
Denver, Colo./East High School
Club: Colorado Rapids Academy
National Ranking: 50th (Top Drawer Soccer)
Highlight Video: http://www.hudl.com/v/2BRuV4
Andrew Cordes, a goalkeeper, comes to Portland from Denver, Colo. Cordes has taken part in multiple US Soccer Training Centers (U10-U14) and he has three years (U14-U17) experience playing for the US National Teams. Cordes is a team captain with the Colorado Rapids Academy, and he's spent time with the Colorado Rapids first team. He's also played with the Colorado Springs Switchbacks of the USL, and helped his academy team reach the was a GA Cup U17 Semifinals.
Cordes on Portland: "I picked Portland not only for the top-class soccer program, but for the amazing culture and people I will be around for four years."
Carlin-Voigt on Cordes: "Andrew is a very good shot stopper and leader for his club team who has been part of numerous youth national team pools in our country. He has had wonderful training stints with the Colorado Rapids first team and USL affiliate in Colorado Springs. We are excited to bring him into our soccer family and help him reach his full potential both on and off the field. He's someone who has a rich youth soccer pedigree and now his challenge will be to enter our program and develop into a leader in the college game and winner both on and off the field. Andrew is someone I'm excited to work with and our staff thinks he can add to the rich history of American goalkeepers here at Portland."
Sebastian Hernandez
5-10, D
Lompoc, Calif./California Connections Academy
Club: LA Galaxy 2
National Ranking: 82nd (Top Drawer Soccer)
Sebastian Hernandez is a defender, who originally hails from Lompoc, Calif. Hernandez played club for the LA Galaxy Academy and saw time with the LA Galaxy 2 in 2020, making his first start against Portland Timbers 2. He also took part in the US Youth National U16 Team Camp. Additionally, Hernandez earned all-region first-team honors in limited high school action, helping his team win the Los Padres League Championship.
Hernandez on Portland: "I chose to commit to Portland because of the atmosphere that the head coach and assistant coach brought to me and my family. It also helped due to how soccer is the sport of the school and that really caught my attention."
Carlin-Voigt on Hernandez: "The first time I saw Hernandez I immediately noticed a combination of competitive grit and athleticism that is needed in our game model. In this class, we made it a big priority to recruit defenders who can play more than one position. With the youth national teams, we saw Sebastian excel at right center back, and most recently he has played outside back with the Galaxy. Sebastian can run with bigger athletic forwards and is smart enough to deal with smaller dynamic attackers. Every time we watched Sebastian play with LA Galaxy 2, he did very well playing against older seasoned pros in the USL. We are excited to welcome Sebastian to Soccer City USA and I know he will enjoy representing our program and playing in front of the Villa Drum Squad."
Miles Lyons
5-8, D
Tucson, Ariz./Catalina Foothills HS
Club: Barcelona Academy (USA)
Video Highlights: https://www.hudl.com/video/3/11535472/5e8108dfb018b00c8030e98a
Miles Lyons is an outside back out of Catalina Foothills High School in Tucson, Ariz. Lyons has spent the past three years playing club for the Barcelona Academy, and with the U17 team he went undefeated at the DA Summer Showcase in San Diego in 2019. Previously, Lyons earned all-conference recognition in the ECNL with his TSA club team. He also played with Arizona ODP, reaching the finals twice, and he was with the region team, competing in Sweden where they took first place at the Gothia Cup.
Lyons on Portland: "I chose to come to Portland because of the attractive style of soccer they play, along with the positive environment that they seem to create."
Carlin-Voigt on Lyons: "Miles comes from a top academy in Barcelona, who play a very attacking, attractive brand of soccer. I'm a big fan of how they train and develop players and we are excited to sign our third player from their academy. Miles is an athletic attacking right back who will only continue to develop in our program and had done very well for one of the top academy teams in the country. We are excited to welcome him to our program and soccer family, and I know he will enjoy everything the program and city has to offer, and he'll have a wonderful experience here on The Bluff."
Sebastian Nava
5-8, MF
Wilmington, Calif./Capistrano Connections Academy
Club: LA Galaxy 2
National Ranking: 25th (Top Drawer Soccer)
Sebastian Nava is a midfielder from Wilmington, Calif., who spent 2020 playing for LA Galaxy 2, a USL playoff team. He also scored five goals in 11 starts with the LA Galaxy Academy U19 team. Previously, Nava won a pair of state cups and a national title with his club teams. Nava also has national team experience, playing with the US U14's.
Nava on Portland: "I chose Portland because I believed it was the best school for me to develop into becoming a greater human being."
Carlin-Voigt on Nava: "Sebastian is a dynamic young winger who has the ability to break open a game off the dribble. He has a fearless mentality to make plays and unbalance defenders. Early on we targeted Nava as our top winger on the West Coast and we are excited he's a Pilot. He is equally as excited to help our shared vision come alive. Sebastian played major minutes for LA Galaxy 2 this past year, a club that made the playoffs with the youngest roster in the USL. He follows a long line of dynamic attackers who we have helped develop into future pros. I know our fans will enjoy watching Sebastian play on Merlo. He reminds me of Pilot alum Rey Ortiz as he brings flair, creativity, and unpredictability to the front half.  Nava will be able to play on either wing and we are excited to start working with him as we add ideas to his game on both sides of the ball."
Jaylen Rodwell
6-0, D/MF
Auckland, New Zealand/Tawa College
Club: Western Suburbs FC
Video Highlights: www.youtube.com/watch?v=cYFis0uJCC8
Jaylen Rodwell comes to The Bluff from Auckland, New Zealand. A defender/midfielder, Rodwell played with New Zealand's U20 team. He also won the Central League Title with his club team, Western Suburbs FC.
Rodwell on Portland: "I chose to commit to UP because I personally believe it is the ideal environment in progressing in my football career and will give me the best chance of achieving my goals not only as a footballer but also as a person. The Portland program seems very professional and has intrigued me to finalize my decision for the next four years."
Carlin-Voigt on Rodwell: "Jaylen comes from the very successful Ole Academy in New Zealand, who play a brand of slick passing football. Jaylen is a ball playing center back, who comes highly recommended from the New Zealand National Team program as he looks to play a major role with the upcoming U20 National Team. We feel Jaylen is very clean passing out of the back. We have had our eye on bringing in Kiwi players in the past, and I know he will come in with the right mindset to help drive our team forward culturally. Kiwi players are usually awesome for the life of a locker room and I know he will appreciate being part of our program, while adding to our rich history and traditions in the Pilot family."
Muslim Umar
5-11, F/MF
Edmonton, Alberta/Archbishop O'Leary Catholic HS
Club: BTB Academy
From Edmonton, Alberta, Muslim Umar is a striker who plays for BTB Academy after previously playing in the Vancouver Whitecaps Academy. Umar claimed multiple Provincial Golden Boots, and he was a Provincial Gold Medalist twice.
Umar on Portland: "I chose Portland because it felt like a home to me. UP was my first choice because the atmosphere of the school was incredible, and I see myself achieving so much in Portland."
Carlin-Voigt on Umar: "Muslim is a dynamic striker who has the ability to stretch the game and run behind defenders. I love to have pacey athletic strikers who can cause problems with their mobility and movement. The top teams have strikers who can pull a rabbit out of a hat and we think over time Muslim will become a player that can score goals for us. We believe we signed a young man who flew under the radar and could be the hidden gem in the class. Muslim understands the opportunity at hand here at Portland, and we fully expect him to take advantage of the opportunity presented with his everyday mentality, humility and positive attitude."
Ty Walker
6-4, D
Davidson, N.C./Scholar Athletes Leadership Academy
Club: New York Red Bulls Academy
Highlight Video: www.hudl.com/profile/10202063/Ty-Walker
Ty Walker, a defender, plays for the New York Red Bulls Academy and is originally from Davidson, N.C. Walker also has significant time training with Red Bulls 2 of the USL, and he played with Indiana ODP for three years. He was on the ODP Region II Roster in 2017.
Walker on Portland: "I chose Portland because they can help me achieve my dream of becoming a professional and provide me with a great education."
Carlin-Voigt on Walker: "Ty is a 6-4 left footed CB we first saw in the MLS GA Cup. When talking about Ty, the word that comes to mind is 'potential' due to his size and left foot. He had invaluable experience training with Red Bulls 2, which does a great job developing young players. Ty has recently hit a huge growth spurt and the modern game demands CB's who are able to not just defend the box but start attacks and help your team breaks lines in the build. Ty was excited about our soccer culture here and we are excited to start helping him develop both on and off the field."