Boys Fall High School Soccer Rankings: October 26, 2021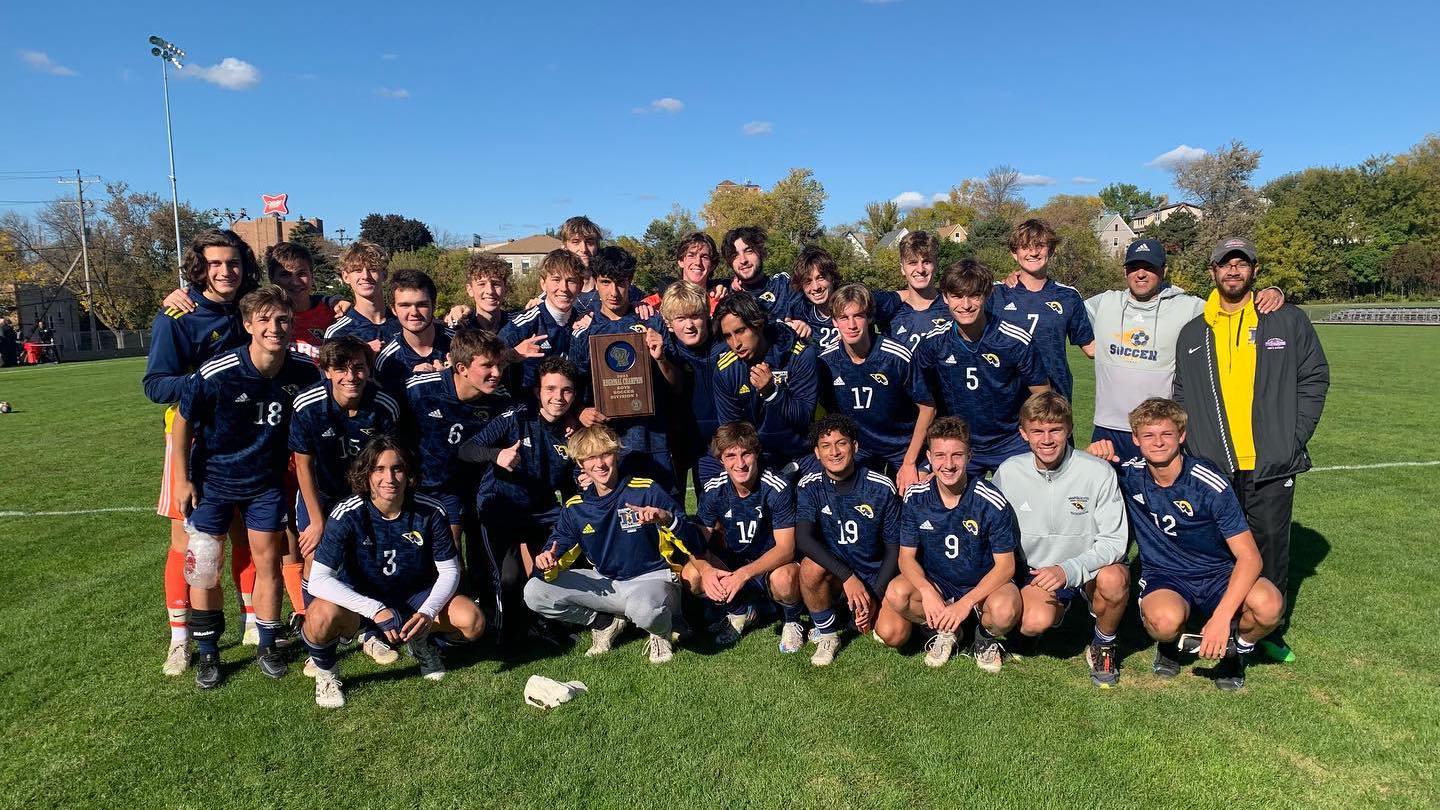 A new set of Boys Fall 2021 High School Soccer Rankings have been revealed by United Soccer Coaches.
St. Ignatius (Cleveland, Ohio) continues its stronghold on the No. 1 spot with their unblemished 17-0-0 record, followed by St. Benedict's Prep (Newark, N.J.) and their perfect 11-0-0 record. Marquette University High (Milwaukee, Wis.) has jumped up two slots to the No. 3 position, after recently capturing their regional championship (pictured above).
Rounding out the top five are St. Louis University High (St. Louis, Mo.) and Brentwood (Brentwood, N.Y.). See below for a full look at the latest top 25 poll.
FALL BOYS – NATIONAL – POLL 8 – OCTOBER 26, 2021
| Rank | School | Prev | W-L-T |
| --- | --- | --- | --- |
| 1 | St. Ignatius (Cleveland, Ohio) | 1 | 17-0-0 |
| 2 | St. Benedict's Prep (Newark, N.J.) | 2 | 11-0-0 |
| 3 | Marquette University High (Milwaukee, Wis.) | 5 | 19-1-1 |
| 4 | St. Louis University High (St. Louis, Mo.) | 6 | 21-1-1 |
| 5 | Brentwood (Brentwood, N.Y.) | 11 | 15-1-0 |
| 6 | Nashua South (Nashua, N.H.) | 7 | 15-0-1 |
| 7 | Conestoga (Berwyn, Pa) | 8 | 18-0-0 |
| 8 | Summit (Bend, Ore.) | 23 | 12-0-1 |
| 9 | George Washington (Charleston, W.Va.) | 9 | 19-1-1 |
| 10 | New Albany (New Albany, Ohio) | 10 | 17-0-0 |
| 11 | Martin Luther King, Jr. (New York, N.Y.) | 3 | 14-0-1 |
| 12 | Dodge City (Dodge City, Kan.) | 12 | 15-0-1 |
| 13 | Troy (Troy, Mich.) | 16 | 17-0-4 |
| 14 | New Hanover (Wilmington, N.C.) | 15 | 16-0-1 |
| 15 | Nauset Regional (Eatham, Mass.) | 14 | 12-0-2 |
| 16 | La Cueva (Albuquerque, N.M.) | 13 | 16-1-1 |
| 17 | Pingry School (Basking Ridge, N.J.) | 17 | 17-0-0 |
| 18 | Fayetteville-Manlius (Manlius, N.Y.) | 19 | 16-0-1 |
| 19 | New Trier (Winnetka, Ill.) | 18 | 17-1-1 |
| 20 | Noblesville (Noblesville, Ind.) | 20 | 19-1-1 |
| 21 | Collegiate School (Richmond, Va.) | 21 | 14-0-0 |
| 22 | Boulder (Boulder, Colo.) | NR | 12-2-1 |
| 23 | Clarkston (Clarkston, Mich.) | 25 | 15-2-1 |
| 24 | Xavier (Middletown, Conn.) | 22 | 9-0-1 |
| 25 | Minneapolis Southwest (Minneapolis, Minn.) | NR | 14-0-2 |
Records shown are through games of Oct. 24, 2021
Also receiving votes: Seton Hall Prep (West Orange, N.J.), Maine Endwell (Endwell, N.Y.), McDonogh School (Owings Mills, Md.), Daviess County (Owensboro, Ky.), Las Vegas (Las Vegas, Nev.), Yarmouth (Yarmouth, Maine), Rockhurst (Kansas City, Mo.), Central Dauphin (Harrisburg, Pa.), Boylan Catholic (Rockford, Ill.), John Jay (East Fishkill, N.Y.), Caesar Rodney (Camden, Del.), LaSalle Academy (Providence, R.I.), Carmel (Carmel, Ind.), Fort Collins (Fort Collins, Colo.), Whitefish Bay (Whitefish Bay, Wis.), Seneca Valley (Harmony, Pa.), Timberline (Boise, Idaho), St. Anthony's (Melville, N.Y.)