Boys Fall 2022 High School All-America Teams revealed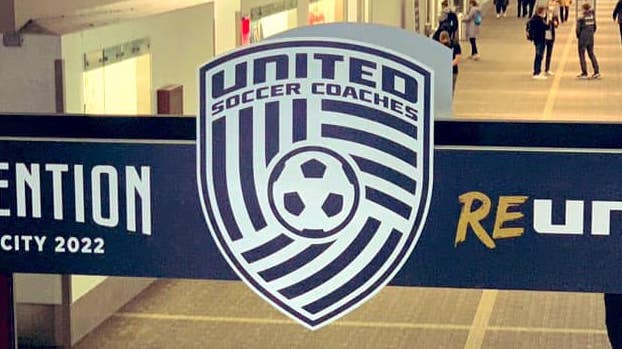 KANSAS CITY, Mo. – United Soccer Coaches announced the association's High School Boys and Girls All-America Teams for the Fall 2022 season. Among the 143 High School All-Americans (81 boys, 62 girls), 12 girls and eight boys earn All-America recognition for a second time in their high school careers.
To view the final Boys Fall 2022 High School Rankings, click here. Players on this year's United Soccer Coaches High School All-America Teams will be recognized for their accomplishments at the All-America Ceremony & Reception on Saturday, Jan. 14, 2023 at the Pennsylvania Convention Center in Philadelphia in conjunction with the United Soccer Coaches Convention.
2022 Fall High School Boys All-America Team
*Indicates previous selection
| | | | | |
| --- | --- | --- | --- | --- |
| Pos | Name | Class | School | Hometown |
| K | Saed Anabtawi* | Sr. | Canterbury School | Fort Wayne, Ind. |
| K | Wyatt Dupell | Sr. | Cicero-North Syracuse High School | Cicero, N.Y. |
| K | Will Garinger | Sr. | Worthington Christian School | Westerville, Ohio |
| K | Alex Kron | Sr. | St. Xavier High School | Louisville, Ky. |
| D | Dante DeGenova | Sr. | Cardinal Mooney High School | Youngstown, Ohio |
| D | Aidan Friel | Sr. | Connetquot High School | Bohemia, N.Y. |
| D | Drew Gaydosh | Jr. | Centerville High School | Centerville, Ohio |
| D | Samuel Husson | Sr. | Windham High School | Windham, N.H. |
| D | Gus Peacock* | Sr. | Wyoming High School | Wyoming, Ohio |
| D | Will Smith | Sr. | Whitefish Bay High School | Whitefish Bay, Wis. |
| D | Shane Velez | Sr. | Pennridge High School | Perkasie, Pa. |
| M | Kojo Adjei | Sr. | Warwick Valley High School | Warwick, N.Y. |
| M | Jack Banks | Sr. | Brunswick High School | Brunswick, Maine |
| M | Alex Barger* | Sr. | Naperville North High School | Naperville, Ill. |
| M | Harry Bertos | Sr. | Brooks School | North Andover, Mass. |
| M | Luke Chatten | Sr. | Haddon Township High School | Westmont, N.J. |
| M | Samir Dishnica | Sr. | Cheshire High School | Cheshire, Conn. |
| M | Eli Eyrich | Sr. | Yellow Springs High School | Yellow Springs, Ohio |
| M | Grayson Fletcher | Sr. | Bexley High School | Bexley, Ohio |
| M | Connor Froberg | Sr. | North Kingstown High School | North Kingstown, R.I. |
| M | Nico Galeano | Sr. | Scarsdale High School | Scarsdale, N.Y. |
| M | Cameron Gerber | Sr. | Boulder High School | Boulder, Colo. |
| M | Vitor Geromel | Jr. | Maize South High School | Wichita, Kan. |
| M | Daniel Istambouli | Sr. | South Kent School | South Kent, Conn. |
| M | Max Juengermann | Sr. | Rock Bridge High School | Columbia, Mo. |
| M | Bakary Kante | Jr. | Rockhurst High School | Kansas City, Mo. |
| M | Gavin Kreitmeir | Sr. | Waukesha West High School | Waukesha, Wis. |
| M | Thaddeus Liquori | Sr. | Worcester Academy | Worcester, Mass. |
| M | Beaux Lizewski | Sr. | George Williams High School | Harmony, Pa. |
| M | Ezekiel Lubin | Sr. | Denver East High School | Denver, Colo. |
| M | Ben Madore | Sr. | Calvert Hall College High School | Towson, Md. |
| M | Owen Marshall | Sr. | Marquette University High School | Milwaukee, Wis. |
| M | Dilin Meloni | Sr. | Needham High School | Needham, Mass. |
| M | Casey Milliken | So. | Oliver Ames High School | Easton, Mass. |
| M | Keegan Mulroony | Sr. | Voorhees High School | Glen Gardner, N.J. |
| M | Joaquin Niehenke | Sr. | Seton Hall Prep | West Orange, N.J. |
| M | Sam Nyenka | Sr. | Lower Merion High School | Ardmore, Pa. |
| M | Nico Pendleton | Sr. | Mill Valley High School | Shawnee, Kan. |
| M | Aiden Ptacek | Sr. | University School | Hunting Valley, Ohio |
| M | Jason Purks | Sr. | Oakwood High School | Dayton, Ohio |
| M | Noah Reinhart | Sr. | Fishers High School | Fishers, Ind. |
| M | Martin Rivera | Sr. | John T. Hoggard High School | Wilmington, N.C. |
| M | Nolan Spicer | Sr. | St. Ignatius High School | Cleveland, Ohio |
| M | Zachary Spitznagle | Sr. | Champlain Valley Union High School | Hinesburg, Vt. |
| M | Tyler Travis | Sr. | Hudson High School | Hudson, Ohio |
| M | Londell Wheeler | Sr. | Glen Cove High School | Glen Cove, N.Y. |
| F | Chase Adams | Fr. | Naperville Central High School | Naperville, Ill. |
| F | Lucas Almeida* | Sr. | William H. Hall High School | West Hartford, Conn. |
| F | Gabe Anthony | Sr. | New Albany High School | New Albany, Ohio |
| F | Dominic Bartoni | Jr. | Christian Brothers College High School | St. Louis, Mo. |
| F | Esube Byoke | Jr. | East High School | Kansas City, Mo. |
| F | Owen Bull | Jr. | Trumbull High School | Trumbull, Conn. |
| F | Myles Culley | Sr. | Waynflete School | Portland, Maine |
| F | Gage Daniels | Sr. | Olathe West High School | Olathe, Kan. |
| F | Mason Diercks | Sr. | Oregon High School | Oregon, Wis. |
| F | Samuel Divis | Sr. | Noblesville High School | Noblesville, Ind. |
| F | Oliver Doyle | Sr. | Webster Groves High School | Webster Groves, Mo. |
| F | Will Fallona | Sr. | Scarborough High School | Scarborough, Maine |
| F | Connor Gage* | Jr. | Verona Area High School | Verona, Wis. |
| F | Brady Geho | Sr. | Archbishop Curley High School | Baltimore, Md. |
| F | Daniel Goba | Sr. | North Kingstown High School | North Kingstown, R.I. |
| F | Joe Highfield | Sr. | Wayzata High School | Plymouth, Minn. |
| F | Emilio Hinojosa | Sr. | Rabun Gap-Nacoochee School | Asheville, N.C. |
| F | Ethan Jacobs* | Sr. | Bay High School | Bay Village, Ohio |
| F | Kelly Janssen | Sr. | Western Reserve Academy | Hudson, Ohio |
| F | Matthew Jenkins | Sr. | Collegiate School | Richmond, Va. |
| F | Drew Leardini | Jr. | Lewiston Porter High School | Youngstown, N.Y. |
| F | Colin Link | Sr. | Copley High School | Copley, Ohio |
| F | Richard Ludwig | Sr. | Clarkston High School | Clarkston, Mich. |
| F | Noah Malcook | Sr. | Oregon High School | Oregon, Wis. |
| F | Austin Miller | Sr. | Shawnee High School | Lima, Ohio |
| F | Mike Orlov | Sr. | Wayzata High School | Plymouth, Minn. |
| F | Bennett Painter | Sr. | Anderson High School | Cincinnati, Ohio |
| F | Myles Palmer | Sr. | Fairport High School | Fairport, N.Y. |
| F | Roberth Perez | Sr. | Amityville Memorial High School | Amityville, N.Y. |
| F | Kyle Pierson | Sr. | Detroit Catholic Central High School | Novi, Mich. |
| F | Drew Roskos* | Jr. | Delran High School | Delran, N.J. |
| F | Jake Ross* | Sr. | Salesianum School | Wilmington, Del. |
| F | Finnegan Saunders | Sr. | Sandia Preparatory School | Albuquerque, N.M. |
| F | Andreas Shaboo | Jr. | Bethel High School | Bethel, Conn. |
| F | Alexander Walker | Sr. | E.A. Laney High School | Wilmington, N.C. |