Full list of attending teams for MLS NEXT Fest 2022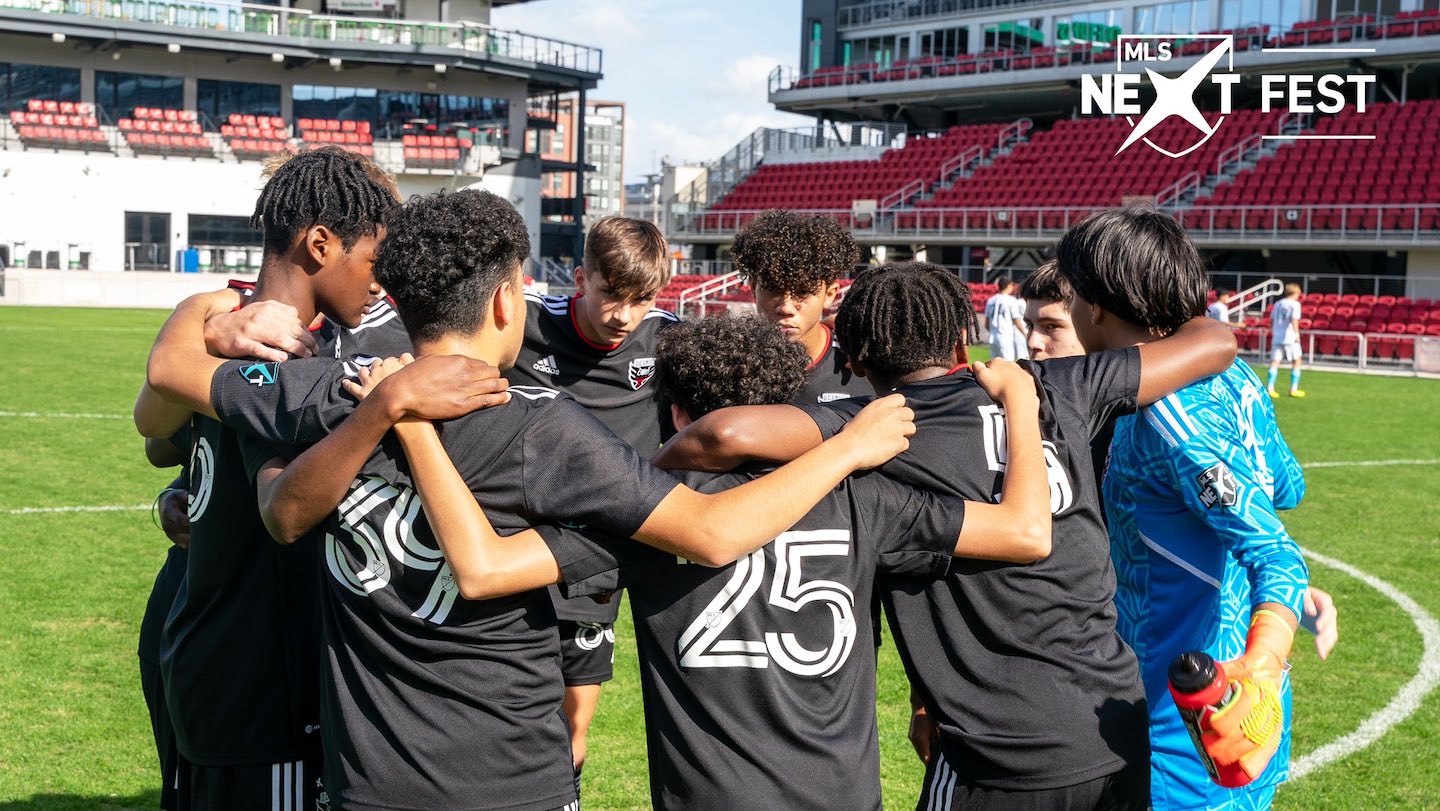 The 2022 edition of MLS NEXT Fest is featuring over 300 of the top youth teams from across the United States and Canada. Teams will be competing in brackets for both the MLS NEXT Fest Showcase and Generation adidas Cup qualifiers at the event.
The seven-day event held at the Empire Polo Ground in Indio, Calif. from December 2-8, 2022, provides an opportunity for North America's top youth talent to be seen by college, national team and professional scouts and coaches in a single location.
For the full schedule of the week's games and activities by age group and event, please click HERE.
See below for a full list of teams that are playing in MLS NEXT Fest this week.
U13 Teams
Achilles FC
ALBION SC Merced
ALBION SC San Diego
Baltimore Armour
Bayside FC
Breakers FC
Chicago Fire
City SC
CUP SC
De Anza Force
Diablo Valley Wolves
FC Boston Bolts
FC Golden State
FC United Soccer Club
IdeaSport Soccer Academy
Inter Atlanta FC
Intercontinental FA
Javanon FC
LA Galaxy
LA Surf Soccer Club
LA United Futbol Academy
Los Angeles Football Club
Michigan Jaguars
New York Soccer Club
Nomads
Phoenix Rising FC
Players Development Academy
RSL Arizona
RSL Arizona Mesa
Sacramento United
San Francisco Glens
San Jose Earthquakes
Santa Barbara Soccer Club
SoCal Reds FC
Southern Soccer Academy
Sporting Kansas City
Springfield SYC Soccer
St. Louis Scott Gallagher
Total Football Club
Total Futbol Academy
TSF Academy – NJ
Valeo FC
Vardar
Ventura County Fusion
West Florida Flames
U14 Teams
Achilles FC
ALBION SC Las Vegas
ALBION SC Merced
ALBION SC San Diego
Baltimore Armour
Bayside FC
Breakers FC
Chicago Fire
Chula Vista FC
City SC
De Anza Force
Diablo Valley Wolves
FC Boston Bolts
FC Golden State
FC United Soccer Club
IdeaSport Soccer Academy
Inter Atlanta FC
Intercontinental FA
Javanon FC
LA Galaxy
LA Surf Soccer Club
LA United Futbol Academy
Los Angeles Football Club
Louisiana TDP Elite
Michigan Jaguars
Midwest United
Murrieta Soccer Academy
New York Soccer Club
Phoenix Rising FC
Players Development Academy
Queen City Mutiny
RSL Arizona
RSL Arizona Mesa
Sacramento United
San Francisco Glens
San Jose Earthquakes
Santa Barbara Soccer Club
SC Wave
SoCal Reds FC
Southern Soccer Academy
Sporting Kansas City
Springfield SYC Soccer
St. Louis Scott Gallagher
Toronto FC Academy
Total Football Club
Total Futbol Academy
Triangle United
TSF Academy – NJ
Valeo FC
Vardar
Ventura County Fusion
Wake FC
West Florida Flames
U15 Teams
ALBION SC San Diego
Alexandria SA
Atlanta United FC
Austin FC
Ballistic United
Baltimore Armour
Barca Residency Academy
Bethesda SC
Breakers FC
BW Gottschee Academy
CF Montréal
Chargers Soccer Club
Charlotte FC
Chicago Fire
Chula Vista FC
City SC
Colorado Rapids
Columbus Crew
DC United
De Anza Force
FC Boston Bolts
FC Cincinnati
FC Dallas
FC DELCO
FC Golden State
FC United Soccer Club
Hoover-Vestavia Soccer
Houston Dynamo
IMG Academy
Inter Miami CF
LA Galaxy
LA Surf Soccer Club
LA United Futbol Academy
Los Angeles Football Club
Louisiana TDP Elite
Miami Rush Kendall SC
Michigan Jaguars
Michigan Wolves
Midwest United
Minnesota United FC
Murrieta Soccer Academy
Nashville SC
New England Revolution
New York City FC
New York Red Bulls
New York Soccer Club
Nomads
Oakwood Soccer Club
Orlando City SC
Philadelphia Union
Phoenix Rising FC
Players Development Academy
Portland Timbers
Real JFC
Real Salt Lake
RSL Arizona
Sacramento Republic
Sacramento United
San Francisco Glens
San Jose Earthquakes
Santa Barbara Soccer Club
SC Del Sol
Seacoast United
Seattle Sounders FC
Silicon Valley SA
Solar Soccer Club
South Florida Football Academy
Southern Soccer Academy
Sporting Kansas City
Springfield SYC Soccer
St. Louis City SC
St. Louis Scott Gallagher
Strikers FC
Toronto FC Academy
Total Football Club
Total Futbol Academy
TSF Academy – NJ
Vancouver Whitecaps FC
Vardar
Ventura County Fusion
West Florida Flames
Weston FC
U16 Teams
ALBION SC San Diego
Alexandria SA
Atlanta United FC
Austin FC
Ballistic United
Baltimore Armour
Barca Residency Academy
Bavarian United SC
Bayside FC
Bethesda SC
Breakers FC
BW Gottschee Academy
CF Montréal
Chargers Soccer Club
Charlotte FC
Chicago Fire
Chula Vista FC
City SC
Colorado Rapids
Columbus Crew
DC United
De Anza Force
FC Boston Bolts
FC Cincinnati
FC Dallas
FC DELCO
FC Golden State
FC United Soccer Club
Hoover-Vestavia Soccer
Houston Dynamo
IMG Academy
Inter Miami CF
Jacksonville FC
KSA
LA Galaxy
LA Surf Soccer Club
LA United Futbol Academy
Los Angeles Football Club
Louisiana TDP Elite
Miami Rush Kendall SC
Michigan Jaguars
Michigan Wolves
Midwest United
Minnesota United FC
Murrieta Soccer Academy
Nashville SC
New England Revolution
New York City FC
New York Red Bulls
New York Soccer Club
Nomads
Oakwood Soccer Club
Orlando City SC
Philadelphia Union
Phoenix Rising FC
Players Development Academy
Portland Timbers
Real JFC
Real Salt Lake
RSL Arizona
Sacramento Republic
Sacramento United
San Francisco Glens
San Jose Earthquakes
Santa Barbara Soccer Club
SC Del Sol
Seacoast United
Seattle Sounders FC
Silicon Valley SA
Solar Soccer Club
South Florida Football Academy
Southern Soccer Academy
Sporting Kansas City
Springfield SYC Soccer
St. Louis City SC
St. Louis Scott Gallagher
Strikers FC
Toronto FC Academy
Total Football Club
Total Futbol Academy
TSF Academy – NJ
Vancouver Whitecaps FC
Vardar
Ventura County Fusion
West Florida Flames
Weston FC
U17 Teams
ALBION SC San Diego
Alexandria SA
Atlanta United FC
Austin FC
Ballistic United
Baltimore Armour
Barca Residency Academy
Beachside Soccer Club CT
Bethesda SC
Breakers FC
BW Gottschee Academy
Cedar Stars Academy – Bergen
Cedar Stars Academy – Monmouth
CF Montréal
Chargers Soccer Club
Charlotte FC
Chicago Fire
Chula Vista FC
City SC
Colorado Rapids
Columbus Crew
DC United
De Anza Force
FC Boston Bolts
FC Cincinnati
FC Dallas
FC DELCO
FC Golden State
FC United Soccer Club
FC Westchester New York
Hoover-Vestavia Soccer
Houston Dynamo
IMG Academy
Inter Miami CF
Jacksonville FC
KSA
LA Galaxy
LA Surf Soccer Club
LA United Futbol Academy
Los Angeles Football Club
Louisiana TDP Elite
Met Oval
Miami Rush Kendall SC
Michigan Jaguars
Michigan Wolves
Midwest United
Minnesota United FC
Murrieta Soccer Academy
Nashville SC
New England Revolution
New York City FC
New York Red Bulls
New York Soccer Club
Nomads
Orlando City SC
Orlando City Youth Soccer
PA Classics
Philadelphia Union
Phoenix Rising FC
Players Development Academy
Portland Timbers
Real Colorado
Real JFC
Real Salt Lake
RISE Soccer Club
Rochester NY FC Academy
RSL Arizona
Sacramento Republic
Sacramento United
San Francisco Glens
San Jose Earthquakes
Santa Barbara Soccer Club
SC Del Sol
Seacoast United
Seattle Sounders FC
Shattuck-St. Mary`s
Silicon Valley SA
Sockers FC
Solar Soccer Club
South Florida Football Academy
Southern Soccer Academy
Sporting Kansas City
Springfield SYC Soccer
St. Louis City SC
St. Louis Scott Gallagher
Strikers FC
Tampa Bay United
Tormenta FC Academy
Toronto FC Academy
Total Futbol Academy
TSF Academy – NJ
Vancouver Whitecaps FC
Vardar
Ventura County Fusion
Wake FC
Weston FC
U19 Teams
ALBION SC San Diego
Alexandria SA
Atletico Santa Rosa
Ballistic United
Baltimore Armour
Barca Residency Academy
Bavarian United SC
Bayside FC
Beachside Soccer Club CT
Bethesda SC
Breakers FC
BW Gottschee Academy
Cedar Stars Academy – Bergen
Chargers Soccer Club
Chula Vista FC
City SC
De Anza Force
Diablo Valley Wolves
FC Boston Bolts
FC Cincinnati
FC Dallas
FC DELCO
FC Golden State
FC United Soccer Club
FC Westchester New York
Hoover-Vestavia Soccer
IMG Academy
Jacksonville FC
KSA
LA Surf Soccer Club
LA United Futbol Academy
Lamorinda SC
Los Angeles Football Club
Louisiana TDP Elite
Met Oval
Miami Rush Kendall SC
Michigan Wolves
Midwest United
Minnesota United FC
Murrieta Soccer Academy
Napa United
New England Revolution
New York Soccer Club
Nomads
Oakwood Soccer Club
Orlando City Youth Soccer
PA Classics
Phoenix Rising FC
Players Development Academy
Queen City Mutiny
Real Colorado
Real JFC
RGV Toros FC
RISE Soccer Club
Rochester NY FC Academy
RSL Arizona
Sacramento United
San Francisco Glens
SC Del Sol
SC Wave
Seacoast United
Shattuck-St. Mary`s
Silicon Valley SA
Sockers FC
Solar Soccer Club
South Florida Football Academy
Southern Soccer Academy
Sporting Kansas City
Springfield SYC Soccer
St. Louis Scott Gallagher
Strikers FC
Toronto FC Academy
Total Futbol Academy
Triangle United
TSF Academy – NJ
Vardar
Wake FC
Weston FC