Award winners honored from 2022 US Youth Soccer National Championships (Boys)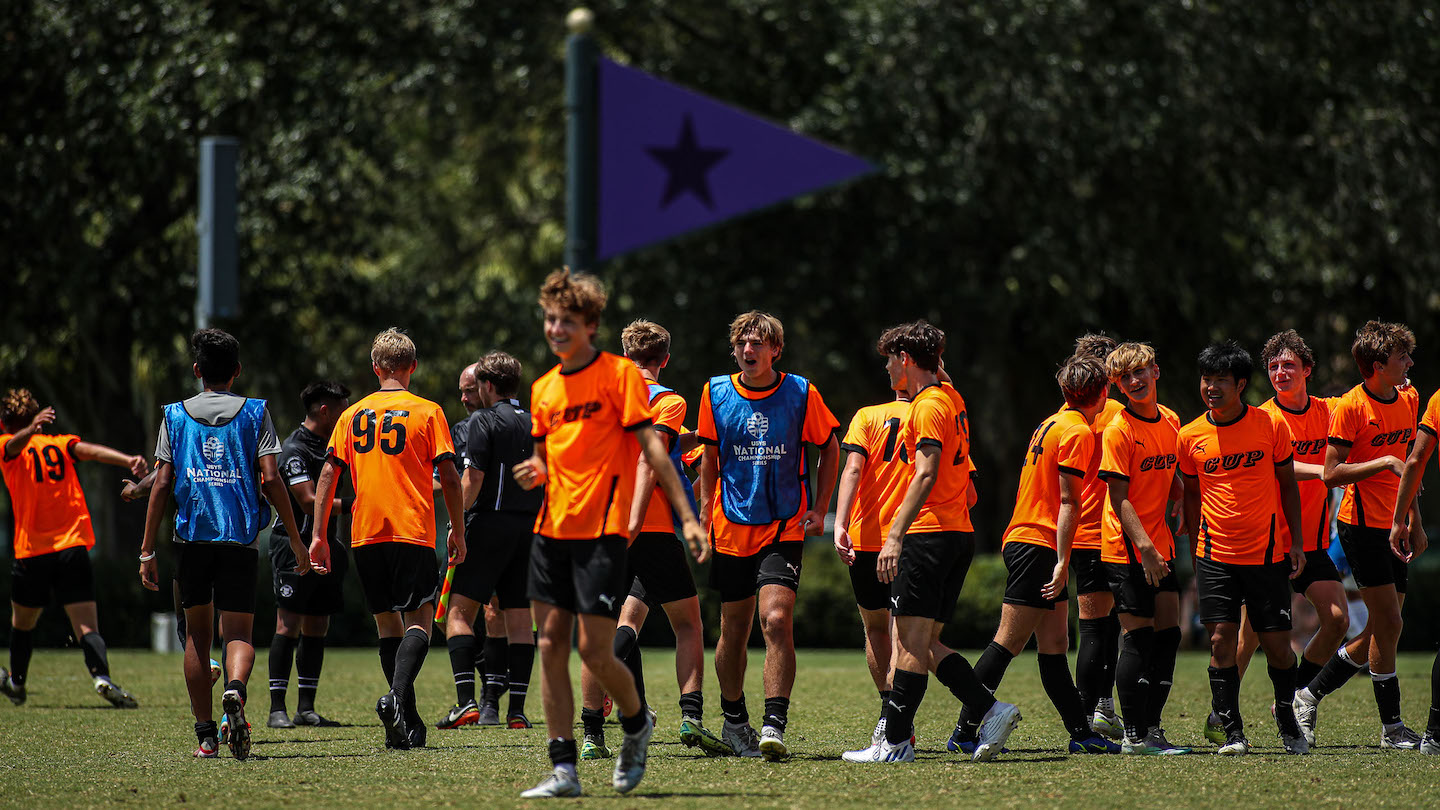 Event Homepage | Game Photos | Award Photos
US Youth Soccer has honored the award winners from the 2022 USYS National Championships.
The USYS National Championships were recently held from July 19-24 at the ESPN Wide World of Sports Complex in Orlando, Fla. A total of 14 teams across the 13U-19U age groups were crowned as national champions.
See below for a look at the award recipients on the boys side. To view the girls award winners, click here.
13U Boys
| Award | Name | Team |
| --- | --- | --- |
| Best XI | Leo Mora | Barca Academy Chicago BLAU 2009 (IL) |
| Best XI | Sebastian Lima | Cedar Stars Academy North Bergen U13 Boys (NJ) |
| Best XI | Azarias Garcia | Barca Academy Chicago BLAU 2009 (IL) |
| Best XI | Isaac Ortiz Soto | Boca Orange County B09 (CA-S) |
| Best XI | Sebastian Guerra | Imperial SC 09B NLFC (STX) |
| Best XI | Bruce Lopez | Barca Academy Chicago BLAU 2009 (IL) |
| Best XI | Joaquin Chavez | Boca Orange County B09 (CA-S) |
| Best XI | Johan Lopez | Imperial SC 09B NLFC (STX) |
| Best XI | Angel Ramos | Boca Orange County B09 (CA-S) |
| Best XI | Maximiliano Sanchez Garcia | Imperial SC 09B NLFC (STX) |
| Best XI | Alejandro Gomez | Imperial SC 09B NLFC (STX) |
| Golden Glove | Maxton Nelson | Boca Orange County B09 (CA-S) |
| Golden Ball | Johan Lopez | Imperial SC 09B NLFC (STX) |
14U Boys
| Award | Name | Team |
| --- | --- | --- |
| Best XI | Cristiano Palacios | Toca FC 2008 MLS (KS) |
| Best XI | Jan Otero Lopez | Potomac Blue 08B (MD) |
| Best XI | Andrew Krapf | Westside Metros FC 08B Copa Red (OR) |
| Best XI | John Gracen Adams | Germantown Legends 08 Black NL (TN) |
| Best XI | Juan Pujol Orengo | Nona Soccer Academy 2008 MCL (FL) |
| Best XI | Diego Pedroza | Chicago Magic PSG 2008 MCL (IL) |
| Best XI | Kael Taylor | Toca FC 2008 MLS (KS) |
| Best XI | Thomas Walsh | Yardley Makefield Soccer 2008 Boys Celtic NL EDP (PA-E) |
| Best XI | Eyad Salhi | Westside Metros FC 08B Copa Red (OR) |
| Best XI | Jacob Giraldo | Barca Academy Pro NY B208 PRO (NY-E) |
| Best XI | Sergio Perello | Doral Soccer Club Elite 2008 (FL) |
| Golden Glove | Kael Taylor | Toca FC 2008 MLS (KS) |
| Golden Ball | Jan Otero Lopez | Potomac Blue 08B (MD) |
15U Boys
| Award | Name | Team |
| --- | --- | --- |
| Best XI | Max Eisenberg | United PDX 07B Premier Black (OR) |
| Best XI | Colton Swan | Michigan Tigers 2007 Boys Gold (MI) |
| Best XI | Liam Dean | Toca FC 2007 MLS (KS) |
| Best XI | Lucas Albright | Madison 56ers 2007 Boys Red (WI) |
| Best XI | Noah Silkworth | Michigan Tigers 2007 Boys Gold (MI) |
| Best XI | Shalom Adja | SAC Boys 2007 – Pre-Academy (MD) |
| Best XI | Ryan Noel | Council Rock United FC Bucks DOMINION 2007 Boys (PA-E) |
| Best XI | Ren Sylvester | Michigan Tigers 2007 Boys Gold (MI) |
| Best XI | Luke Manandic | United PDX 07B Premier Black (OR) |
| Best XI | Kyron Pope | FC United – DSM 2007B (IA) |
| Best XI | Prince Forfor | FC United – DSM 2007B (IA) |
| Golden Glove | Max Adox | Michigan Tigers 2007 Boys Gold (MI) |
| Golden Ball | Ren Sylvester | Michigan Tigers 2007 Boys Gold (MI) |
16U Boys
| Award | Name | Team |
| --- | --- | --- |
| Best XI | Lewis Knecht | Sparta United B06 Premier JK – CvC (UT) |
| Best XI | Conner Bayliss | LFA Mueller 2006B (MO) |
| Best XI | Easton Bogard | CFJC 2006B Premier (IL) |
| Best XI | Koven Johnson | Arsenal FC Pittsburgh 2006B Academy (PA-W) |
| Best XI | William Wolfe | JB Marine Academy McKeon 2006B (MO) |
| Best XI | Adrian Caceres | ASSMF Strikers Miami FC 2006 Elite (FL) |
| Best XI | Robert Wisser | Nationals Union 06 Boys Black (MI) |
| Best XI | Jordan Klein | Nationals Union 06 Boys Black (MI) |
| Best XI | Tucker Jones | KCA Academy Elite 06B Galacticos (KS) |
| Best XI | Robert Kohring | KCA Academy Elite 06B Galacticos (KS) |
| Best XI | Alex Bucher | CUP 06 Gold (OH) |
| Golden Glove | Maxwell Miller | CUP 06 Gold (OH) |
| Golden Ball | Robert Kohring | KCA Academy Elite 06B Galacticos (KS) |
17U Boys
| Award | Name | Team |
| --- | --- | --- |
| Best XI | Cooper Allen | Galaxy SC 2005 Boys Blue (IL) |
| Best XI | Brandon Marquez | Mundelein SC Academy 05 (IL) |
| Best XI | Danny Alfaro | Mundelein SC Academy 05 (IL) |
| Best XI | Evan Kanellos | Chicago FC United Boys 2005 Pre-Academy Red (IL) |
| Best XI | Patrick McLaughlin | FC Evolution SPIRE FC B05 (OH) |
| Best XI | Joshua Rodriguez | Philadelphia Ukrainian Nationals 05B Black (PA-E) |
| Best XI | Nicholas Roe | Galaxy SC 2005 Boys Blue (IL) |
| Best XI | Alan Alonso | Libertyville FC 1974 Elite-05 Boys (IL) |
| Best XI | Isaac Morales | Inwood SC ID Texas Nemesis 05B NLFC (STX) |
| Best XI | Miguel Garcia | Libertyville FC 1974 Elite-05 Boys (IL) |
| Best XI | Mark-Elysee Adja | SAC Boys 2005 – Pre-Academy (MD) |
| Golden Glove | Mason Runyard | Libertyville FC 1974 Elite-05 Boys (IL) |
| Golden Ball | Miguel Garcia | Libertyville FC 1974 Elite-05 Boys (IL) |
18U Boys
| Award | Name | Team |
| --- | --- | --- |
| Best XI | Matthew Salinas | Smithtown Kickers SC LI Slammers Boys 2003 (NY-E) |
| Best XI | Ransford Gyan | Cedar Stars Academy North Newark (NJ) |
| Best XI | Christian Casteneda | Inwood SC ID Houston Legends 04B NLFC (STX) |
| Best XI | Brock Kiper | CUP 04 Gold (OH) |
| Best XI | Nolan Spicer | Team Challenger FC B04 Black (OH) |
| Best XI | Christian Leon | Raiders FC 2004 (IL) |
| Best XI | Darren Green | United PDX 04B Premier Black (OR) |
| Best XI | Sam Nyenka | LMSC Invictus (PA-E) |
| Best XI | Kwaku Agyabeng | Cedar Stars Academy North Newark (NJ) |
| Best XI | Juan Rueda-Duran | United PDX 04B Premier Black (OR) |
| Best XI | Mizael Harris | Portland City United 04B Red 1 (OR) |
| Golden Glove | Marcilio Soares | Cedar Stars Academy North Newark (NJ) |
| Golden Ball | Ransford Gyan | Cedar Stars Academy North Newark (NJ) |
19U Boys
| Award | Name | Team |
| --- | --- | --- |
| Best XI | Lawrence Aydlett Jr. | Baltimore Celtic 03 Premier St. Martin (MD) |
| Best XI | Richie Ludwig | Nationals Union 03 Boys Black (MI) |
| Best XI | Diego Pepi | FC Dallas Youth 03B Premier (NTX) |
| Best XI | Nicholas Dang | NUSA 03 Boys Maroon (TN) |
| Best XI | Luke Johnson | Capital Area SA 03M (PA-E) |
| Best XI | Hayden Lim | Baltimore Celtic 03 Premier St. Martin (MD) |
| Best XI | Cooper Forcellini | Sporting Blue Valley Academy 03 (KS) |
| Best XI | Aleksandar Peev | Lehigh Valley United 2003 Boys Black FPA – Gorni (PA-E) |
| Best XI | Luke Mohess | Sporting Blue Valley Academy 03 (KS) |
| Best XI | Carson Hodgson | Nationals Union 03 Boys Black (MI) |
| Best XI | Tanner Hodgson | Nationals Union 03 Boys Black (MI) |
| Golden Glove | Ryan Thompson | Sporting Blue Valley Academy 03 (KS) |
| Golden Ball | Richie Ludwig | Nationals Union 03 Boys Black (MI) |
(Photo Credit: Richard Hood)