U.S. players dominate awards, Best XI selections from 2022 Concacaf Men's U-20 Championship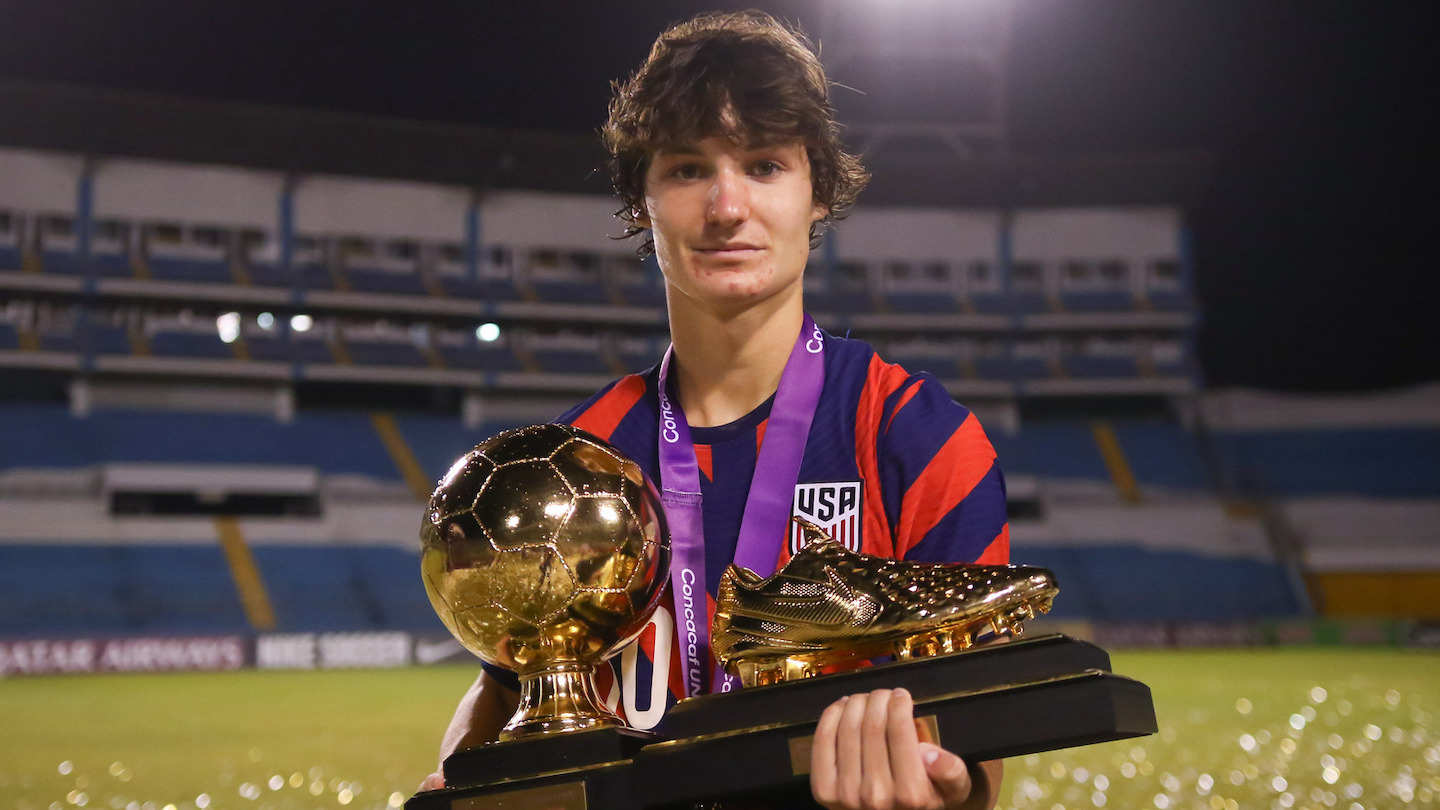 SAN PEDRO SULA – The 2022 Concacaf Men's Under-20 Championship in Honduras saw a number of players deliver top performances.
Here are the ones who stood out the most at their respective positions, earning individual awards and Best XI honors:
Awards
Best Goalkeeper: Christopher Brady, United States
Brady appeared in six of the seven matches for the U.S. and recorded five clean sheets, including all four knockout round matches, culminating with the 6-0 win in the Final against the Dominican Republic on Sunday.
Top Goal Scorer: Paxten Aaronson, United States
Aaronson finished the tournament with seven goals, winning Top Goal Scorer honors with his performance in Sunday's Final in which he scored a brace to catapult over Marco Aceituno of Honduras and U.S. teammate Quinn Sullivan (6 goals).
Best Player Award: Paxten Aaronson, United States
Not only did Aaronson pour in seven goals to lead the tournament in scoring, but he was also a playmaker throughout, registering an assist and taking 17 shots, making him a headache for any opposing defense. Aaronson opened the tournament with a brace in the 10-0 win versus Saint Kitts and Nevis, but did most of his damage in the knockout rounds, scoring both goals in the 2-0 quarterfinal victory versus Costa Rica, the opening score in the 3-0 semifinal win against Honduras and another two goals on Sunday.
Fair Play Award: Dominican Republic
Best XI
GK Christopher Brady, United States – Brady pocketed Best Goalkeeper honors for recording five clean sheets and 20 saves in six appearances during the tournament. The U.S. shot-stopper did not concede a goal in any of the team's four knockout round matches.
DF Jalen Neal, United States – The five matches in which Neal started, the U.S. recorded a clean sheet in all five. He also had six clearances, completed more than 94 percent of his passes and scored a goal.
DF Aaron Zuniga, Honduras – Zuniga was a workhorse in defense for the Catrachos, making an astounding 17 clearances, while amassing 11 ball recoveries and also scoring a goal.
DF Antonio Leone, Mexico – Leone was active at both ends. In addition to three steals, he had an assist, scored two goals and completed more than 94 percent of his passes.
MF Edison Azcona, Dominican Republic – Azcona was one of the leaders of the history-making Dominican Republic team that qualified for the 2023 FIFA Men's Under-20 World Cup in Indonesia and the 2024 Paris Olympics. Azcona scored the game-winner in the 5-4 Round of 16 win versus El Salvador and then the crucial 2-2 equalizer in the semifinals versus Guatemala.
MF Arquimides Ordonez, Guatemala – Ordonez was the only player to have scored in all three group stage matches. He then followed that up with his team's goal against Mexico in the quarterfinals and a goal in the semifinals against the Dominican Republic. Defensively he was superb, too, with five steals.
MF Paxten Aaronson, United States – The Philadelphia Union man scored seven goals in the tournament, including five in the final three games, to claim the Top Scorer Award and Best Player Award.
MF Quinn Sullivan, United States – Sullivan was very prolific in front of goal, tallying six goals, including all three goals in the 3-0 group stage win versus Cuba and then a brace in the 5-0 Round of 16 victory against Nicaragua. He also contributed three assists.
FW Marco Aceituno, Honduras – Aceituno came through in a big way for his country, scoring both goals to lead Honduras to a 2-1 win versus Panama in the quarterfinals to clinch a U20 World Cup berth. The Catracho attacker finished the CMU20 with six goals from 15 shots.
FW Esteban Lozano, Mexico – Lozano played a massive part in his team's attack, as Mexico finished the tournament with 20 goals scored. Lozano had a hand in half of them, with five goals scored and five assisted.
FW Angel Montes De Oca, Dominican Republic – Montes De Oca was crucial to the Dominican Republic's success in earning U20 World Cup and Olympic berths. He scored a brace in the team's comeback 5-4 win versus El Salvador in the Round of 16 and then the lone goal in the 1-0 quarterfinal win over Jamaica to qualify his side for the World Cup.
(PHOTO BY MIGUEL GUTIERREZ/CONCACAF/STRAFFON IMAGES)