Air Force women's soccer head coach Larry Friend announces retirement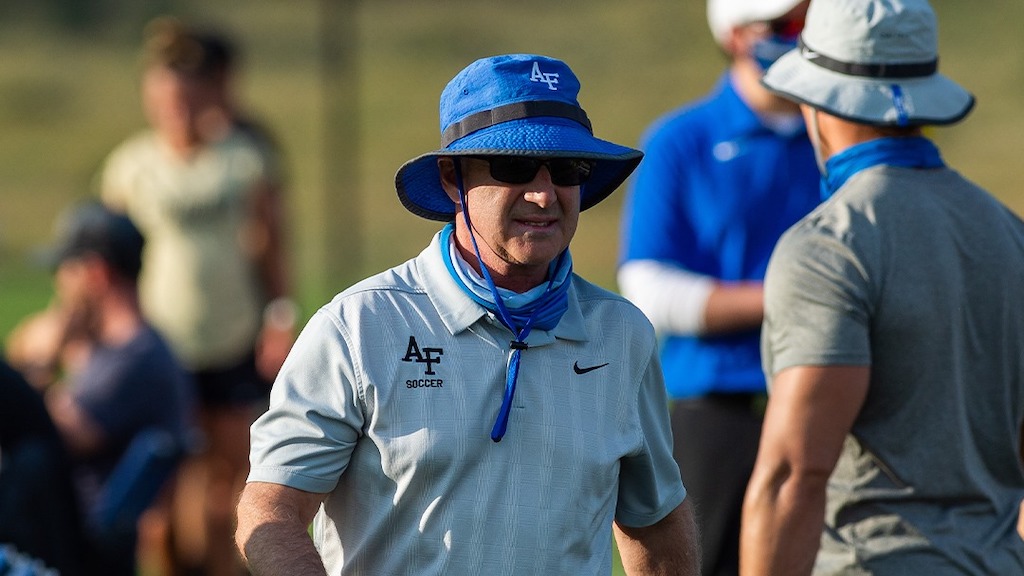 Air Force women's soccer coach Larry Friend has announced his retirement after more than 20 years at the Academy, including 13 as head coach.
The 1985 Academy graduate was the second head coach to lead the Falcons in their 29-year history. He was an assistant from 1992-1996 and 2002-2008 under former head coach Marty Buckley.
"I would like to thank Coach Friend for his service and dedication to our cadet athletes, the Air Force Academy and our mission of developing leaders of character," said Air Force Director of Athletics Nathan Pine. "As a graduate of the Academy himself, Coach Friend has represented our program and Academy with integrity and class throughout his 13 years leading Air Force women's soccer and we wish him all the best in retirement. As we turn the page for this program, we will begin a national search for our next head coach. I am confident there will be great interest in our position and we will select an outstanding coach to lead our program to new heights in the future."
"It has been an honor to serve this country as a part of the Air Force for the last 42 years," said Friend. "What an adventure. Coaching and teaching at the Air Force Academy was a wonderful part of that journey. The amazing people I got to follow, lead, mentor and work side by side were the best part of the experience. All the teams, coaches, especially my associate head coach Kiha Sutta, and alumni have my thanks and gratitude. You gave so much to the program. Watching you grow and then lead as Air Force officers fills me with pride. I'm excited to help the new staff get settled in, take over, and continue to build this program. Press on Air Force!"
Friend helped Buckley start the women's soccer program in 1992. The team broke into the top 20 of the NCAA Division II rankings in the second season. By the fourth season, the 1995 team went 14-3-2, was ranked seventh in the nation and produced their first All American. In 1996, Friend helped Buckley and the Falcons transition from Division II to Division I where they coached the team to its first Division I tournament appearance in the Western Athletic Conference Championships.
Friend comes from Columbia, Md. His father, Joseph F. Friend, moved the family to Columbia in 1969 and retired from the Navy in 1971.
Friend played for Luis Sagastume as a four-year starter and team captain. Friend and his teams compiled a 46-24-7 record at USAFA. Friend was a four time all-league selection and was named to the NCAA All-Midwest Regional Team his junior year. Friend is ranked third in school history for career assists and 20th for most points overall.
Friend continued his soccer career after graduating from the Academy by playing overseas for the Japanese team Sukazan, the All-Air Force team and US All-Armed Forces team. He captained the All-Air Force to a pair of inter-service championships. He also captained the U.S. Armed Forces team to a 1990 North American Championship in Victoria, Canada. This victory qualified the U.S. for the 1991 Military World Football Championship in Holland.
Friend ended his playing career after the Military World Championships in 1991 and moved on to the coaching ranks. Friend has worked with numerous clubs teams, state and region Olympic Development Programs since 1992. Friend traveled with the United States Soccer Federation on coaching courses to Germany and Holland in 2011 and Portugal in 2015. In the summer of 2015, Friend assisted Coach Geoff Bennett and Colorado College to represent the United States at the World University Games in Korea.
Friend retired from the Air Force in 2005 after 20 years of service. He flew over 2,000 hours as an instructor pilot, on search and rescue and VIP helicopters. He was assigned to Kadena Air Base, Okinawa, Japan (86-88), as a combat search and rescue pilot with the 33rd Air Rescue Squadron. Then the 41st Air Rescue Squadron at Patrick AFB, Florida (89-92), as an instructor pilot and NASA shuttle liaison officer. In 1992, Friend had his first stint coaching soccer and instructing at the Air Force Academy. In 1997, Friend was assigned to the 1st Helicopter Squadron at Andrews AFB, Maryland to fly VIP missions. He returned to the Academy in 2001 and began coaching again in 2002.
In 2019, Air Force had one of its best season's in program history. The Falcons finished with a 10-7-1 record. The 10 wins were the most since 1999. The team scored 36 goals, the most since 2000, while also adding seven shutouts, which tied the most in program history. Friend finished his career with a 69-130-27 overall record from 2009-21.
Friend and his wife, Maribeth, have been married 32 years. They have three children, Corey, Carina, and Felicia, daughter in-law in Chloe, and three grandchildren, Landon, Trystan, and Jayden.