Abby Wambach speaks in detail on USWNT, NWSL, wedding
Star U.S. Women's National Team and Western New York Flash striker Abby Wambach has spoken to the media for the first time since her wedding to longtime partner and club teammate Sarah Huffman in Hawai'i on Oct. 5.
In an extended Q&A with Austin, Texas-based magazine L Style G Style and Associated Press, Wambach delved into heartfelt details about her approach to her own sexual orientation, the couple's handling of the wedding and its cultural significance in the midst of a nationwide debate about gay marriage.
The world's all-time leading goalscorer also talked plenty of soccer, including USWNT coach Tom Sermanni's tactical outlook and her perspective on year one of the National Women's Soccer League.
Below are excerpts from Wambach's Q&A; find the full version here.
Wambach on NWSL:
I don't think you could have asked for a better first year. The men's soccer league [MLS] and the [U.S.] Men's National Team have made huge strides over the past twenty years, and we can only hope that we can have similar kind of experiences. But you have to start somewhere. We definitely scaled back quite a bit in terms of costs, pay to players and payment to coaches, but it's a startup, so you have to start somewhere in order to get to years three, four and five. There are sacrifices that need to be made…
I just think it's important that we all understand why we're doing this: I'm not doing this to make a million dollars a year playing in this league. That's not my intent. The hope is that in 20 years, the top players in this league are making that kind of money. I'm hoping that it's a 'pay it forward' sort of thing.
On USWNT coach Tom Sermanni:
He wants to play a more high-pressure defense, winning the ball higher up the field, so our forwards are going to be called upon to play a bigger role defensively. Our entire defensive shape will probably move a little bit higher. Does that excite me on a defensive standpoint? No. But it excites me at an offensive standpoint because we'll already be in our attacking third, our middle third, when we're winning the ball to try to score goals.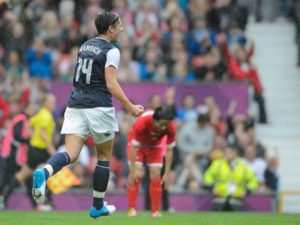 On her wedding in Hawai'i earlier this month:
I wasn't going to wait for a state to legalize it for my own life. When it happens, it happens. I know that there are so many people out there who have been waiting to get married, and I just don't live my life like that. Marriage to me, of course, there are so many benefits if you can be legally married: financial, medical, all the things, I get that. It's important, and it's an important issue right now. I know. But for me, it's more about standing in front of your friends and family and promising to be with you forever. It's more of the rite of passage, especially with my family, because, believe it or not, they're traditional, conservative people from Upstate New York.
On her decision not to publically announce her sexual orientation:
I've been out in my private life for many, many years. This is one of those things that … it wasn't going to be an issue, because it's not an issue. I don't want to give breath to a fire that I don't feel is a big deal for the rest of the world. I think that we're past that now. I understand that there are a lot of people who still struggle with it, but I just have never. After I figured it out and came out to my private life, all of my friends and family … it's almost funny that the public hasn't really gotten a "confirmation" from me. I wasn't trying to hide it.
[ +Click here to read Wambach's L Style G Style Q&A in full ]