USWNT: Subpar result against New Zealand a tactical experiment, not cause for concern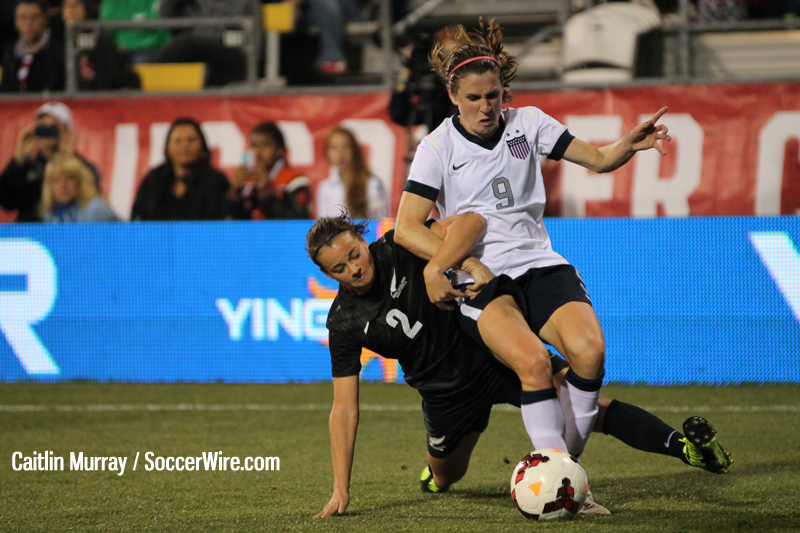 COLUMBUS, Ohio — The U.S. Women's National Team still hasn't lost a game in 38 matches, and the team's 1-1 tie against New Zealand on Wednesday doesn't actually matter.
But perhaps more important is that coach Tom Sermanni started the team off in a 4-3-3, a tactical strategy only sparingly used and never as the starting formation for the U.S. women under Sermanni.
It's the time for Sermanni to experiment and a tie against New Zealand is a poor showing by U.S. standards, but not cause to panic.
"We didn't just change the line-up tonight, we changed the formation slightly," Sermanni said after Wednesday's game. "So, you learn that it takes time for players to adjust to things. It's a good thing at this time in the cycle that we've actually got stuff to work on and we'll keep continuing to do that."
As a formation, the 4-3-3 can change the angles and spacing for players accustomed to a 4-4-2, and make it more challenging to play the ball wide for a U.S. squad that usually prospers on the flanks. New Zealand's high pressure seemed to exacerbate that.
And that was where the U.S. struggled at times — connecting passes up the field. The Americans especially appeared to grow restless without their usual deluge of early goals and resorted to direct, long passes with mixed success.
"They have speed, they pressured us on the back line. They didn't let us play out, which is kind of conducive to our style of play," goalkeeper Hope Solo said. "They pressured hard, they baited us, they wanted us to play it out of the back and as soon as we did, they came hard. We didn't get into a good rhythm. We didn't put the ball down on the ground and connect passes."
The U.S. three-front featured Abby Wambach as central forward with midfielder Heather O'Reilly on the right and striker Sydney Leroux on the left.
A risk of a 4-3-3, to some, is the lack of traffic in deep midfield to keep the opposition from advancing. But with the Americans' fitness — indisputably the best in the world — offensive players should be counted on to backtrack.
"Throughout the game, there were times when New Zealand created some chances against us on the break," Sermanni said. "We tried to rectify that at half time and we did to an extent in the second half, but we still looked a bit vulnerable to counterattacks."
The opposite is also true – the burden was on defenders to get forward and add more passing options in the midfield.
"The first half we weren't defending the way we should've been defending in a 4-3-3," Wambach said. "We were sitting back. Our outside wingers were too deep, we needed them higher. We sorted it in the second half and had more opportunities on goal, I felt, and had more control in their end."
Wednesday's formation is not a new one altogether under Sermanni, though.
The U.S. tends to use the 4-3-3 — a more offensive formation with its extra front-line options — late in games to take advantage of tired and weakened defenses. That's typically when Leroux, with her speed and fearless physical play, is unleashed.
But it was Leroux as a starter who saved the U.S. from going into halftime scoreless, dribbling through traffic to get close enough for the shot in the 42nd minute.
"It's awesome, but obviously we definitely have to work on it," Leroux said of the 4-3-3. "Usually we go into a three-front in the last ten minutes. This is the first time that we've started with a three-front under Tom. We're looking forward to learning something new."
The U.S. women are ranked No. 1 in the world by FIFA; New Zealand's Football Ferns are ranked No. 19.
The U.S. has been loyal to the 4-4-2, which is one of the most popular formations in today's game.
In the lead-up to the Olympics last year, then-coach Pia Sundhage had tried to switch the team to a 4-2-3-1 with only Wambach at forward. But with the goal-scoring talent at her disposal, Sundhage abandoned the lone-striker formation quickly and named striker Alex Morgan a starter for the squad under a 4-4-2 with Wambach. The team later won a gold medal.
Sermanni has even more goal-scoring prowess to choose among, with Wambach, Morgan, Leroux and Christen Press all making strong cases for themselves. The question for him may be how to get all his best talent on the field at once. The 4-3-3 may be one possible answer.
The U.S. women are treating Wednesday's draw as a loss and if there was ever a time for the team to lose, Wednesday was probably a good one.
"At the end of the day, it doesn't matter what formation we play, it doesn't matter what team we put on," Solo said after admitting the team would need time to get comfortable starting in 4-3-3. "We expect to win. That's always been our mindset. Moving forward, we can't win them all and it gives us things to work on as we move into [World Cup] qualifying next year."
[+Follow Caitlin Murray on Twitter / Read more articles by Caitlin Murray]