USWNT: Television ratings may explain why broadcast deals trump FIFA dates in scheduling
Why did the U.S. women's national team schedule its upcoming Oct. 20 friendly outside of FIFA reserved dates, knowing a large chunk of its players wouldn't be available? The answer is as simple as three letters: NBC.
"There are some commitments in the schedule that we're tied into," head coach Tom Sermanni told Soccer Wire last week. "Those commitments basically revolve around two things: One is television dates. Two is FIFA dates. That's what we've got to work around. The 20th is a television date and that's just a commitment that we've got to fulfill.
"And to be honest, that's a good commitment to have."
Of the USWNT's four upcoming friendly matches to finish out the year, two will be on television – the Oct. 20 friendly against Australia and a Nov. 10 friendly against Brazil.
There's no question television deals are big business for the U.S. Soccer Federation. In an audit disclosed last month, U.S. Soccer revealed it brought in $23.5 million from television deals, licensing and royalties over the past year – the largest source of income for the federation.
But the deal is made just that much sweeter by the fact that the games will be on NBC. A Soccer Wire review of ratings provided by Nielsen shows that of the U.S. Women's National Team friendly matches that appeared on television in the past two years, the matches on NBC easily reached the most viewers.
National team friendlies in 2012 and 2013 broadcast live on NBC had more than double the viewer count of the ones aired on ESPN's sister channels ESPN 2 and ESPN News. Games on NBC were watched in six times as many homes as games on the now-defunct Fox Soccer Channel.
Both of the upcoming matches on NBC are not during FIFA reserved breaks, dates set aside by FIFA for international matches that require clubs release their players for 48 hours for national-team duty.
Americans playing in European leagues, which are in the middle of their seasons right now, will not play in those matches. And it's a long list of players: Whitney Engen, Ashlyn Harris, Christen Press, Meghan Klingenberg, Ali Krieger, Megan Rapinoe, Tobin Heath and Yael Averbuch.
But Sermanni is managing by bringing in college players and new call-ups to fill the roster.
Being bound to TV dates is not a problem, Sermanni says. It's one of the bonuses of coaching in the United States – the top soccer country for women in the world.
"When you look at that compared to most countries in the world, they'd be desperate to have that type of television coverage," Sermanni said about playing games for television commitments, even though that meant many key players would not be available. "So that's just one thing that's probably unique to the U.S. in women's soccer compared to anywhere else in the world."
If the upcoming friendlies are anything like previous friendlies hosted by the U.S. women to air on NBC, ratings will again exceed the 600,000-viewer mark.
The way the ratings fall is not exactly surprising. The more homes a network is in, the more viewers the network tends to get for the U.S. women's soccer team.
To wit: NBC estimates its network is available in 99 percent of all homes in the United States with television sets – around 110 million homes as of August. Nielsen estimated ESPN 2 was in 85 percent of homes as of August, or almost 98 million, while ESPN News was in 65 percent, or nearly 75 million homes. Fox Soccer Channel reached 46 percent of homes, or about 53 million before the network went off the air on Aug. 31.
NBC did not return a request seeking comment. Ratings for games broadcast live via online channels such as ESPN3 or video streams by U.S. Soccer were not available.
Here is the full rundown of TV ratings: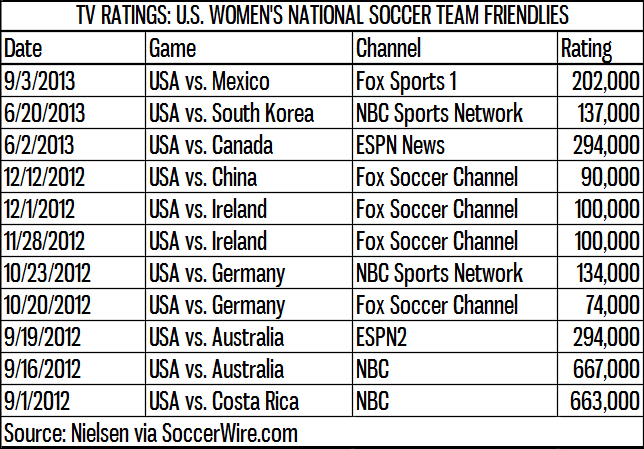 [+Follow Caitlin Murray on Twitter / Read more articles by Caitlin Murray]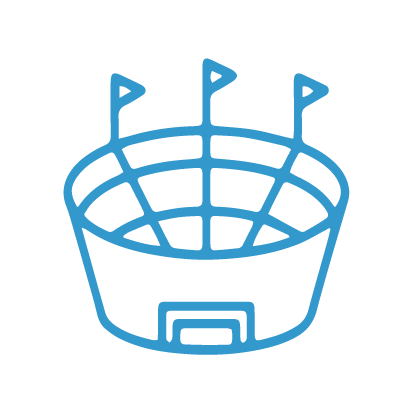 COLLEGE RECRUITING STARTS HERE
Join over 14,000 players in the SoccerWire College Soccer Recruiting Search Engine and learn how to be seen OVER 1 MILLION TIMES PER YEAR.
Basic $99 – for life
Featured $299 – for life
Featured PLUS $399 – for life
Learn More Here