EDP Cup Fall Showcase Girls Best XI 16U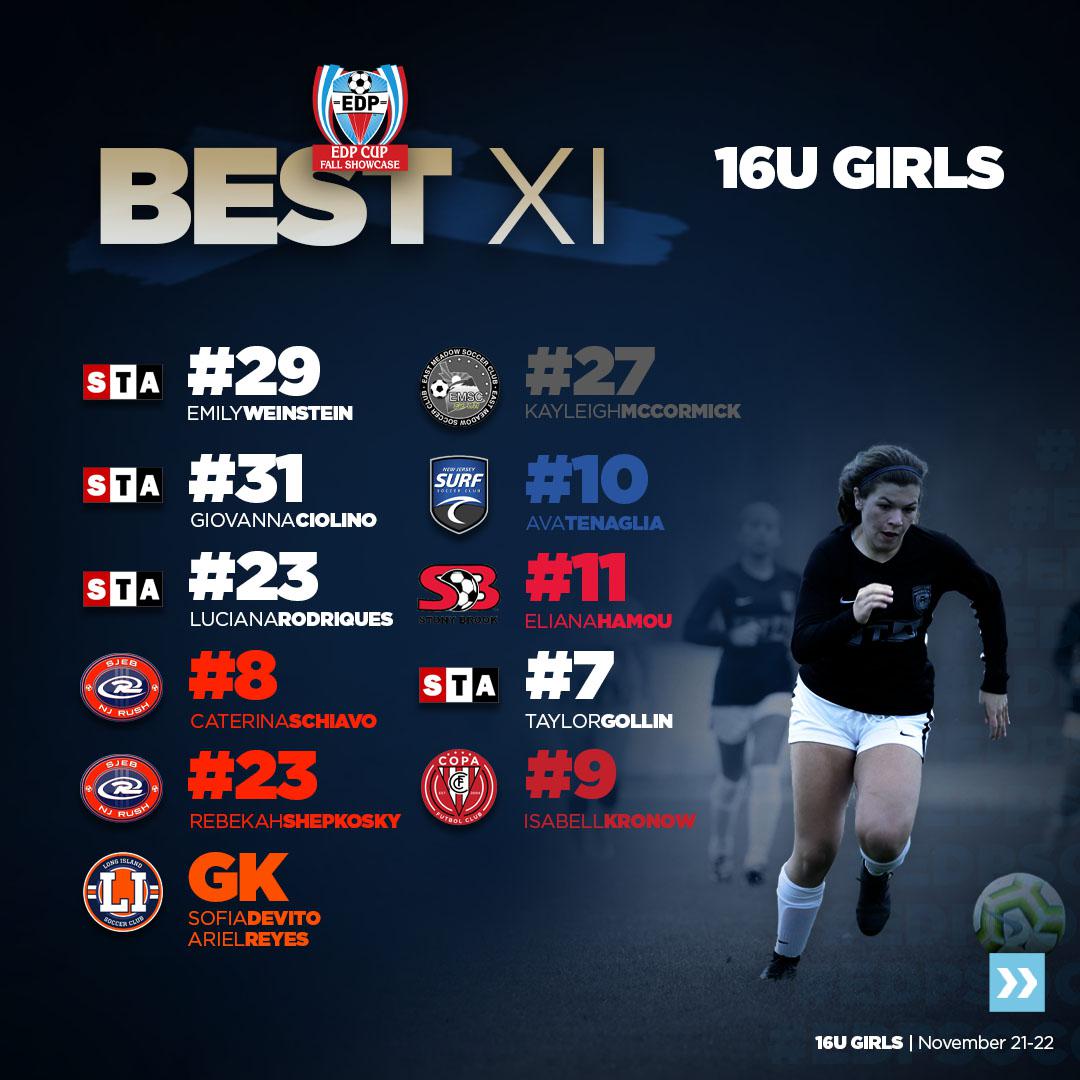 Other Age Groups:
15U | 17U | 18U | 19U
EDP Cup Fall Showcase Girls Best XI 16U
STA-MUSC 2005G NL EDP – Emily Weinstein #29
Emily played as a CB and CDM for both games at the showcase, Emily did a great job in distributing the ball and starting the build up from the back. In the Sunday game she was able to break down some promising attacks from the opponent to secure the clean sheet for the team.
STA-MUSC 2005G NL EDP – Giovanna Ciolino #31
With only 1 goal conceded in 160 minutes of soccer, Giovanna had a great weekend in goal for STA 2005G NL EDP team. With some great saves and distribution in the Sunday game Giovanna was able to secure the clean sheet against the CSA Bergen Academy team.
STA-MUSC 2005G NL EDP – Luciana Rodriques #23
Luciana had 1 goal and 1 assist in a 3-0 over CSA Bergen showing her qualities in orchestrating the attack. She was involved in a lot of the attacking play and scored the 2nd goal for the team while assisting the 3rd.
SJEB RUSH 05G GA – Caterina Schiavo #8
Caterina made an impact defensively in both games not conceding a goal all weekend.  She made excellent decisions when to step in and win loose balls and also dominated her 1v1 defensive duals.  She communicated well and she showed very good leadership in the backline.
SJEB RUSH 05G GA – Rebekah Shepkosky #23
Rebekah made an impact in both games by her steady playing on both ends of the ball.  She defended well and broke up a lot of plays especially in transition but was the start of a lot of offensive buildup plays.  Her decision making and distribution was very consistent in both matches.
LONG ISLAND SC G2005 ACADEMY – Ariel Reyes #23 and Sofia Devito #1   
Ariel and Sofia split goalkeeping duties for LISC GA 05.  Both contributed fantastic minutes through their shot stopping, communication and encouragement for their team.  Only conceding one goal all weekend, they helped the team secure two ties, including one shutout.
EMSC CREW 06 ECNL – Kayleigh McCormick #27
Kayleigh played center back and outside back and helped the side to two wins over the weekend, as the backline conceded just once during the event.
NEW JERSEY SURF SOUTH SHORE 05G – Ava Tenaglia #10  
Ava was solid as a rock in defense this weekend. She won her individual battles and brought a level of composure to the team. Her tenacity along with precision passing allowed others around her to play their natural game.
STONY BROOK SC STONY BROOK ARSENAL G2005 – Eliana Hamou #11
Elena is a defensive midfielder with an incredible work-rate and ability to win and distribute the ball.  Tenacious in the tackle and was a huge factor in driving the Stony Brook team to 2 wins out of 2 over the weekend.
STA-MUSC 2005G USYS – Taylor Gollin #7
Taylor is known as a set piece specialist who plays as a central midfielder. She scored a screamer of a free kick in STA's game on Saturday which ended in a 2-2 tie after scoring the first goal from a penalty, it was one that had heads turning and left the opponents confused as the ball hit the top corner frame and flew back out.
FC COPA ACADEMY G05 BLACK – Isabell Kronow #9
Izzy, a Somerville HS Varsity Player, was extremely valuable to the success of the team over the weekend. She led the team with 3 goals and 2 assists in an inspiring performance on day 1. Her confidence, work ethic, and sharpness on the ball made all her teammates around her better.