EDP Cup Fall Showcase Girls Best XI 19U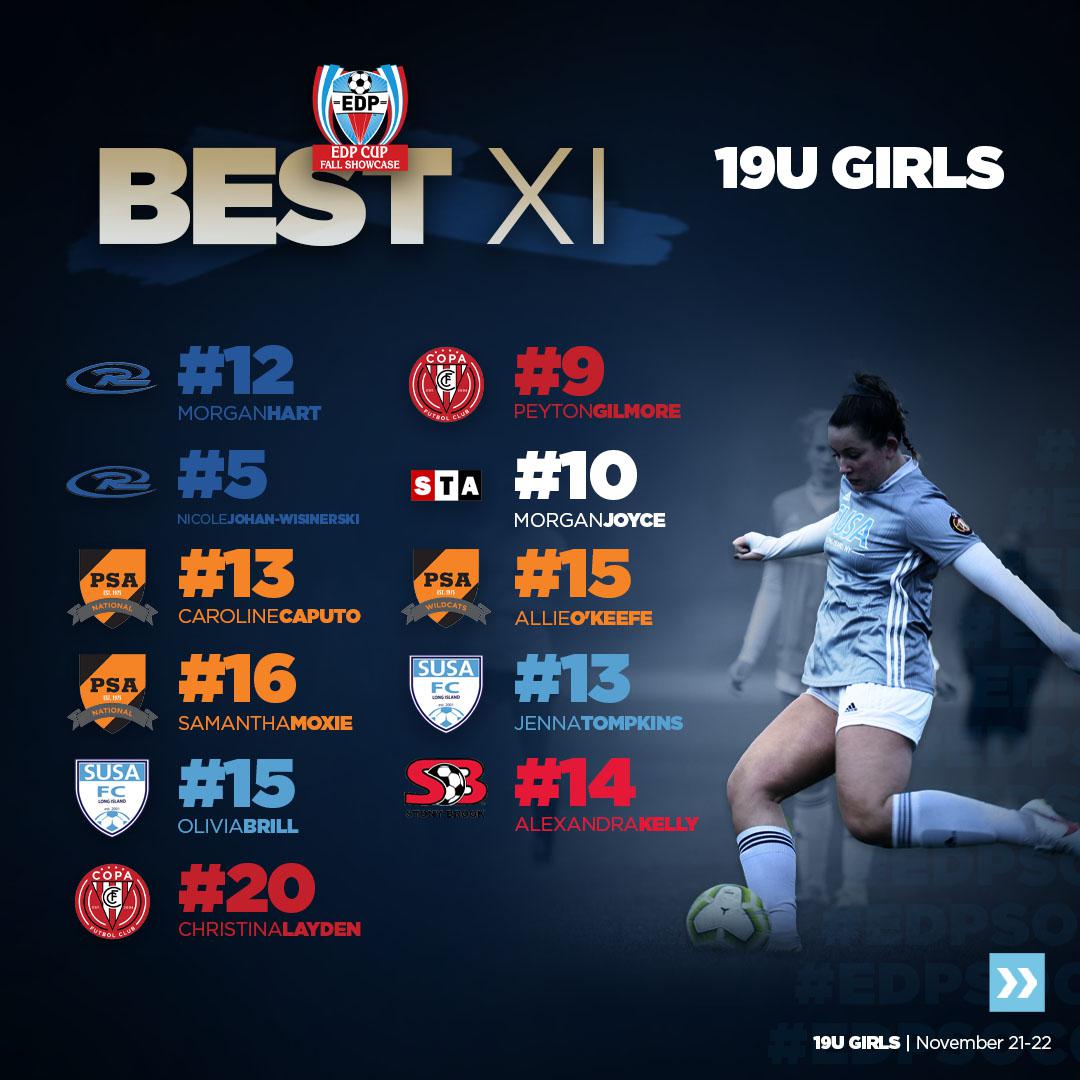 Other Age Groups:
15U | 16U | 17U | 18U 
EDP Cup Fall Showcase Girls Best XI 19U
NEW JERSEY RUSH 02 GREY NL – Morgan Hart #12
Morgan shook off the disappointment of a Friday afternoon high school semi-final defeat to lead a selection of her Rush teammates, most of whom were playing out of position to record back-to-back clean sheets at the showcase. Morgan played the entirety of both games at center back with ever-revolving partners and still managed to organize the defensive platform to restrict the opposition to limited opportunities.
NEW JERSEY RUSH 02 GREY NL – Nicole Johan-Wisinerski #5
Nikki returned to action after not being able to play since August and controlled the game from the central midfield, despite clearly lacking stamina, Nikki adapted her game, conserved her energy and played two full games in back-to-back days given how light on numbers the team was. She screened the defense well all weekend, assisting with two clean sheets and rarely gave the ball away with her short sharp connecting passes from the defensive midfield position.
PSA NATIONAL '03 – Caroline Caputo #13
Committed to NJIT, Caroline had a great tournament, controlling the midfield and being involved in all the transitions, providing excellent distribution and giving great assists that generated scoring. Caroline's consistency and excellent technical skills are a great value to the team.
PSA NATIONAL '03 – Samantha Moxie #16
Committed to East Carolina University, Samantha was the team's top scorer with 4 goals scored during the tournament. Her skills combined with her athleticism made her a constant threat throughout the tournament.
SUSA G03 ECNL COMPOSITE – Olivia Brill #15
Olivia's work rate throughout the weekend was unmatched. She was fearless in tackles, aerial challenges, and relentless in closing spaces in the middle of the field. She had a tremendous pre-season and it is now showing. Great season ahead for her.
FC COPA ACADEMY G02/03 NL BLACK – Christina Layden #20 
Christina had an impactful weekend playing the 10 role for the undefeated FC Copa Academy G02/03 Black team. She contributed 3 goals over the two matches and assisted on 3 others. Christina couldn't be missed taking on defenders and then breaking down the opponents backlines with a perfectly-weighted pass or combination.
FC COPA ACADEMY G02/03 NL BLACK – Peyton Gilmore #9
Peyton, a Binghamton University commit, tallied two goals and an assist on the weekend for the undefeated FC Copa Academy G02/03 Black squad. Her speed and tenacity with the ball at her feet at striker constantly had defenders on their heels.
STA-MUSC 2002/2003G NL EDP – Morgan Joyce #10
With only a handful of full time 02/03 NL EDP players this weekend and covered in huge bruises from high school soccer, Mojo played every minute of both games as a central midfielder and provided much needed balance to the team on the field. Her presence on and off the field encouraged the team to work hard and compete against top teams regardless of who was on the field with them, she's a true leader.
PSA WILDCATS ELITE U19 ORANGE – Allie O'Keefe # 15
Allie had an amazing weekend running the midfield for her PSA Wildcats team, she was working box to box for her squad in both games. She is a leader on the field for the team and she was a dominant force the entire weekend. Her ability to win balls and then be composed with possession really was a great asset to the team in both showcase games.
SUSA G03 RL ECNL – Jenna Tompkins #13
Jenna was fantastic in attack all weekend, and was highly effective in both games tallying a total of 3 goals.
STONY BROOK SC GINGA – Alexandra Kelly #14
Alexandra scored 3 huge goals in 2 games including a last minute winner and a late double in game two to help deliver 2 wins for the team. An incredible athlete with incredible speed who stretches defenses with her constant runs deep into the heart of the opposition.