EDP Cup Fall Showcase Girls Best XI 18U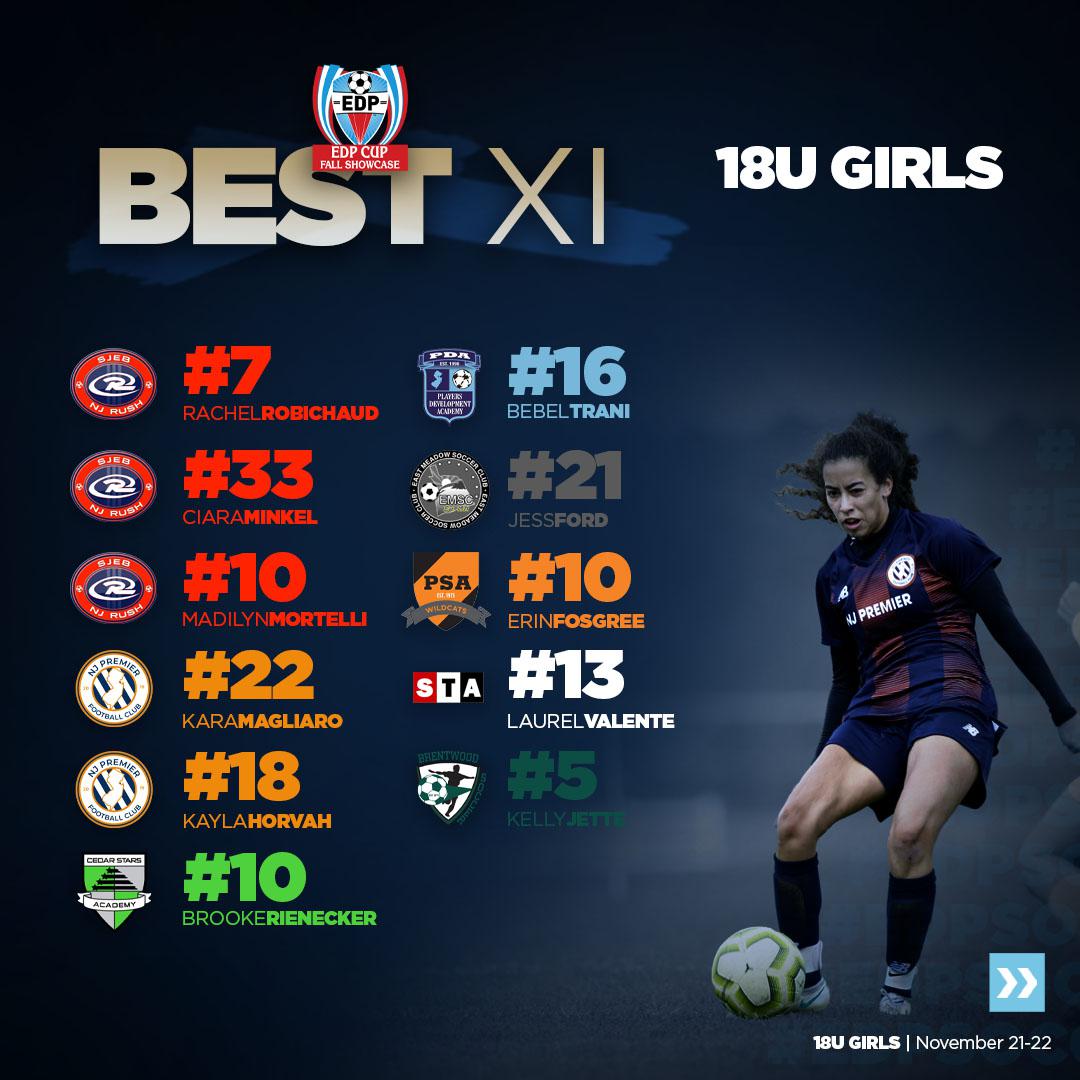 Other Age Groups:
15U | 16U | 17U | 19U
EDP Cup Fall Showcase Girls Best XI 18U
SJEB RUSH 03G NL EDP – Rachel Robichaud #7
Rachel was the engine for the team. She defended strongly against great competition and on the offensive side she helped aid an attack that scored 7 goals on the weekend
SJEB RUSH 03G NL EDP – Ciara Minkel #33
Ciara was the most consistent player on one of the top teams in the tournament, playing every minute leading the team to a win and a draw on the weekend.
SJEB RUSH 03G NL EDP – Madilyn Mortelli #10
Madilyn was dynamic on both sides of the ball, being aggressive and commanding in possession. Her distribution helped the team maintain possession in difficult situations.
NJ PREMIER FC 2003 GIRLS – Kara Magliaro #22
Kara scored 2 amazing goals on Saturday, one on a header from a cross and the other a free kick. She was dominant in the midfield with winning the ball and constantly feeding our forwards with great passes.
NJ PREMIER FC 2003 GIRLS – Kayla Horvaht #18
Kayla was the backbone in the defense. She was feeding the midfielders with good passes and won a lot of battles in the back.
CEDAR STARS BERGEN 03 ACADEMY – Brooke Rienecker #10
Brooked played center midfield and was dynamic going forward and creative in providing scoring opportunities for her teammates
PDA SOUTH ECNL-RL 2004 – Bebel Trani #16
Trani was pivotal at center back, dominant in the air and produced several timely tackles. Trani also worked tirelessly in the center of midfield aiding ball retention on our first weekend back together from the high school break. Capped off a great weekend by scoring the winner direct from a corner kick vs World Class.
FARMINGDALE / EAST MEADOW ECRL G03 – Jess Ford #21
Jess led the team's attack from the attacking central midfield position all weekend, scoring 3 goals in two games. Jess was responsible for multiple assists and created chances off of all set pieces she took.
PSA WILDCATS ELITE '03 – Erin Fosgreen #10
Erin had two fantastic performances, leading her PSA Wildcats team to an undefeated weekend. With her pace and relentless desire to go off the dribble, she was a handful for defenders to deal with all weekend. Erin was involved with all 4 of the team's goals over the course of the weekend, scoring 1 goal and assisting on the others. Erin's hard work, attacking mindset, and finishing ability were instrumental to her team's success.
STA-MUSC 2003G USYS – Laurel Valente #13
Lauren had a superb weekend by scoring 3 goals in 2 games and having an assist. Lauren was able to create scoring opportunities not only for herself but for her teammates
BRENTWOOD SC NPL BLAZE 2002/2003 – Kelly Jette #5 
Kelly had a great weekend at centre back, as the team kept one clean sheet and she added two goals.