Washington's "Spirit fam" reaches new high: "We have something special"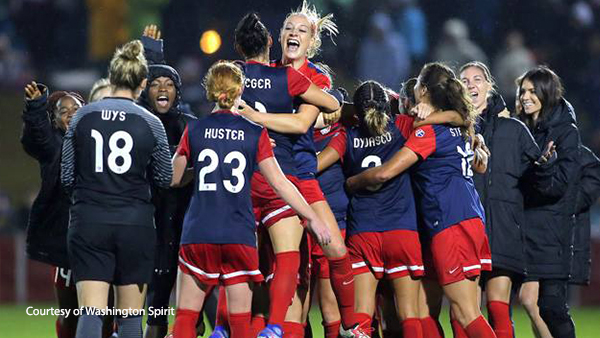 GERMANTOWN, Md. – It seemed like a very distant era on Friday night, but just three years ago, the Washington Spirit were the National Women's Soccer League's basketcase.
The Spirit finished dead last in the league's inaugural year, winning just three out of 22 games, scoring a mere 16 goals and parting ways with head coach Mike Jorden in midseason. Attention spans are short nowadays and new fans arrive to women's soccer every day, so many of those who watched Washington's heart-stopping 2-1 extra-time playoff win over the Chicago Red Stars at the Maryland SoccerPlex might not be fully versed in that grim history.
Ali Krieger remembers, though. As one of the Spirit's founding players, she – along with Diana Matheson and Tori Huster, the only remaining holdovers from year one – suffered through that 2013 campaign and it made Friday's triumph all the sweeter.
"We've come such a long way," said Krieger with a grin after Francisca Ordega's late winner advanced Washington to the 2016 NWSL championship game. "This team collectively respects each other, really cares about each other, works so hard – our work ethic and attitude is unmatched, I think, in this league.
"We respect each other, we play for each other and you could see that in the way we perform and in the way that we finished off the game. It's an incredible feeling."
GOAL! Ordega, plus some great team work, has the Washington Spirit up again in extra time, 2-1! #NWSL #WASvCHI
https://t.co/KK2jbv6Yx1

— FOX Soccer (@FOXSoccer) October 1, 2016

Jorden's successor Mark Parsons got the club on its feet, and even after he left last year, tempted away by the wealth and glamor of the Portland Thorns, the revival only gained momentum as veteran head Jim Gabarra took over. This year brought long stretches of dominance, a second-place regular-season finish and now, a first-ever playoff victory.
What's undergirded it all: A deeply-rooted locker-room unity that clearly means more than just the usual teamwork cliches.
"I think we worked for it. We really train hard, we work as a team, as individuals. We do it for ourselves, we do it for the Spirit," said Ordega, who happily dedicated her goal to her Nigerian homeland on the eve of its 56th independence day.
"Last year we got to the semifinals and we were out. So this time around we promised ourselves, we worked hard, we believed that we're going to make it up to the Spirit fam, everyone around us… we just did it today. So it's nice."
That phase: "Spirit fam." It's become a mantra for players, staff and fans alike, and while they're hardly the only team to adopt such a phrase, in Washington's case it rings true on several levels. From their thrifty, self-reliant business model to their idyllic "field of dreams"-style stadium in the farm-dotted exurbs northwest of D.C., the Spirit have built an identity – one they and their hardy supporters are comfortable sharing.
"They were here tonight," said Huster of the 4,249 fans who braved gusty winds, sideways rain and the region's nightmarish Friday rush-hour traffic to attend. "And they were here when we were losing almost every game in the first season. That's one of the reasons why I wanted to stay here, because they were here when it was bad. Through the good and the bad, they're here no matter what. And I don't know if you can really say that about any other place."
It also helps enormously to have players who actually, genuinely like one other, and enjoy working together.
"Everyone just has each others' back whether you're on the bench or if you're in the starting 11. I think that's something that we're really good at," said goalkeeper Kelsey Wys, whose selection ahead of more well-known Canadian national teamer Stephanie Labbe embodies Washington's egalitarian spirit.
"We have something special in this group. We're going to fight for each other."
Gabarra courted controversy with his lineup on Friday, starting Ordega, Wys, center back Whitney Church and attacker Estefania Banini ahead of bigger names. Afterwards he explained how he agonized over the decisions posed by his squad's depth, and sounded genuinely pained to have to make them.
"Everyone thinks it's a good problem to have," he said, "but it's not a good problem because you've got players that deserve to be out there, and we just have hard choices and we've got to go with what my gut is."
The moment. 😍😍😍 pic.twitter.com/yAyO4D5iFY

— Washington Spirit (@WashSpirit) October 1, 2016

Though Chicago matched them blow for blow until the very end of a riveting affair, his faith – and the Spirit's team culture – were vindicated by the final result.
"Don't be surprised," said Huster when asked about the unexpected aspects of the starting 11. "We have a ton of players that you would call reserves or substitutes that are starters on every other team in this league, and they're starters from week to week here… we have a philosophy here and we try to stick to that. Everyone knows what their expectation is, no matter what position they're in."
College Recruiting Commitment Tracker