Washington Spirit's Lohman profiled in LGBT documentary 'They Bruise'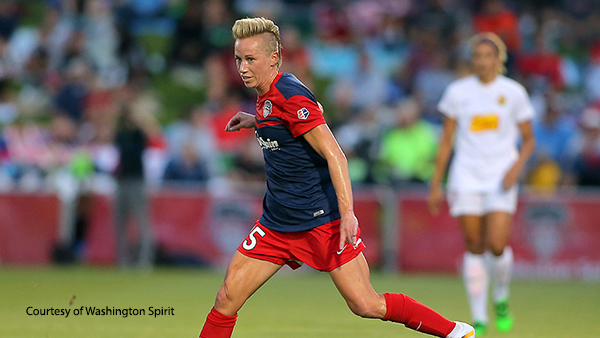 By virtue of both personality and play, Joanna Lohman has become one of the NWSL's most beloved cult heroes – and underrated midfielders, too. As the countdown to the 2017 season begins, a new documentary is shining a light on the Washington Spirit veteran's advocacy as an openly gay athlete.
Lohman is featured in the first episode of "They Bruise," a web series by producer Marcos Meconi focusing on the portrayal of lesbian and bisexual women in the media. The five-minute-plus episode features interviews and game footage from a 2016 Spirit match at the Maryland SoccerPlex, with Lohman explaining why she is proudly out and bold in her self-expression, from her "Jo Hawk" hairstyle on down.
So lucky to have you share my story. The passion for the game is clearly shared. Keep inspiring!!! https://t.co/XUaKnSQKUC

— Joanna Lohman (@JoannaLohman) March 15, 2017

"In a sport that has so many LGBT fans, they see me out in the field as an LGBT athlete, proud of who I am, and that gives them confidence to be who they are," Lohman said in the piece.
"The most important thing for me is to expand expectations on what a woman should look like. I do it for someone who comes behind me, who won't get the same looks or the same stares I do."
From the heartbreak she experienced after missing out on the U.S. Women's National Team's 2007 World Cup roster to her decisions about her public persona, it's trademark J-Lo and should inspire anyone who cares about soccer and/or the fight for equality in modern America.
"This series is not just for sports fans – the idea is to use sports as an entry point to discuss larger issues," Meconi told AfterEllen.com. "We are entering a political climate where people are being intimidated because of their religion, skin color, immigration status, or sexual orientation. For queer folks and other minorities, the most important political act is to be ourselves in daily life – unequivocally, and unrepentantly.
"That's what Joanna Lohman does on and off the field. She plays the beautiful game to express her rich, complex identity, and allow others to do the same. A lot of young girls and boys go to NWSL games and look up to her. She's the ultimate bruiser, that's why I wanted to kick off the series with Jo's story."
Watch episode one of "They Bruise" below.

College Recruiting Commitment Tracker