USMNT vs. Argentina a crossroads for U.S. Soccer's Klinsmann experiment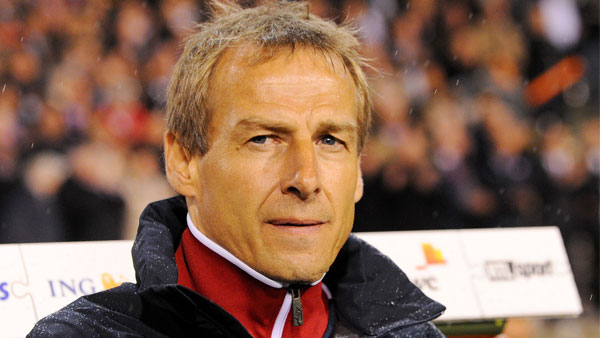 When the U.S. Men's National Team faces off with Lionel Messi and mighty Argentina in the Copa America Centenario semifinal in Houston on Tuesday night, many of the quandaries, controversies and complexities of Jurgen Klinsmann's time in charge of the program will swirl into a knot – one likely to settle in the pit of nearly every U.S. fan's stomach.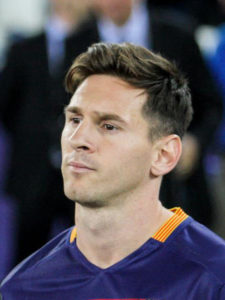 Excitement and unease simmer in more or less equal parts on this day. The rare joy of a deep run in a major international tournament has taken the team to within two games of a real, honest-to-God trophy – countered by the nervous fear of a very public whipping from the top team on earth, led by the greatest player on earth (and perhaps of all time). But simply having this opportunity to take the field against a motivated Argentina on U.S. soil is a victory unto itself.
The USMNT are widely expected to lose tonight, and anything short of a virtuoso performance in defeat is likely to trigger yet another round of frustrated recriminations and gloomy postmortems on the fundamental shortcomings of American soccer. In that regard, we find ourselves at a crossroads in the Klinsmann era, where a few familiar themes have gathered to stare around the circle at one another.
Caution vs. daring
Though it's been a more or less miserable two years since the Yanks' plucky but ultimately doomed World Cup campaign, their impressive achievements in this summer's new event have likely calmed any remote prospect of Klinsmann losing his job before 2018, the end date on his lucrative long-term contract.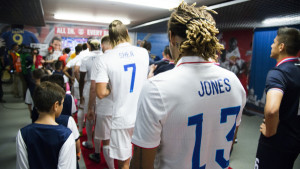 Despite facing a world-class opponent without three crucial starters – the suspended trio of Alejandro Bedoya, Jermaine Jones and Bobby Wood – Klinsmann has said all the right things in the lead-up to this match, pledging a fearless, proactive approach.
"We want to continue our path that we started years ago," he said in one of his pre-match press conferences in South Texas. "We want to take the game to [Argentina] as well. We want to keep a high line, we want to go eye to eye, because we've done that tremendously well throughout this tournament now and there's no need to change now the way to approach it, with all the respect to the opponent."
For better or worse, we can't just take Klinsmann's words at face value here, because he has a long history of doing one thing and saying another. He has often urged his players to "go for it" before big occasions, only to later lament their passivity when the USMNT display caution, like that one-sided bunkerball affair with Belgium in the Round of 16 at Brazil 2014.
And in most cases that's due not only to the personality of the players, but the risk-averse tactical and personnel choices the coach himself makes. He's repeatedly crammed an excess of defensive-minded into his lineups and doesn't seem to have full mastery – at a level that allows him to teach his U.S. pupils, at least – of the advanced patterns of play that elite sides use to produce modern possession soccer. His defenders would respond that those pupils are simply not talented enough to adopt such a style of play, which makes for a lively barstool debate – and takes us to…
Talent vs. trust
Fresh-faced newcomer, or old hand? Blue-collar veteran or dynamic youngster? Managers in all walks of business and society make such decisions every day, and are usually influenced by their own personality traits when they do. Klinsmann's predecessor Bob Bradley may have been loyal to a fault to certain players, while other coaches – and humans – are often too easily enamored with the "next big thing."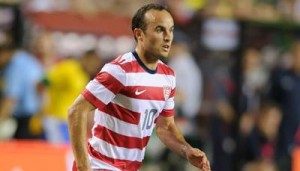 Klinsmann has often used young players to deliver messages about the wider developmental ecosystem: Unproven teenager Julian Green was taken to Brazil at the expense of the legendary Landon Donovan, while 17-year-old Christian Pulisic has been brought along quite quickly this year thanks to his unprecedented exploits with Borussia Dortmund. Many youth coaches believe that the "proactive" soccer often preached by Klinsmann is best adopted by younger, more technically adept players with cleaner slates, so to speak.
Yet in multiple high-stakes situations, Klinsmann has gone with the known quantity, even when it's a limited player, rather than take a chance with someone less familiar. The selection of Green was a huge risk that now looks borderline reckless in retrospect, but paid off with the equalizing goal vs. Belgium. But the USA's defining moment in the World Cup was arguably the inviting scoring chance in the same game that fell to the veteran feet of Chris Wondolowski…who skied it over the bar, an unhappily iconic U.S. sports moment on par with Bill Buckner's misplayed ground ball or the Buffalo Bills' run of Super Bowl failures.
Smooth playmaker Darlington Nagbe has shown well on nearly every occasion he's played since making his USMNT debut following the attainment of full U.S. citizenship last fall. He and Pulisic have sparked a welcome renewal of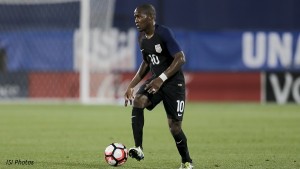 enthusiasm among fans, yet both have been limited to a single substitute appearance in Copa America. Klinsmann often prefers to play a familiar face out of position rather than risk faith in a more suitable, but greener, option for the role. And those two seemingly have yet to win his confidence, despite their obvious talent.
To hear the soccer gossip mill tell it, Klinsmann's fallout with Donovan dates back to his star-crossed time in charge of Bayern Munich. The coach risked his job to make the U.S. star his showcase arrival in the winter transfer window, but Donovan, the rumors say, spent way too much time partying in Germany, and failed to prove his quality on the field to skeptical Bayern players and club executives.
Trust matters a great deal to Klinsmann, and it's not a matter he's inclined to compromise on.
Motivator? Tactician? CEO? Life coach? All of the above? Or none?
Klinsmann has offered up plenty of expansive rhetoric about revolutionary change at all levels of the U.S. soccer system since he took charge nearly five years ago, and while some promising progress has certainly been made in places, it's not merely "haters" who look at the overall picture and question the return on a salary that has climbed north of $3 million a year.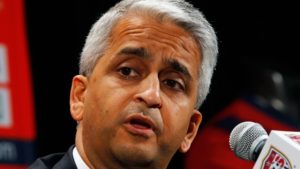 But that takes us back to the fundamental disconnect of the situation that U.S. Soccer Federation president Sunil Gulati has created with the sweeping powers – and responsibilities – placed on his coach's docket.
The aforementioned doubts about Klinsmann's tactical nous have been explored in depth elsewhere. Motivation and mentorship, however, are unquestioned areas of strength for the German-Californian – his players have said so during this very tournament. He has repeatedly said that the sky is the limit in Copa America, and they seem to believe him.
"At this point in a tournament," said defender Matt Besler this week, "anything can happen."
Klinsmann's own playing career commands respect and admiration from his charges, and his sunny disposition makes hard truths and tasks easier to swallow. Compared to the hidebound norm of international coaches, he maintains an admirable openness to new technology and methodologies.
Like any great figure, his outlook is inevitably clouded by the ego that has powered him to great heights in life. And it's easy to chuckle when he excitedly describes taking his team of elite professional athletes to Whole Foods to help them pick healthier meals. But his well-roundedness does make him a natural choice for the technical director job that was created for him as part of his generous contract renewal in 2013.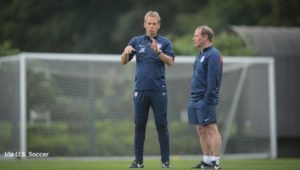 The problem is that few nations on earth ask their national-team manager to simultaneously handle the TD job, and it's no accident. Head coaches must do whatever is necessary to attain positive results for the senior squad. Of course that involves coordination with clubs, youth national-team coaches and the rest of the federation's infrastructure.
But the essence of that task does not easily mesh with big-picture work like improving talent identification or coaxing more out of clubs – especially in the U.S., where too many of them remain too hesitant to invest seriously in the hard work of youth development.
Upon his hiring, Jurgen Klinsmann was sold as the ideal candidate to lead the U.S. to a new place in the global game – the "killer app," if you will – and he's tried gamely to be all things to all people, with some success. But at this point all those promises (implicit and explicit, his and Gulati's) have stacked up into something resembling a wobbly Jenga tower, especially when we witness the USMNT using a two-decades-old recipe to survive and advance this month.
"Everybody expects the United States, because we're at home, to play in the opponent's half, and sprinkle magic and win games. I don't think we're that far [along]," said retired USMNT legend Earnie Stewart, now the sporting director of the Philadelphia Union, this week. "What we're very good at is being a team, and adapting to what is needed at that moment. Sometimes it's being defensively sound, sometimes it's pressuring high up the field.
"Against the best country in the world with Argentina and the super players that they have, I don't believe it would be fair to say we've got to pressure them in their own half and expect to get results. So I can imagine that the US national team probably not be pressing high up the field on the 18-yard box of the opponent … Then again, they [the USMNT coaching staff] have done the analysis of the Argentine team, they'll know what their weaknesses are."
If the U.S. somehow upset Argentina at NRG Stadium, it would almost certainly rank among the top five triumphs in USMNT history. Such a result would almost certainly be built on the time-worn traits of resilience, unity and tenacity. Given the traditional American sporting obsession with results over all else, few in the mainstream will bother to evaluate the quality of play too deeply.
And win or lose, we'll almost certainly continue to argue about how best to build a bridge to something more complex, and who is the best leader to guide that construction project.
College Recruiting Commitment Tracker