Commentary: U.S. U-17s' World Cup failure should signal end of Richie Williams era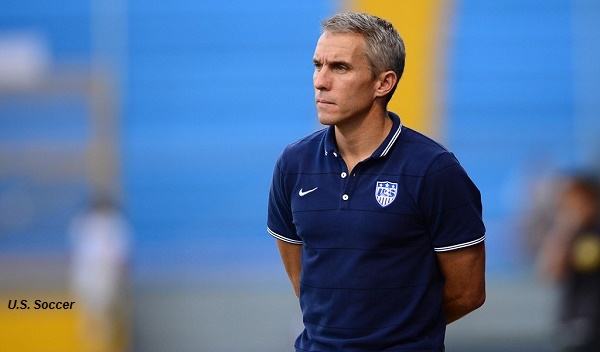 It was a lofty goal, to be sure.
"Our goal is to come here and win the World Cup," U.S. U-17 Men's National Team head coach Richie Williams pronounced ahead of his team's first World Cup match. "If any team says anything different they shouldn't be here."
What the U.S. U-17s showed the world last week was instead a team that lacked both cohesion and identity, and one that failed to assert itself in three matches against quality opponents on the biggest possible stage.
+READ: U.S. U-17 MNT bounced from World Cup with 4-1 loss to Chile
The numbers are damning.
In three group-stage matches, the U-17s were outshot 67-20 by their opponents (20-7 in shots on target), conceding seven second-half goals while scoring just three total goals themselves, none of them in the second half.
For small stretches of each match, the U-17s attacked their opponents' goal with verve and, at least against Croatia, finished their meager chances with the assurance of seasoned professionals.
However, the team's seeming inability to build out of the back, pressure its opponents on the ball and possess the ball with purpose belie a fundamental flaw that permeates U.S. soccer at the youth levels: American coaches are afraid of making mistakes.
As former U-15 Boys National Team coach Hugo Perez told SoccerWire's own Charles Boehm: "The hardest thing was convincing the players that they could [play beautiful soccer]. Not because they couldn't do it, but convincing them that they could do it without fear of being reprimanded for making mistakes, you know? I told them look, every time you make a mistake because you're trying to do something special, that's my responsibility, not yours."
+READ: U.S. U-17s: Hugo Perez, the 98-99 crop and a legacy on the line at U-17 World Cup in Chile
The squad that Williams brought to Chile refused to put pressure on its opponents when playing with a lead, and allowed opponents to get on the front foot in every match of the tournament.
Through the first 45 minutes of the deciding match against Chile, the U.S. played opportunistically enough to enter the locker room with a 1-1 draw. But in the second half – as happened against both Nigeria and Croatia as well – the floodgates opened and, unable to cope with Chile's exhausting and relentless pressure, they conceded three goals to lose the match 4-1.
Unlike Perez though, Williams refused to take responsibility for his team's failures. After his team blew a 2-0 lead against Croatia and nearly lost the match, Williams singled out his players for blame.
"I can't explain what happened in the second half," Williams said. "In the first [half] we scored twice and had some other chances, but above all we were able to keep control of the ball. I don't think my players were over-confident at 2-0, but they lost their composure: you can't defend a whole match against a team as good as that and who put that much pressure on you like Croatia."
Unlike the U-23s, all of whom spend the rest of the year with their club or college teams, this U-17 group has spent years together in full-time residency at the IMG Academy in Bradenton, Florida. This is a team that should, in theory, be more cohesive and well-drilled than its opponents.
Yes, at William's disposal was a group of players that many – including their former coach Perez – believed was among the most talented in years. Perhaps our collective expectations were too high for this group, as has been the case for many youth national teams in the past.
However, it's equally likely that this group of players was radically underserved by a tactically inflexible coach whose teams appeared incapable of properly defending a lead. This was, without a doubt, a failure of coaching.
+READ: U.S. U-17s sluggish, unsettled in World Cup-opening loss to Nigeria
Going up against the likes of Nigeria, Croatia and Chile was always a challenge, but the U.S. at least possess the talent to play toe-to-toe with these teams as the U-17s – particularly standout talents like Christian Pulisic and Luca de la Torre – showed in small stretches in Chile.
Williams, however, refused to directly engage the opponents. His team spent the majority of its games defending, averaging around 43 percent possession across the three games and conceding over three shots to each one of its own.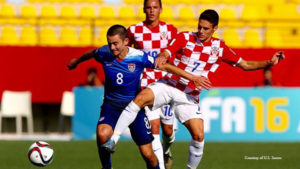 The patient build-up play that Perez had insisted on implementing with the U-15s was nowhere in evidence as the U.S. consistently conceded possession to its opponents and booted the ball aimlessly up the field.
This was timid, negative soccer. This was soccer that lacked initiative and creativity. This was soccer that typified a coach more concerned with results than with player development.
The World Cup performances of this U-17 team will almost certainly spell the end of Williams's four-year stint in his post. Williams, a Claudio Reyna hire, survived Jurgen Klinsmann's appointment to technical director in 2013, but it's increasingly doubtful that he will survive this performance, his second major coaching failure in nearly four years on the job.
College Recruiting Commitment Tracker