LeBolt: A fairy-tale finish for Louisville's amazing Marylander, Caroline Kimble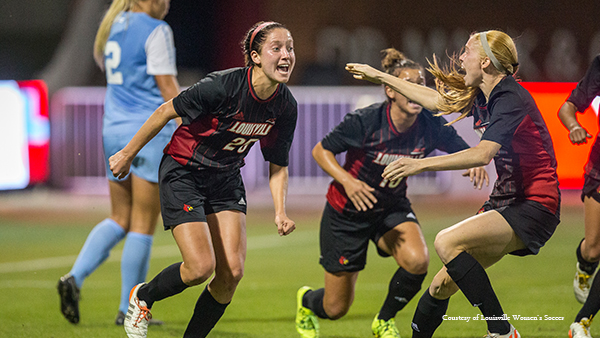 How would you like to be this girl?
Meet Caroline Kimble, holding midfielder for the Louisville Cardinals women's soccer team. She just scored the biggest goal of her life, and the biggest in Louisville program history. An unforgettable finish, as the unranked Cardinals upset the No. 1-ranked UNC Tarheels 2-1 in the last seconds of overtime.
When that free kick was awarded, Louisville coach Karen Ferguson-Dayes pulled out all the stops, knowing this would be the last play of the OT period. But she wasn't looking to Kimble, an Ashton, Maryland native, to finish it. In fact, as she admitted in a phone conversation with me, that it was her assistant coach who asked if she even wanted Kimble in the box on the play.
She did.
But she didn't foresee this. No one could have foreseen this. Not even Kimble, who told me she was speechless after the play. "I couldn't believe what happened." Then her teammates started piling on. "My mom was at the game. She was in tears when I saw her."
Kimble's father, Richard, unfortunately, had to follow the game remotely by Twitter. He was at a dinner he had committed to attend. Imagine having your daughter, whom you've watched play soccer since she was six, score a goal like that and not be there to see it. How does that feel?
Cards upset top ranked Tar Heels in OT!!!! #ACC #GoCards pic.twitter.com/0vKhXftypX

— UofL Women's Soccer (@ulwomenssoccer) October 9, 2015
I asked, via Facebook, because Richard Kimble and I have known each other since high school. "Her mother and I couldn't be more proud of Caroline!" he wrote. "She has worked extremely hard and has shown tremendous dedication and commitment to her team. Honestly, the feeling is euphoria; we will remember this goal forever!"
+READ: Lauren Holiday's decision to retire carries a great message for all our lives
Caroline is the most unlikely of heroes. Recruited to Louisville when the school competed in the Big East conference, she started four games as a freshman, and earned a starting position at center back last year as a sophomore. But that was also the year that Louisville moved to the ACC, filling the spot vacated by the University of Maryland. This was a whole new ballgame. Unfortunately, that step up led to a step down for Kimble, who was benched.
"Caroline was getting a bit exposed at center back," Louisville head coach Ferguson-Dayes told me by phone. Though she was highly motivated, the weaknesses in her game were costing the team.
Mr. Kimble says his daughter called him in tears. The coach hadn't minced words with her.
"I don't think you're ACC material," Caroline had been told.
So what makes an ACC player? One hundred percent, tactically, technically and athletically, says Ferguson-Dayes. She is quick to add that the Big East has great competition and great players, but the ACC has the highest-level soccer. On every ACC team there are 22 elite, high-level athletes.
+READ: George Mason's Brenna Connell plays with a disability that is anything but disabling
Technically and tactically, yes, but the difference is in athleticism. Quickness, speed, fitness, all the things that make a good athlete. ACC players have all of them. Caroline was not at that level. Her first step and lateral mobility were not at that level.
"Athletically," says Ferguson-Dayes, "Kimble was mismatched."
Mr. Kimble advised his distraught daughter to keep working hard "so you're ready when your opportunity comes." Caroline set out to prove her coach wrong about her, so she doubled down on her fitness and training.
"I don't think you're ACC material," Caroline was told.
Unfortunately, this almost had grave consequences when she couldn't push through a pain that proved difficult to diagnose.
"When we saw Caroline, who worked harder than anyone, doubled over and in pain, we knew something was really wrong," her coach said.
Medical evaluation showed Caroline had multiple blood clots. These were the result of hormone replacement that had been prescribed to address menstrual irregularities induced by her extreme physical regimen. Caroline was hospitalized on blood thinners.
"We could have lost her," Mr. Kimble says, thankful they acted when they did.
+READ: Injury prevention made easy: Have your players self-monitor their training readiness
She lost her entire spring season to an extended hospital stay followed by time recovering. So junior year found Caroline battling back to fitness again.
"Her work ethic is amazing," her coach says. "When I drove into campus in the morning, I would see Caroline out for a run. And, as I left in the evening she would be out practicing, too."
Kimble didn't begrudge the coach the fact that her hard work didn't guarantee her playing time. But when opportunity did come knocking, in the form of an injury to one of the starters, Caroline was ready.
"Most reserves are not game-ready when we call on them.  Caroline went the whole 90, 109, 110 minutes." – Louisville head coach Karen Ferguson-Dayes
"Most reserves are not game-ready when we call on them," says Ferguson-Dayes. "Caroline went the whole 90, 109, 110 minutes."
She was fearless in tackles, sliding, going for balls, flicking them on. She "used her mental toughness to negate the physical weaknesses."
So with seconds remaining in overtime, Kimble was able to get on the end of a free kick, flicked on by a teammate, after calling off another teammate in the nick of time. I was able to "get over the ball, angle it down and keep my body moving through the ball." That's a lot of focus after absorbing the blistering firepower delivered by North Carolina for nearly two hours.
Caroline played her youth soccer for Our Lady of Good Counsel High School, in Olney, Maryland, and was a standout for Freestate (now Maryland United) soccer club. "Good Counsel was ranked first in the nation when I was was a junior," she told me, where she played for longtime coach Jim Bruno.
Bruno, who also taught a leadership class at the school, gave Caroline — then a high school junior — a tremulous assignment: Call up famed UNC women's soccer head coach Anson Dorrance, and ask him some questions.
Apparently, Dorrance was welcoming and spoke with the nervous Caroline for several minutes. Then, he closed the conversation by asking Caroline to put in a good word for him with a Good Counsel teammate whom Dorrance was avidly courting for the UNC program.
Caroline's proud papa wonders whether Dorrance might have had his recruiting radar misdirected that day.
+READ: LeBolt: Ten lessons from the women of the World Cup
Clearly, Caroline Kimble had only one thing on her mind when she delivered that header for the highlight real. No place there for sweet revenge or even doubt. Just get 'er done. Normally, a quiet, supportive presence for her team, even the after game interview seemed painful for this young woman.
Pressed to offer advice to young players who want to follow in her footsteps, she says, "Anything is possible. There is opportunity in everything."
What she doesn't say in words, but speaks clearly in her performance, may be even better advice:
Listen to your coach and let even harsh honesty fuel you.
Listen to your Dad, who believes in you.
Listen to your instincts and let your body do what it has practiced to do.
Since the Carolina game, the Cardinals played Duke to a scoreless tie and then fell to Florida State, 3-1. A trip to Charlottesville ended in a painful 1-0 loss to No. 2-ranked Virginia. A tough schedule, and Kimble has played every minute.
As her dad told her when the Cardinals moved to the ACC, "Now you'll get your wish, Caroline. You'll get to play against the best in the country."
Caroline's last piece of advice: "If you want it bad enough, and are willing to work hard enough, you can achieve it."
She is sounding a lot like her Dad.
College Recruiting Commitment Tracker