Tuli: Bethesda Academy community mourns deportation of Claros brothers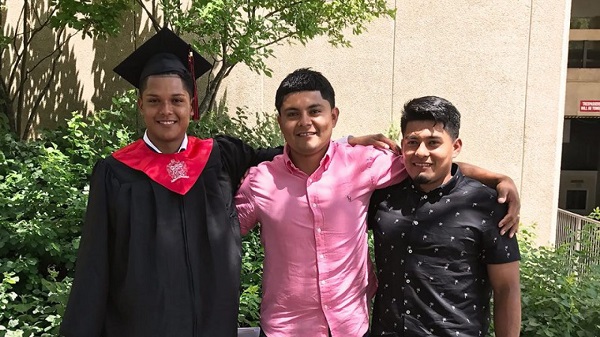 SoccerWire.com contributor and former Bethesda SC player Kismet Tuli  provided an update on Lizandro Claro, the Bethesda Academy player who, along with his brother Diego, was deported to his native El Salvador by U.S. Immigration and Customs Enforcement last week, despite being on track to play college soccer on scholarship in the fall. Tuli would have been Claro's teammate in the upcoming season at Louisburg College in North Carolina:
Lizandro Claros fled El Salvador in 2009 and came to the United States for opportunity and asylum from the constant threat of violence brewing in the nation.
Lizandro spent the past eight years in Montgomery County and graduated from Quince Orchard High School the past spring before accepting a scholarship to attend Louisburg College in North Carolina, where he would have been my teammate this fall, before heading off to a Division I school upon the completion of his Associate's Degree.
Lizandro and his brother, Diego Claros, headed to Baltimore on July 28 to check in with immigration officials to alert them of Lizandro's college plans and his change of living situation. In return, they were detained and held by immigration officials.
Lizandro and his Bethesda Academy U-18 side just came off a very impressive season, reaching the USSDA playoffs after going 13-7-5 on the year. Lizandro had become a staple in a strong Bethesda Academy defense, playing in the Academy for the past four years rather than pursuing high school soccer like many of his classmates at Quince Orchard. He played in 76 games and started 69 of them under coaches Matt Ney (U-15/16) and Brett Colton (U-17/18) as the team made two playoff appearances and was regularly one of the toughest teams to face in the Mid-Atlantic region.
Bethesda SC expressed dismay at the situation in a statement when contacted: "Lizandro and Diego have been integral parts of the Bethesda soccer community and Montgomery County community. For them to be pulled from us for checking in to go to college makes us worse off as a community."
After Lizandro became such an integral part of Bethesda Academy over the past four years, many of Lizandro's teammates were quick to show their support, bombarding social media with pleas to attend a rally organized by the team and CASA de Maryland, a regional immigrant advocacy group.
After only having a couple of hours to put together the rally, the news of the Saravia brothers detainment had spread like wildfire from the Bethesda Academy Twitter page to Steven Goff, the Washington Post's head soccer writer, sharing the news in full detail. A good-sized crowd was on display as they chanted for the brothers freedom and tried to attract the attention of ICE officials.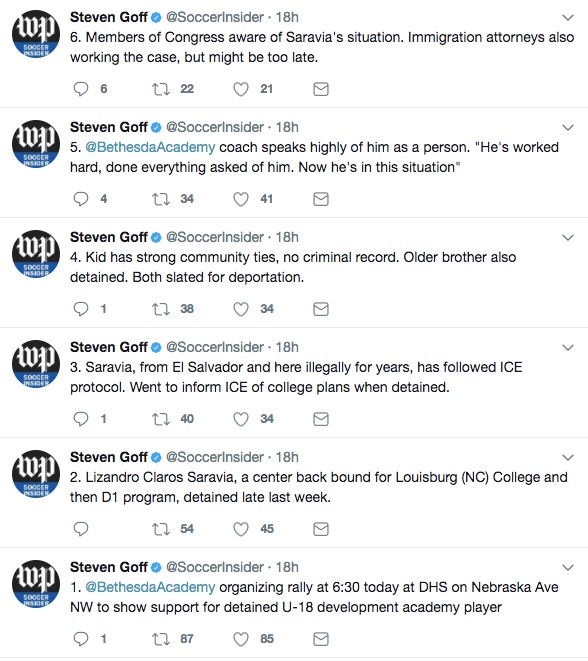 The Claros brothers had a history with immigration authorities, previously being detained by immigration officers upon arrival in 2009 and being issued final removal orders in 2012 subsequently being released to an order of supervision. A few years later after both being granted a stay of removal in 2013, they were denied in two subsequent applications and had been told to purchase tickets back to El Salvador.
Due to President Trump's strong stand on illegal immigration since he has come to power, one would have to wonder if the same kind of scenario would have played out under the Obama administration. United States Senator Chris van Hollen (D-MD) expressed his support for the Claros brothers over Twitter.
Thanks for all your support @VanHollenForMD pic.twitter.com/r7HtVgoIIe

— Bethesda Academy (@BethesdaAcademy) August 3, 2017
While more than 15 of his Bethesda Academy teammates will be heading to Division I schools like Louisville, Maryland, Duquesne, Cornell, Longwood, George Mason, George Washington and American, Lizandro's future in this country was swept away at the hands of ICE officials in Washington.
We hope for the safe return of the Claros Saravia brothers back to their home in Germantown, and for Lizandro to continue his dream of one day heading to a Division I soccer program. Our thoughts are with the family of the brothers.
Thank you to @BethesdaAcademy and @UNITEDWEDREAM for coming in support of #FreeTheClarosBrothers. pic.twitter.com/P1xeIWIEsv

— CASA (@CASAforall) July 31, 2017
College Recruiting Commitment Tracker