Starter, or sale? Chris Durkin set to open next chapter at DC United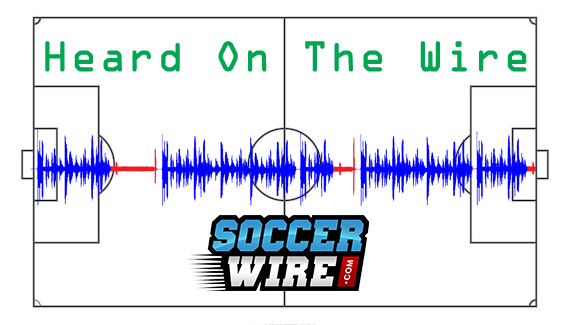 With their central midfield corps ravaged by injuries and international call-ups, D.C. United find themselves shorthanded in the engine room as they visit Columbus Crew SC on Saturday in Week 4 of the MLS season. That's prompted a widespread expectation that the Black-and-Red will hand 18-year-old Homegrown Player Chris Durkin the first league start of his career; coach Ben Olsen simply doesn't have many other options.
"With Russell [Canouse] being out, he's in play," Olsen told reporters last week. "[Durkin]'s got to take advantage of the moments that he can get onto the field and just continue to grow. Because we like a lot about his pathway and the way he's grown since this time last year, both his maturity on the field but also his emotional maturity. Sometimes with young kids that is as crucial as the talent component. And that part has taken a big step. So we'll just keep trying to progress him in whatever way we can."
While it's no sure thing that he will do so this week – Olsen is known for trusting veterans and D.C. are winless in their first three games – stepping into the XI will mark a small triumph for Durkin whenever it takes place. Because not long ago, the former U.S. U-17 National Team captain and World Cup standout simply wasn't a central part of the United's plans.
+READ: Pipeline repair – why Chris Durkin picked D.C. United over Europe
D.C. signed the Richmond, Virginia native back in 2016, but did so knowing that they wouldn't see much of him until this spring because of his commitments to the U-17 national team in that squad's preparations for last year's World Cup in India.
When the cerebral holding mid/center back showed his qualities on that global stage, helping John Hackworth's side reach the quarterfinals before bowing out to eventual tournament winners England, media reports began to percolate about overseas interest in Durkin. Some mentioned proposed transfer fees around the million-dollar mark, with Portugal a strongly mooted destination.
SoccerWire.com can confirm that there's fire behind all that smoke, and it seems that D.C. weren't innately opposed to making a sale. But then Durkin turned Olsen's head and changed his mind during this year's preseason, proving that he was ready to contend for minutes despite his tender age.
Not sure how much weight this has behind it right now, but a source told me over the winter that Benfica had already tabled an offer close to $1 mil.

Durkin looked solid in DCU training yesterday. Some MLS minutes this spring might increase his exposure. https://t.co/CwHus0Jc7n

— Charles Boehm (@cboehm) February 28, 2018
"It's been an interesting journey," Durkin told reporters this week. "Being over in the U-17 World Cup, fighting with those guys, and fighting my way, [making] a good impression in preseason. I've worked hard over the past year, and the work is starting to pay off. But I have to keep going on, keep doing what I have been doing."
The teenager has appeared off the bench in all three of United's 2018 games so far; this weekend could provide a sign of just how much Durkin has climbed in Olsen's estimation.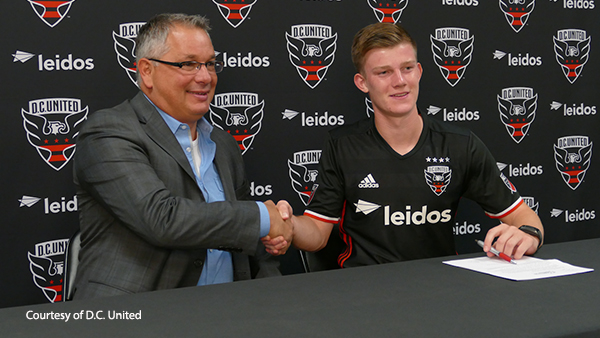 "He's doing okay," Olsen said. "He's young. At times he looks like an 18-year-old but there's also times where you say, 'This kid belongs out here.' That's normal for an 18-year-old."
At many clubs around the world, playing time would be seen as important not only for Durkin's development, but as a shop window, a chance to display his range, bite, decision-making and impressive passing range to suitors abroad. And D.C. stands to reap a bigger profit than before on players like Durkin, with MLS changing its rules over the winter to allow clubs to keep 100 percent of the proceeds from the sales of Homegrowns.
But Olsen mantains that this isn't his focus at all.
"That's not my world," he told SoccerWire of a potential Durkin transfer. "I don't make that decision. I'd like to keep Chris around because I think he's a good player and I think he eventually will be a starter for this club. So we're doing everything we can as a coaching staff to just keep building him, whether that means in two years he goes somewhere else, or two years from now he's a starting player for us."
Every touch by @ChrisDurkin0 today as he came on for the final 29 minutes in @dcunited 2-2 tie with the @HoustonDynamo ! #DMVBred pic.twitter.com/H9Yz496puL

— DMV Soccer (@DMVsoccer96) March 17, 2018
Olsen, himself once a bright young thing in MLS' early years who left the University of Virginia early to turn pro, also contends that Durkin isn't ready for primetime just yet.
"One of the joys of this job is to watch these kids grow and try to help in some small way to get them to reach their goals, whether it's starting here and fulfilling that dream of playing for your home club, or going on to Europe and trying to do it overseas," he said. "He's got steps before that. This is still a work in progress. There's a lot of good but there's still a lot of things that he needs to do better to solidify a spot here. That's like a lot of 18-year-olds. But he's grown, and our job is to keep making him grow as a player as fast as we can."
Though D.C. have an uneven track record of developing young local talent, sources close to Durkin say that they trust Olsen and United to do the right thing. His agent Chris Megaloudis, who helped Andy Najar make his multi-million-dollar move from D.C. to Europe several years ago, has a generally friendly relationship with the club. But it's also worth noting that the Durkin family recently elected to move Chris' younger brother Kevin south to join Atlanta United's ambitious, well-funded academy rather than follow Chris north to D.C.
It seems that Chris Durkin will soon get his chance to seize the MLS spotlight. After that, eyes will turn towards United, and whether they can manage their brightest young prospect for the benefit of all parties.
College Recruiting Commitment Tracker