St. Louis soccer community still needs help after disastrous floods trash nation's first soccer park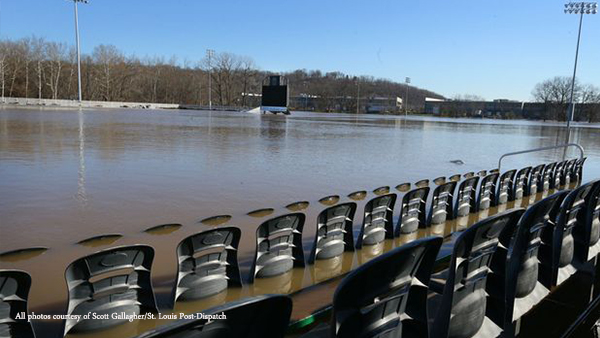 As large swaths of the United States' East Coast are swamped by one of the largest snowstorms in recorded history, it's easy to forget that St. Louis, the ancestral cradle of American soccer, is still reeling from its own severe weather event of just a few weeks ago.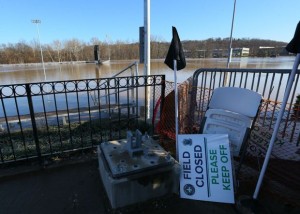 And one of the Arch City's most beloved soccer institutions was hit hard.
World Wide Technology Soccer Park in Fenton, Missouri is the home of famed youth club St. Louis Scott Gallagher and its United Soccer League (third-division pro) partner club, Saint Louis FC. It is considered the oldest soccer-specific fields complex in the U.S., having been founded by local brewing giants Anheuser-Busch in 1982, and over the decades its played host to a range of big games and events, including U.S. Men's National Team World Cup qualifiers.
But it experienced possibly the darkest day in its history as 2015 came to a close, with relentless rainstorms triggering record-breaking floods that saw the nearby Meramec River submerge the entire complex in more than 44 feet of water in late December.
The apex of the flooding, only the floodlight stanchions and the stadium field's scoreboard were visible in startling images captured by a local news helicopter. The six-field facility's four artificial-turf surfaces suffered major damage, as did some seating structures and other equipment, in addition to the destruction wreaked on the building that is home to offices, indoor training facilities, a pro shop and other amenities.
+SEE more images and video of the Soccer Park's flooding disaster at Soccer STL.net
"This is the crown jewel of soccer in St. Louis," SLSG executive director Patrick Barry told local TV station KTVI. "The crest was almost 5 feet higher than it ever has in recorded history. So, this is the worst flood ever in this part of the area. Obviously the damage far exceeds anything we've seen before."
The complex does not carry flood insurance due to its astronomical cost. But now Scott Gallagher and SLFC are looking at a total damage estimate running between $500,000 to $1 million, and they're seeking assistance from both the local and national soccer communities.
Seeking "to restore 'The Park' to the first-class, iconic facility it was prior to the flood," Scott Gallagher is requesting donations to help repair "a landmark for the City of St. Louis and the sport of soccer in the United States." Contributions can be made online and will be directed solely to rebuilding efforts via the St. Louis Scott Gallagher Foundation – a 501c3 organization, meaning that donations are tax-deductible.
+READ KickTV's coverage of the St. Louis soccer flood here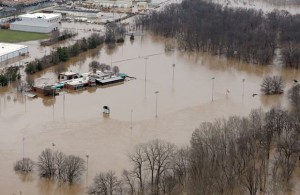 Nearly $80,000 has been donated to date, and local restaurant Mission Taco Joint generously held a "Save Soccer Park" day in early January where 20 percent of sales were directed towards the restoration efforts. But there's a long way yet to go, and limited time to get there.
Renowned for its tradition of savvy player development, Scott Gallagher has groomed dozens of talented young players for college, professional and international careers over the years. Its original St. Louis branch currently runs around 300 youth teams, and with both the spring season and the opening of the 2016 USL campaign fast approaching, Soccer Park officials face a race against time to be up and running again.
Natural disasters have been a harsh reality for millions of North Americans this winter. But if you can spare a few dollars to help Scott Gallagher and Saint Louis FC get their home ground back to normal, you'll be helping to save a small but precious chapter of U.S. soccer's past, present and future.
+Donations toward the restoration of World Wide Technology Soccer Park can be made here.
College Recruiting Commitment Tracker