NWSL draft review: A full breakdown of last week's picks, hits and misses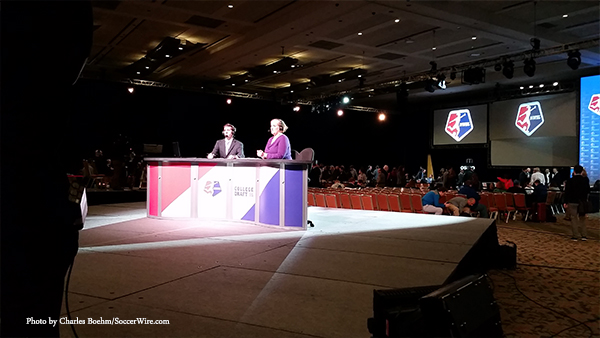 Editor's note: Last week's NWSL draft offered intrigue, upgraded production quality and an exciting start to the professional soccer careers of dozens of talented young women. Mark Shawhan was among the sizeable contingent of media on hand, and he's compiled a detailed evalution of the 2016 draft crop.
+READ: NWSL draft: Portland Thorns pick UVa's Emily Sonnett No. 1 amid flury of wheeling and dealing
The NWSL has completed its fourth(!) college draft, now with more draft picks, more people in the audience, and streaming video coverage, to boot. The Portland Thorns' selection of Emily Sonnett at No. 1 was easily the least interesting roster-related move they made on Friday; Chicago managed to draft seven players while having only one draft pick in the first two rounds; and Laura Harvey again made no trades on draft day — using the time saved to instead banter with fans by selecting Adele. Some thoughts on how everybody did, and what roster questions remain between now and Opening Day.
Boston Breakers
Picked: Christen Westphal, Brittany Ratcliffe, Abby Smith
Grade: Wait, Boston did what?
Well, it wouldn't be an NWSL draft without Boston doing something screwy. In fairness, the Breakers were as probably surprised as the rest of the league by the changes to the allocation system that were announced by the league shortly before the draft. And it's not clear whether they could have leveraged their top spot in the new allocation order to get the first pick in the draft from the Portland Thorns, rather than No. 3.
What they did with that no.3 pick, though, was a bit of a head scratcher. Christen Westphal is a good player, yes, but she's by no means a sure thing—and, more importantly, what is Boston doing using their first pick on a likely fullback when they need a forward most? Whether or not the Breakers need to strengthen at fullback, the need isn't so urgent to require using the no.3 pick. New coach Matt Beard has made sensible roster changes so far to improve on last year's woeful performance; but given his current center forward options, if he's content to stand pat that's not a good sign.
Brittany Ratcliffe, a dribbling winger in the Stephanie McCaffrey mold, makes somewhat more sense. And U.S. youth national team goalkeeper Abby Smith is a definite upgrade at the backup 'keeper spot behind newcomer Libby Stout. But it's hard to escape the sense that overall, this was an opportunity missed for the Breakers.
Chicago Red Stars
Picks: Katie Naughton, Sarah Gorden, Courtney Raetzman, Jannelle Flaws, Adrienne Jordan, Candace Johnson, Ashleigh Ellenwood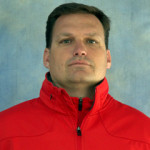 Grade: Quantity; hopefully quality, too?
Chicago needed more central defenders, but came in with no high draft choices. At No. 19, Katie Naughton of Notre Dame was probably the best center back on the board, and a local player with U.S. U-20 Women's National Team experience.
After that, Chicago basically turned into the skid, trading down to maximize their number of picks. (This led, among other things, to the slightly farcical sight of Chicago drafting five of the ten players in the fourth round.)
Of the later-round draft choices, DePaul's Sarah Gorden and Kentucky's Courtney Raetzman offer depth in central midfield and are local players, as is Illinois striker Jannelle Flaws. (Raetzman and Flaws also have experience with the Red Stars Reserves.) Candace Johnson of Missouri is a Red Stars-style physical centerback. And Arkansas target forward Ashleigh Ellenwood, currently recovering from a torn ACL, may be a bit of a project, but she too is a Chicago-area player who has spent time with the Red Stars Reserves.
The real question now is how many of these late draft choices will stick with the team — as forward Jen Hoy has done after being drafted in the fourth round in 2013.
FC Kansas City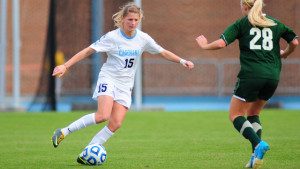 Picks: Katie Bowen, Brianne Reed, Alexa Newfield, Alex Arlitt
Grade: Defense wins playoff berths (they hope).
There has been much nail-biting among FCKC supporters this offseason, given all of the retirements that the team has suffered. But the college draft, at least, went pretty well.
Vlatko Andonovski and Huw Williams seem to have pulled off a coup by convincing UNC's can-play-anywhere defender Katie Bowen to play in NWSL, who fell to FCKC's pick at no.16 because teams were convinced only two days before the draft that she was going abroad. (Everyone was so convinced, in fact, that FCKC itself traded away their last international slot in the Leroux trade that was completed, well, two days before the draft, and had to give up a second-round pick in next year's draft to Chicago to get a slot back.) A Bowen-Taylor-Sauerbrunn-Frisbie back four, perhaps?
Brianne Reed of Rutgers suits FCKC's system and should provide good centerback depth—especially considering some observers had predicted her to go well higher than no.18. And Alexa Newfield is a potentially devastating attacker if she can stay healthy (sadly, a decent-sized if). Either way, worth a shot when picking deep in the third round.
The broader pattern of FCKC's picks is interesting as well. FCKC needs somehow to replace Lauren Holiday. But three of their four draft choices (Bowen, Reed, and LSU's Alex Arlitt) are defensive-minded players; and given the concerns about her knees, Newfield seems unlikely to be a 90-min player for the time being. That may suggest one of two scenarios: coach Andonovski shifting Erika Tymrak into a more central playmaker role (perhaps also pushing defensive midfielder Mandy Laddish up slightly to assume Holiday's metronome-passer responsibilities), or a significant trade or free-agent signing yet to come—presumably involving a player who won't require an international slot.
Houston Dash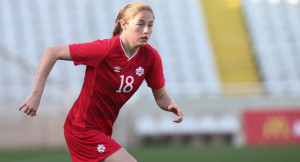 Picks: Cari Roccaro, Rachel Daly, Janine Beckie
Grade: If you're up here, then who's playing center back?
Going in, Houston needed help at center back and forward. Roccaro is an excellent center back with significant YNT experience. Asking rookies to carry the center-forward burden is a lot, but Daly and Beckie are promising forwards. (As a soon-to-be allocated player, Beckie's salary will also be covered by Canada.) So why am I frowning?
Roccaro is one of the best centerbacks in the draft, a player who may be good for years to come, and a former player of coach Randy Waldrum's at Notre Dame, as well. But she also just had surgery on a torn labrum, and will miss a significant part of the season. Will it be enough to start the year with just two recognized center backs (Australian Ellie Brush and Jen LaPonte), and rely on other members of the squad to play out of position and fill in as needed? Vlatko Andonovski's decision last year at FCKC to move Yael Averbuch to center back to fill in for Becky Sauerbrunn for a large chunk of the season worked a charm; can Waldrum pull off something similar this year?
Orlando Pride
Picks: Samantha Witteman, Christina Burkenroad, Dani Weatherholt.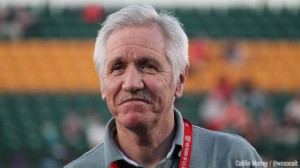 Grade: What was that about defense winning playoff berths?
At this point, it's a little hard to assess Tom Sermanni's first NWSL draft without seeing what roster moves he makes next.
In particular, Orlando came in needing more attackers and depth at center back. Sam Witteman of Cal and Christina Burkenroad of CSU Fullerton, while perhaps less widely heralded than others in the draft, are very well thought of on the attacking side. (Witteman, among other things, was just called into a U-23 WNT camp. And Burkenroad's off-field story reflects a drive and determination that should serve her well wherever she plays.)
Santa Clara's Dani Weatherholt, though, is a defensive midfielder, not a defender. Especially in light of the announcement of the retirement of veteran defender Taryn Hemmings, it was surprising that the Pride didn't draft anybody for the backline. That said, there's obviously still time for that gap to be filled. One to keep an eye on.
Portland Thorns
Picks: Emily Sonnett and McKenzie Berryhill (and Mallory Pugh, or whoever else they get to pick with that top allocation spot).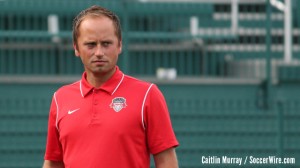 Grade: Cat, meet pigeons
I think it's safe to say that 24 hours before the draft, you would have gotten long odds on Portland drafting center back Emily Sonnett at No. 1 being possibly their less-consequential player move of the day. Then came the Mallory Pugh whirlwind.
+READ: Sources: U.S. Soccer set to sign 17-year-old talent Mallory Pugh, allocate to NWSL's Portland Thorns
In brief: Mallory Pugh is an immensely promising young attacking player, who, among other things, is starting to get senior WNT callups at 17. As SoccerWire.com reported, it appeared to be the case that she would be skipping college altogether in favor of going straight to playing for the Thorns, with U.S. Soccer paying her salary, but new developments this week suggest that she's made an unexpected U-turn.
If her move to the Thorns does comes off as originally thought, it will give a serious boost to the development of a player who is already the brightest star in the YNT firmament — while, incidentally, starting to upend the existing NCAA-centric youth development system. If it doesn't come off… not good may be an understatement. It's a big risk for Pugh personally, for the USWNT, and probably Portland coach Mark Parsons, as well, given the trust placed in him by U.S. Soccer. The one party that it may not be a big risk for, though, results-wise, is the Thorns and their already-stacked roster.
There are many things to say about this move, and undoubtedly more short-term and long-term shoes to drop. But purely in terms of this move as a foretaste for the upcoming season? Pass the popcorn.
We should not forget in all the Pugh-related foofaraw that Portland did also have another pick in the draft, which they used to select ASU centerback McKenzie Berryhill. Nothing against Berryhill, but I'm not entirely sure that Portland actually needed to take another centerback in addition to Sonnett (and Kat Williamson, and, if needed, Emily Menges) as things stand. By comparison to the rest of the Thorns' draft day, though, this is small beer.
Seattle Reign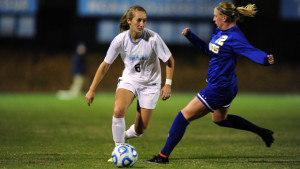 Picks: Carson Pickett, Paige Nielsen, Summer Green, Lindsey Luke
Grades: It's good to start in the driver's seat.
Laura Harvey went into this draft with important advantages: very few holes to fill, and four draft picks, including no.4 overall. And she calmly used her advantages for all they were worth. Harvey started by using that no.4 pick to fill the one clear gap in the starting XI, selecting FSU fullback Carson Pickett (a core piece of FSU's 2014 national championship side), to replace Steph Cox at left back.
The remainder of the picks were almost the draft equivalent of playing with house money: promising midfielder/defender Paige Nielsen, a walk-on at UNC, to develop over time; highly-rated goalkeeper Lindsey Luke of Utah, to compete w/Haley Kopmeyer as Hope Solo's backup and provide cover during the Olympics; and a flyer on (currently injured) UNC forward Summer Green, to see if she can come good and fulfill her early promise.
Not a bad pickup, all told. And Harvey didn't even have to make a trade to do it. The only question that remains now is whether she plans to use her empty international slot on the signing of another forward, given the ACL injury to Megan Rapinoe. We'll see.
Sky Blue FC
Picks: Raquel Rodriguez, Leah Galton, Erika Skroski, Caroline Casey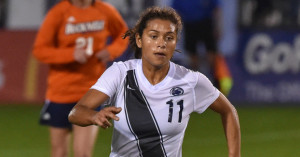 Grade: Is there a striker on this plane?
Sky Blue started the draft by doing what everybody expected, and taking Penn State midfielder Raquel Rodriguez. Her hammer to Sarah Killion's anvil could make the center of midfield very uncomfortable for Sky Blue's opponents in the coming seasons. (One does wonder what this portends for the career of playmaker Katy Freels, though.)
After that, things got a little odd. Sky Blue was short of forwards before Nadia Nadim departed for Portland in a draft-day trade. And while the first-round pick in next year's draft that Sky Blue got in return could yet be extremely valuable, they still need multiple strikers now. But they only took one (English import Leah Galton), along with a centerback (Erika Skroski of Rutgers) and a goalkeeper (Caroline Casey of William & Mary). One would hope that they're not planning on relying too heavily on Galton to make an immediate impact in her first professional season; and even when Kelley O'Hara and Sam Kerr are available, the forward cupboard seems a little bit bare.
To be sure, Skroski is a local player (to the point that she's already been playing at Yurcak Field for the last four years with Rutgers); but if Sky Blue was going to take a defender, wasn't fullback the position of greater need? And was Casey the best available option for a backup goalkeeper?
There may yet be good answers to these questions, but Sky Blue's track record in drafts and player development does not inspire confidence.
Washington Spirit
Picks: Cheyna Williams, Cali Farquharson, Alli Murphy, Madalyn Schiffel, Kara Wilson.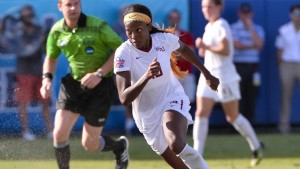 Grade: Forwards, forwards everywhere.
Washington's draft, like Orlando's, is hard to completely evaluate without knowing what set of roster moves will come next.
Washington's public roster, as of now, includes a slew of forwards. Yet the Spirit's first and second picks—cheered on by a boisterous contingent from the Spirit Squadron supporters' group—were two more: FSU's Cheyna Williams and Cali Farquharson of Arizona State. Presumably some of the currently rostered forwards will be waived or traded, but which ones and how many is a tougher question.
Regardless, in addition to the two forwards and the aforementioned Murphy, the Spirit drafted attacking midfielder Alli Murphy of Texas Tech, defensive midfielder Kara Wilson of Duke (and the Washington Spirit Reserves), and University of San Francisco goalkeeper Madalyn Schiffel.
The Schiffel pick raises an interesting roster issue. The Spirit already have one good goalkeeper, Kelsey Wys; and word has been that the Spirit will be allocated Canadian international goalkeeper Stephanie Labbé whenever the Canadian allocations are actually announced. One wonders whether drafting Schiffel means that Labbé won't be allocated to Washington after all, that the Spirit don't rate Labbé, or even that Wys is thinking of retiring? Ask again come preseason.
Western New York Flash
Picks: Michaela Hahn, Makenzy Doniak, Mallory Weber, Laura Liedle, Britt Eckerstrom.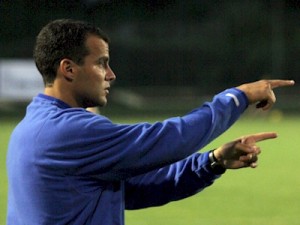 Grade: Rebuilding part deux.
On the whole, the Flash seem to have done reasonably well for themselves in episode two of Rebuilding (Only by Naimo), but there are at least a few remaining questions.
FSU midfielder Michaela Hahn seems a logical choice to sit deep next to Sam Mewis in a metronome-type role, after the departure of Becky Edwards. The highly-touted Makenzy Doniak of UVa not only is a striker who provides forward depth after the departure of Sydney Leroux, but will have a point to prove after sliding to the second round of the draft. And goalkeeper Britt Eckerstrom — last seen marshaling a very young Penn State backline en route to a national championship — makes sense as a backup to Sabrina D'Angelo.
The selection of Penn State winger Mallory Weber is a little more puzzling. GM Charlie Naimo implied after the draft that the Flash were considering conversion of Weber into a fullback. One wonders, then, why they picked Stanford fullback Laura Liedle in the following round—especially since WNY still needs depth at centerback, as well. Naimo may have been spinning a bit about the choice, of course; and there may yet be more roster moves to come. Stay tuned.
College Recruiting Commitment Tracker