Sources: Va. Tech product Patrick Nyarko returning to DMV to join D.C. United from Chicago Fire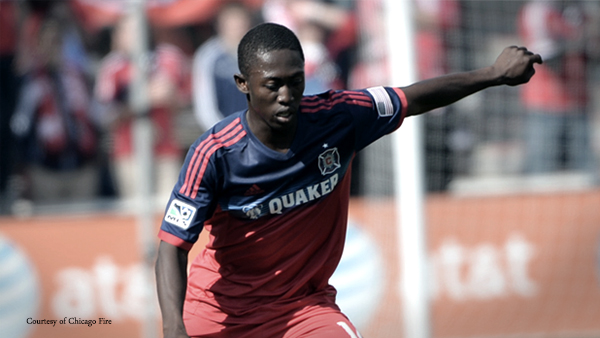 WASHINGTON – Two straight years of meek MLS playoff exits have underlined D.C. United's dire need for speed, width and attacking aggression.
So the Black-and-Red have lined up a Hokie.
Multiple sources have told SoccerWire.com that United are set to acquire pacey winger Patrick Nyarko, a product of Virginia Tech, from the Chicago Fire this week, in exchange for some combination of draft picks, allocation money and/or other considerations. United officials declined to comment on the matter.
+READ: SoccerWire Q&A: D.C. United COO Tom Hunt on his club's new logo, search for new fans
Frustrated by the Fire's losing ways and feeling stagnancy in his own career, Nyarko requested a trade out of Chicago before the arrival of new general manager Nelson Rodriguez, and even the opening stages of a sweeping overhaul headlined by the selection of Veljko Paunovic as head coach has not changed his mind.
The deal represents a welcome dose of dynamism and value for a team which has perfected the art of grinding out regular-season results, but struggled to create scoring chances with regularity or impose its will on the rhythm of important games. And for Nyarko, it's a homecoming, of sorts.
The Ghanaian-born speedster grew up in the teeming West African metropolis of Kumasi, but moved to Virginia as a teenager after Oliver Weiss, then the head coach at Tech, spotted him on a trans-Atlantic scouting trip and took a gamble on a skinny, awkward kid with unpredictable skill on the ball.
When the family of his Hokies freshman teammate Kevin McFadden welcomed him into their Richmond home to help him combat homesickness and culture shock over Thanksgiving break, a strong bond quickly developed and he was soon taken in as a beloved member of their household.
He's often returned for offseason visits, even after he left Tech to join the Fire after leading the Hokies to an unprecedented College Cup semifinal appearance in 2007, the peak of the most successful period in the program's history.
+READ: D.C. United to host Colorado Rapids in 2016 MLS home opener
Nyarko, who turns 30 on Jan. 15, looks like another savvy pickup for a D.C. front office grown accustomed to bargain-bin shopping under the financial constraints of the club's final years at RFK Stadium as their new home is built at Buzzard Point.
His contributions to the Fire have been limited by injuries in recent years. But even as an experienced veteran, his annual salary is listed at a modest $215,750 in MLS Players Union documents and he has a good relationship with United star Chris Rolfe, another Fire exile who has renewed his career in the nation's capital.
While he's hardly the answer to all of United's issues, Nyarko's capture would present coach Ben Olsen with a useful attacking weapon – and give Black-and-Red fans an exciting creative presence to watch roam the flanks at RFK.
College Recruiting Commitment Tracker