Players That Impressed: December 21, 2015 – January 3, 2016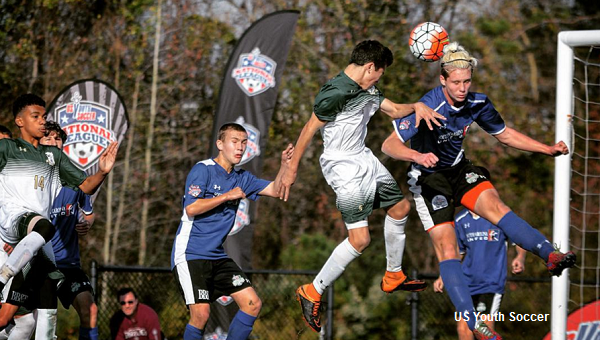 The following players were submitted by coaches or club technical personnel so they could be recognized for impressive performances in competitive soccer games during the weeks of Monday, December 21, 2015 through the end of Sunday, January 3, 2015.
We post players in the order the submissions are received, so the sooner you post following impressive game performances, the higher up the list they will appear for that week.
+ You can submit players each week here
---
[player_box id=64845 leftright=right]
Sophie Shrader – Forward
HFC Chargers Elite U-15 Girls
Disney Soccer Showcase
Sophie Shrader was instrumental in assisting or scoring all of HFC Chargers 00-01 Elite's goals at the Disney Showcase, displaying outstanding field vision and playmaking ability. In the first game, Shrader assisted both goals to give her team a 2-1 against Empire United from Buffalo, NY. In the third place match, Shrader scored the lone goal for her team in the 1-0 win against SAC from Maryland.
---
Kalani Takamura – Midfielder
Capital Futbol Club Cosmos U-17 Boys
Eastern Development League, Division 2 South
Kalani received his first U-17 club call up with Capital Futbol Club's Cosmos in its final 2015 EDP match. He played 70 good minutes at the No. 7 position, entering in the 25th minute and promptly notching an assist. The 4-foot 11-inch midfielder used his quickness, technique and guile to challenge his bigger, older and more physical opponents.
---
Marco Carrera – Midfielder
Capital Futbol Club Cosmos U-17 Boys
Eastern Development League, Division 2 South
Marco completed his first game for the U-17 Capital FC Cosmos at the No. 10 position, playing technically-sound and smart on the ball. He finished the game with a remarkable 4 assists.
---
Jade Wilkins – GK
SAC Premier Blue U-17 Girls
Disney Showcase
Jade played a huge role in maintaining a clean sheet throughout regulation and overtime in the Disney Showcase Final. She came up huge in the penalty shootout, scoring the first PK and making three saves while leading the team to a division title.
---
Blair Vilov – Forward
ASA Azzurri U-17 Girls
Disney Soccer Showcase
Blair scored 4 goals in 4 games and added 2 assists in propelling the ASA Azzurri to their second straight Disney Showcase final. In game 2, Blair had a first half hat trick – scoring once with her feet and twice with her head. 2 of Blair's goals were game winners.
---
Hannah Hoefs – Midfielder
ASA Azzurri U-17 Girls
Disney Soccer Showcase
Hannah scored 3 goals and had 4 assists in the ASA Azzurri's second championship appearance at the Disney Showcase. Hannah's goals and assists came in the run of play and on set pieces. She scored with her feet, with her head and on a PK. Hannah had a game winning goal and a game winning assist.
---
Davey Mason – Forward
Bethesda-Olney U-18 Boys
Development Academy Winter Showcase
Davey had an outstanding offensive performance as his team went undefeated at the USSDA Showcase with a 2-0-1 record, scoring two goals and adding an assist.
---
Cami Murtha – Forward
Bethesda Impact ECNL U-17 Girls
Disney Showcase
Cami scored in all five games and had a total of seven goals including the game-winner in the championship match. She also assisted four other goals at the Showcase.
---
Dani Katz – GK
Bethesda Impact ECNL U-17 Girls
Disney Showcase
Dani shared goaltending duties with Talia Klimes throughout the tournament. She came up with key second half saves against Collier to secure the win in group play and also went on to dominate the second half of the championship match against Kings Hammer Red, securing the shut-out victory.
College Recruiting Commitment Tracker