Players That Impressed: USYS National Championships Group Stage (Boys)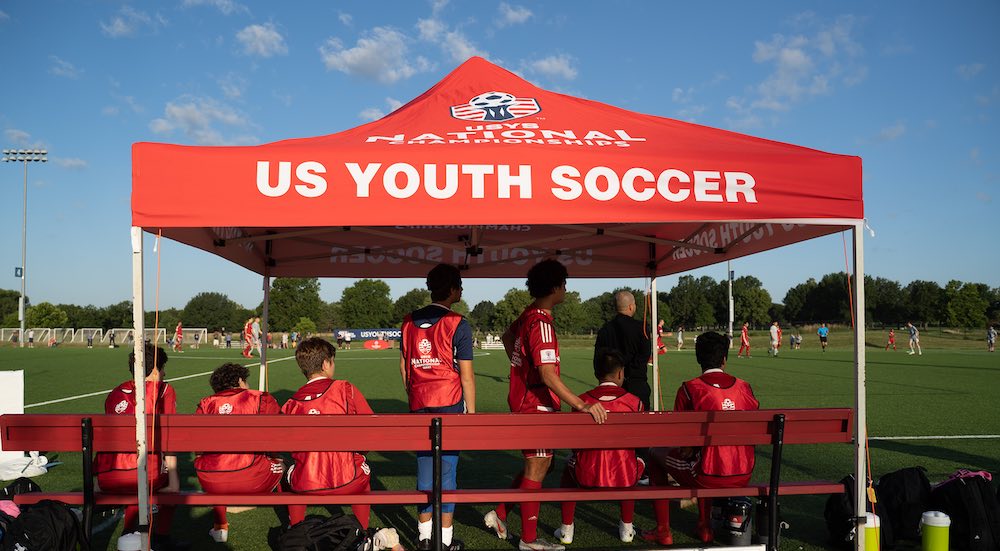 The following 13U-19U Boys players turned in top performances during the group stage of the 2019 US Youth Soccer National Championships.
Players That Impressed are identified from games watched by SoccerWire.com staff, and from coach and team manager submissions. Please send additional player nominations to [email protected].
Noah Karfis | Defender
Michigan Jaguars 13U (MI)
Played a key role on a Michigan Jaguars back line which conceded only 1 total goal over the course of their 3 group games.
Gavin Cote | Goalkeeper
Michigan Jaguars 13U (MI)
Proved to be rock solid between the posts, helping Michigan finish group play with a pair of clean sheet victories.
Isaac Calderon | Forward
Las Vegas Soccer Academy 14U (NV)
Led all players in the 14U Boys age group with 5 goals scored during group play.
Jordan Klein | Midfielder
Nationals Union 14U (MI)
One of only 3 class of 2024 players on his side, Klein served as an important playmaker in the Nationals Union offense, helping create scoring chances for his teammates.
Sheridan Rodrigues | Defender
Downtown LVSC 15U (NV)
Contributed on both sides of the field as Downtown LVSC finished at the top of Group B with an unbeaten 2-0-1 record, conceding just 1 goal along the way.
Marco Antonio Valencia | Forward
Raiders FC 15U (IL)
Scored 4 goals in the group stage to lead all 15U Boys players. Fueled the Raiders offense with a hat trick in their 5-2 win over Oklahoma Energy FC.
Ethan Lacher | Defender
PA Dominion 15U (PA)
Provided defense pressure and showed his two-way abilities on the attacking side to help PA Dominion finish the group stage undefeated, with a 5-1 goal differential.
Emanuel Martinez | Forward
FC Dallas Youth 16U (TX)
Found the net 5 times to help FC Dallas post an unbeaten 2-0-1 record, earning a spot in the semifinals. Martinez was the top scorer for FCD's offense, which led all 16U Boys teams with 11 total goals.
Caden Stafford | Forward
Syracuse Development Academy 16U (NY)
Netted the game-winning goals for Syracuse in both of their group stage victories, helping them move on to the semifinals. Stafford's 4 total goals were tied for 2nd in the age group.
Joseph Fonagy | Forward/Defender
Beadling SC 16U (PA)
After a rough loss in their opening game, Beadling earned back-to-back wins to secure a place in the semifinals. Fonagy sparked the offense in the 2 wins, recording a brace in both games.
Matthew Kopsidas | Goalkeeper
Baltimore Celtic 17U (MD)
Came up with several key saves while splitting time in net as Baltimore Celtic rallied for 2 straight clean sheet victories in their final group games.
Spencer Hanks | Forward
Baltimore Celtic 17U (MD)
The UMBC class of 2020 commit helped push Baltimore Celtic into the knockout stage, finishing tied for 1st in the age group with 4 goals.
Jonathan Lee | Goalkeeper
Arlington SA 17U (VA)
Shined in net with 7 saves during Arlington's thrilling 1-0 clean sheet victory over Santa Clara Sporting in their final group game, clinching a spot in the next round. Finished group play with 2 shutouts.
Garrett Ross | Defender
Arlington SA 17U (VA)
Anchored the most dominant back line in the 17U age group, as Arlington conceded just 1 goal over 3 group games.
Joseph Core | Forward
Arlington SA 17U (VA)
College of William & Mary class of 2020 commit fueled Arlington's offense during their unbeaten run through Group B. Core will aim to add to his 3 goals in the knockout stage.
Isaac Shiner | Forward
Michigan Jaguars 17U (MI)
Catalyst for the top-scoring Michigan offense, which racked up 10 total goals in group play. Shiner netted 4 of those goals, helping his side reach the semifinals.
Jerry Desdunes | Midfielder
PPA/KSA Pro-Profile 18U (GA)
Top scorer (4 goals) for PPA/KSA's high-powered offense, which led the 18U age group with 9 total goals. Desdunes will try to keep the momentum going in the semifinals against Utah side Sparta Premier.
Andres Quevedo | Goalkeeper
FC Dallas Youth 19U (TX)
Syracuse University 2019 commit was stellar in net for FC Dallas, as they allowed just 1 total goal over the course of 3 group games.
Reed Sturza | Midfielder
Lehigh Valley United 19U (PA)
Incoming University of Vermont recruit helped guide LVU into the semifinals with his efforts in the midfield, pushing the ball into the final third to create scoring opportunities.
Benjamin Stitz | Forward
Baltimore Celtic 19U (MD)
Current University of Pennsylvania player found the net 3 times to lead all 19U players during group play, as Celtic earned advancement to the semis.
College Recruiting Commitment Tracker