Players That Impressed: USYS National Championships Knockout Stage (Girls)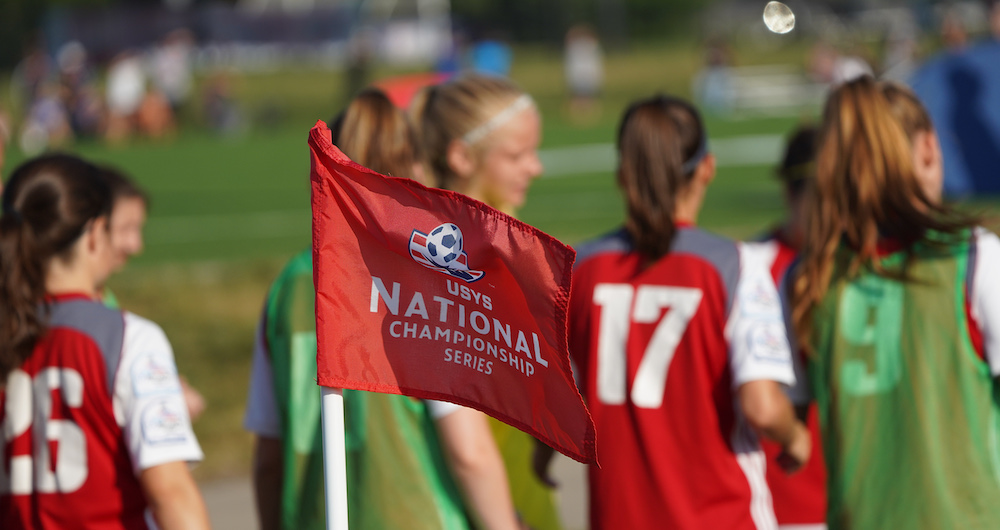 The following players turned in top performances during the knockout stages of the 2019 US Youth Soccer National Championships, in the 13U-19U Girls divisions.
Players That Impressed are identified from games watched by SoccerWire.com staff, and from coach and team manager submissions. Please send additional player nominations to [email protected].
Ava Schall | Midfielder
Albion SC Academy Whittaker 13U (CA)
Provided the game-winning goal for Albion SC in the national title match, as they defeated Midwest Regional champion Michigan Jaguars.
Dyllan Williamson | Defender
Albion SC Academy Whittaker 13U (CA)
Strong performance at center back during the championship match, contributing to a clean sheet effort and showing her passing abilities out of the back.
Grace Miller | Goalkeeper
Albion SC Academy Whittaker 13U (CA)
Combined with the Albion defense to notch a clean sheet during their 1-0 victory over Michigan Jaguars in the 13U Final.
Shanti Weddington | Midfielder
D'Feeters SC Black 14U (TX)
Scored what proved to be the game-winning goal for D'Feeters in the 14U Final, as they edged Missouri club Lou Fusz 2-1.
Samantha Lumpkin | Defender
D'Feeters SC Black 14U (TX)
Key member of a D'Feeters SC defense which earned 3 clean sheets in 5 games during their 14U championship run.
Cecilia Cerone | Goalkeeper
D'Feeters SC Black 14U (TX)
Worked along with the D'Feeters back line to allow just 2 total goals during their 5-game title run at Nationals. Shined during the semifinals in particular, as D'Feeters won a PK shootout following a scoreless regulation and overtime.
Megan Rogan | Defender
Lou Fusz Geerling 14U (MO)
Two-way player who came up big in the semifinals, contributing to a team-wide defensive effort while also scoring the game-winning goal on an impressive half volley.
Kayla Budish | Forward
SC Waukesha Blue (WI)
Continued her scoring streak in the semifinals and finals, as SC Waukesha won it all. Budish scored in all 5 games at USYS Nationals, leading all 15U players with 9 goals.
Taylor Mentzer | Midfielder
FC Revolution Dynamo 15U (PA)
Netted 3 goals during the semifinals and finals, as she finished the event tied for 2nd among all 15U players with 5 total goals. Her brace in the semifinals helped push FC Revolution into the title match.
Avery McBride | Forward
Boise Thorns Elite 15U (ID)
Opened the semifinals with a bang, as she scored her 5th goal of the tournament to put Boise on top 1-0 in just the 7th minute.
Chloe Netzel | Forward
Lou Fusz Blue 16U (MO)
Piled up 4 goals during the semifinals and finals, leading her team to the 16U national title. Her most heroic performance came in the semifinals, when she recorded a hat trick, with all 3 goals coming in the 2nd half and overtime.
Olivia Garcia | Forward
Las Vegas Soccer Academy 16U (NV)
Finished 2nd among all 16U players in scoring at USYS Nationals, as her team finished as semifinalists. Garcia scored a last-minute goal in overtime of a wild semifinal match, as LVSA came up just short 4-3 against Lou Fusz SC.
Allyson Kamper | Defender
Legends IE 16U (CA)
Anchored a tough Legends IE defensive unit which earned 3 clean sheets at USYS Nationals, including a 1-0 shutout of PSA National in the semifinals.
Hailey Hilton | Defender
Legends IE 16U (CA)
Key contributor for the Legends FC defense during their run to the championship match in the 16U age group. Helped shut down the PSA National offense as Legends secured a 1-0 clean sheet win in the semifinals.
Baylee DeSmit | Forward
Pipeline Pre-Academy 17U (MD)
Recorded back-to-back braces in the semifinals and finals, as she finished the tournament with a whopping 9 goals.
Haley Anspach | Forward
Cleveland FC 17U (OH)
Continued her scoring binge with braces in both the semifinals and finals, as Cleveland FC won the National Championship. The Miami University (Ohio) 2020 commit finished the event with 8 total goals.
Alyssa Minnick | Goalkeeper
Premier Navy 18U (MD)
Played better and better as the week went on, as Premier SC only allowed 1 total goal in their last 3 games. Minnick limited Lady Lobos Rush to a single goal during Premier's championship victory.
Madison Carr | Forward
Premier Navy 18U (MD)
Towson University 2019 commit finished her youth career in style, scoring both goals for Premier SC in their 2-1 win over Lady Lobos Rush in the 18U Final.
Elizabeth Slavinsky | Forward
Lady Lobos Rush Premier 18U (TN)
Middle Tennessee State University 2019 commit scored in both knockout stage games for Lady Lobos Rush, as they finished the season as 18U National Finalists.
Jessica Preusser | Midfielder
Lou Fusz Elam 19U (MO)
Saint Louis University 2020 commit found the net for Lou Fusz in both the semifinals and the finals, as they ultimately finished as 19U National Finalists.
Kathryn Schirmer | Forward
Celtic FC Premier 19U (UT)
Pulled off a hat trick in Celtic FC's dominant 9-1 victory over Lou Fusz in the 19U Final. Finished 1st among all 19U players with 6 goals at USYS Nationals.
Hannah Rittenhouse | Forward
Campton United Red 19U (IL)
University of Iowa 2019 commit finished tied for 2nd in the 19U age group with 4 goals scored at Nationals. She recorded a brace in the semifinals, including a clutch 88th minute equalizer to push the game into overtime.
College Recruiting Commitment Tracker