Players That Impressed: Top goal scorers from the U.S. Soccer Girls DA Winter Cup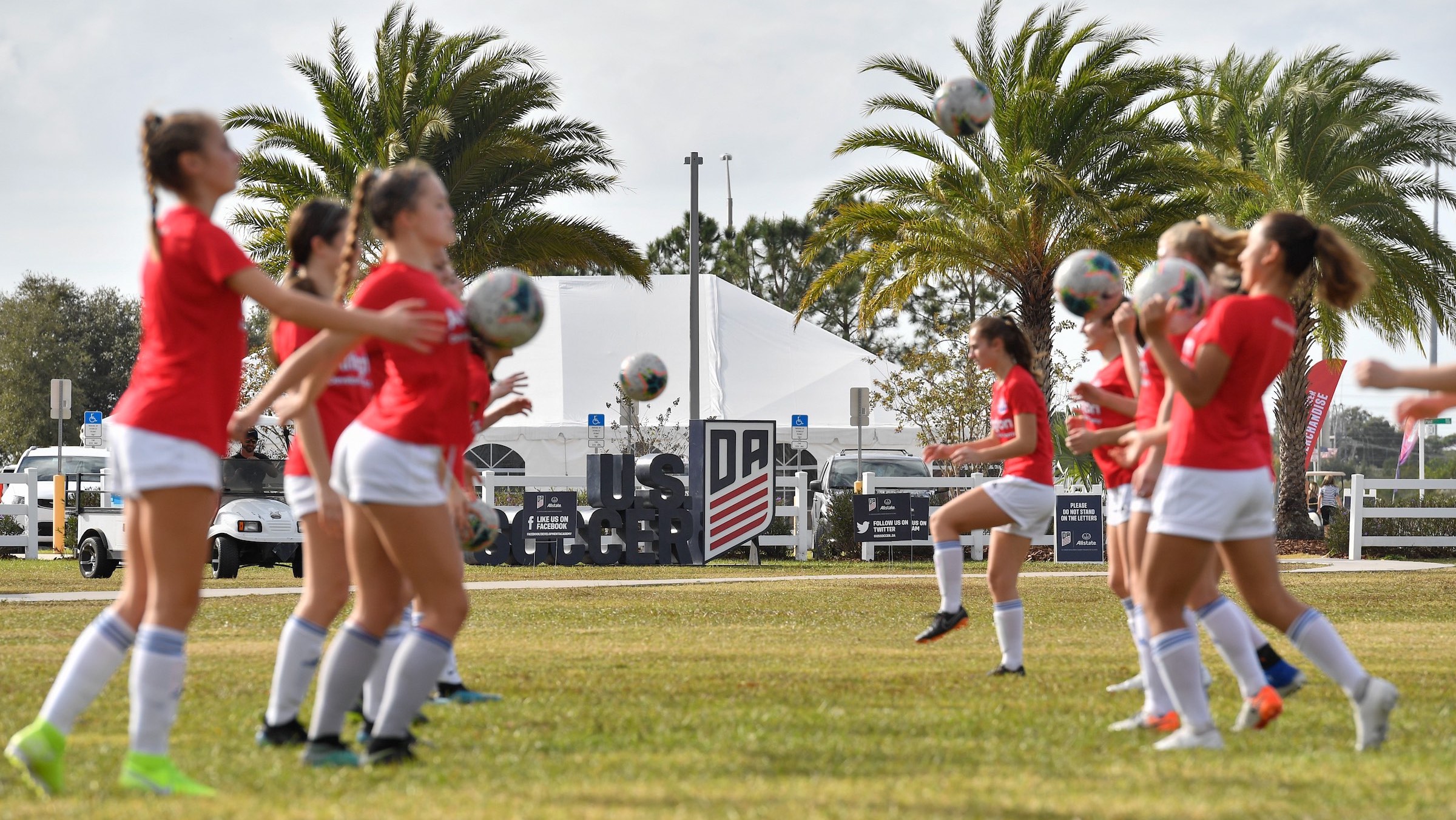 U.S. Soccer hosted the inaugural Girls Development Academy Winter Cup this month in Lakewood Ranch, Fla. as teams in the U-15 through U-18/19 Championship Groups battled for advancement in the new season-long DA Cup competition.
Group winners locked up their spots in the 2020 Spring DA Cup, the final stage of the event. The following players couldn't be stopped in the Championship Groups at the Girls DA Winter Cup, where they each scored at least 4 times, averaging more than a goal per game.
U-15
Aubrey Kulpa – Oakwood SC: Tallied 4 goals during a perfect 3-0-0 run for her team.
Payton Murray – Beach Futbol Club: Netted 5 of her team's 7 total goals, during their first place run in Group B.
Madison Stormberg – FC Dallas: Notched 4 goals, scoring in all 3 games for FC Dallas, including the game-winner in their 1-0 win over Sporting Blue Valley on the last day.
Kelsey Swyney – LA Galaxy San Diego: Found the net 4 times, all in the same game as LA Galaxy overpowered Nationals 5-2.
Sophia Bradley – STA Development Academy: Finished the week with 4 goals, including a hat trick on final day of the event.
Sophia Wampler – Cincinnati Development Academy: Netted 4 goals all in one game, a 5-1 rout of Real So Cal.
U-16
Mia Minestrella – Beach Futbol Club: 5 goals, including a hat trick against Solar SC and a brace against Midwest United FC.
Tyler Isgrig – Solar SC: 5 goals at the event, highlighted by a brace and a hat trick as her side went unbeaten.
Taylor Zdrojewski – FC Dallas: 4 goals during her team's perfect run, as they outscored opponents 11-0.
Alexis Robinson – Real Colorado: Netted a pair of braces as her team piled up an amazing 19 total goals during their 3-0-0 run.
Cailey Jackson – Legends FC: Found the net 5 times as her team placed 2nd in Group G, earning a 2-1-0 record.
Hannah Jibril – Baltimore Armour: Racked up 4 goals, including a hat trick to lead Armour in their 4-1 win over Utah club La Roca FC.
Isabella Garces – NEFC: Piled up 6 goals, leading NEFC to a 2nd place finish in Group H. She scored at least once in every game.
U-17
Angela Diep – Houston Dash: Totaled 4 goals at the Winter Cup, bolstered by her hat trick in Houston's 4-1 victory over Beach Futbol Club.
Simone Jackson – Beach Futbol Club: Tallied 6 out of Beach FC's 12 total goals, which was the most of any team in Group B.
Alexis Missimo – Solar SC: Scored 8 goals during Solar's dominant performance at the Winter Cup, which saw the defending national champions find the net 23 times.
Trinity Byars – Solar SC: Contributed to the reigning national champions' 23-goal outburst with 6 of her own.
Jaedyn Shaw – Solar SC: Added to Solar's dominance with 4 goals, including a hat trick against LA Galaxy San Diego.
America Frias – San Jose Earthquakes: Provided the game-winner as San Jose earned a 3-2 win over national champion Solar SC. It was the USYNT prospect's 4th goal of the week.
Francesca Yanchuk – NEFC: Racked up 5 goals in total, highlighted by her 4-goal effort against Michigan club Nationals.
Katherine Rader – Weston FC: Netted 4 goals during Weston's unbeaten run, as they finished at the top of Group E.
Farrah Walters – SC del Sol: Contributed 6 goals as the Arizona club swept the competition in Group F, securing their place in the DA Spring Cup.
Lauren Memoly – So Cal Blues: Helped fuel So Cal's high-flying offense with 4 of their 12 goals, as the Blues posted a perfect 3-0-0 record in Group G.
Lumi Kostmayer – Sky Blue NYSC: Led her team's offense with 4 of their 10 total goals, which was easily the most in Group H.
U-18/19
Alyssa Thompson – Real So Cal: Began the week with a 4-goal performance against California Thorns FC, before scoring once in each of her team's final two games. Thompson's 6 goals helped Real So Cal post a perfect 3-0-0 record.
Leah Chancey – Solar SC: Stole the show with a 5-goal outburst against Utah Royals FC – Arizona, and finished the Winter Cup with 6 scores, as Solar finished at the top of their group.
Hillary Schroeder – San Diego Surf: Found the net at least once in each game, totaling 4 goals at the event. Helped Surf sweep their opponents in Group D.
Carrie McIntire – The St. James FC Virginia: Turned in a 4-goal performance in her team's finale against San Jose Earthquakes, finishing off a perfect showing at the Winter Cup.
Mackenzie Anthony – Sockers FC: Recorded a pair of braces, totaling 4 goals for Sockers FC, helping her team come from behind twice to finish the week unbeaten with a win and two draws.
College Recruiting Commitment Tracker