Players That Impressed: Girls DA U16/17 Playoffs – June 27, 2019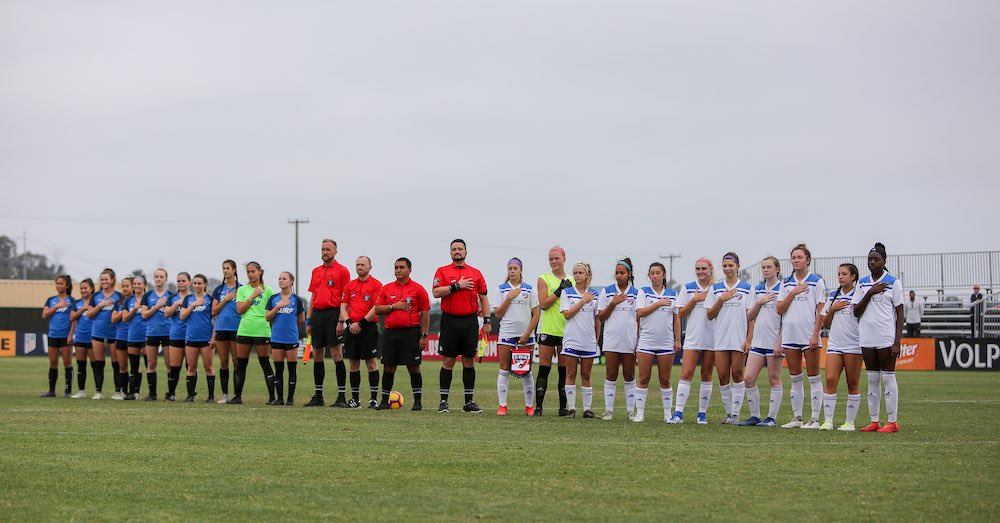 DA Playoffs Home Page | Girls DA Playoffs Schedule
The following players are just a few of the top performers from Thursday's U.S. Soccer Girls Development Academy Playoff games in the U-16/17 age group.
Players That Impressed are identified from games watched by SoccerWire.com staff, and from coach and team manager submissions. Additional 'Players That Impressed' submissions will be reviewed and added to the list on a rolling basis. Please send additional player nominations to [email protected].
Makenna Garcia | Goalkeeper
Lonestar SC (TX)
Worked with the Lonestar back line to notch their third straight clean sheet, finishing group play without conceding a single goal.
---
Stella Sutton | Defender
Midwest United FC (MI)
Played all 270 minutes during group play for Midwest United, utilizing her height and speed to win headers and shut down a variety of scoring chances.
---
Riley Thompson | Forward
IMG Academy (FL)
Thompson, the top scoring threat for IMG (39 goals), opened her postseason account at a great time, recording a second half brace to help her team win 2-1 over Midwest United to lock up a spot in the quarterfinals.
---
Mia Justus | Goalkeeper
IMG Academy (FL)
Turned in a heroic performance for IMG in their group stage finale. The U.S. Youth National Team keeper has a rare arsenal of skills that allow her to make exceptional saves, usually only seen by players well beyond her years.
+READ: Players That Impressed | Girls DA Playoffs – U15 Quarterfinals
---
Kendra Maki | Defender/Midfielder
IMG Academy (FL)
Played a key defensive role as IMG grinded out a 2-1 win over Midwest United to reach the quarterfinals. Maki made several important clearances and interceptions in the second half to prevent MIdwest from finding an equalizer.
---
Dianna Palazzolo | Defender
Nationals Soccer (MI)
Helped Nationals earn their third straight win, and second clean sheet of the playoffs. Defended well in tight spaces and 1v1 situations in the box, winning balls without fouling.
---
Alexandra Pulaski | Defender
Nationals Soccer (MI)
Provided fresh legs in the second half as Nationals notched a clean sheet against Real So Cal. After playing the full 90 minutes in each of Nationals' first two group games, Pulaski solidified the back line as a super-sub on Thursday.
---
Brooke Potter | Forward
FC Virginia (VA)
Netted a pair of goals in the opening 20 minutes of the game, providing all of the offense that FC Virginia needed in their 2-0 win against Sockers FC.
---
Mmasiolu Gamero | Forward
Beach Futbol Club (CA)
Piled up 5 of Beach Futbol Club's 6 goals as they swept their three opponents in the group stage. She helped her side solidify their place in the quarterfinals by notching a hat trick in Thursday's 4-0 win over Cedar Stars Academy.
+READ: Players That Impressed | Girls DA U16/17 Playoffs – June 25, 2019
---
Taylor Bloom | Defender
Beach Futbol Club (CA)
Anchored the back line for all 270 minutes as Beach Futbol Club earned 3 clean sheets in a row in the group stage. Beach will try to keep their shutout streak going on Saturday in the quarterfinals against Tophat Soccer.
---
Lucy Curran | Defender
Beach Futbol Club (CA)
Key member of Beach Futbol Club's dominant back line, which did not allow a single goal during their 3-game sweep of Group G. Thursday's shutout of Cedar Stars Academy solidified their place in the knockout stage.
---
Maragret Boade | Forward
Real Colorado (CO)
After entering the game in the 58th minute, Boade wasted little time as she scored twice within her first 20 minutes on the field. She finished the group stage with 3 goals in 3 games.
---
Quincy McMahon | Forward
Real Colorado (CO)
Matched her teammate Maragret Boade with a brace on Thursday in Real Colorado's 4-0 drubbing of La Roca Futbol Club. McMahon finished the Girls DA Playoffs with 3 goals.
---
Kayla Adams | Forward
Crossfire Premier (WA)
Converted a penalty kick in the 85th minute of Crossfire's victory over NC Courage Academy, for her 3rd tally of the postseason. Adams was instrumental for Crossfire in advancing the ball through the final third to create scoring chances.
---
Alexander Rush | Midfielder
FC Fury (NY)
Served up a perfectly-placed corner kick to earn the assist on Danielle Davis' goal in the 24th minute. Although Orange County Surf dominated most of the game, Rush made some strong passes on the attacking side for FC Fury.
---
Lauren Memoly | Midfielder
Orange County Surf (CA)
Opened up the floodgates for OC Surf with an absolute rocket from outside the box, just under the crossbar for a 60th minute equalizer against FC Fury. Memoly's goal led to 3 more unanswered scores as Surf won 4-1.
---
Meagan Rowlett | Forward
Orange County Surf (CA)
Netted 2 of OC Surf's 4 goals during the second half of their victory over FC Fury. Her 61st minute goal, which came less than a minute after Lauren Memoly's equalizer, proved to be the game-winner.
---
Jordyn Gunnarson | Goalkeeper
FC Dallas Youth (TX)
Fresh off a trip to the Czech Republic for a trio of friendlies with the U.S. U-17 Women's National Team, Gunnarson helped FC Dallas earn 3 straight clean sheets in the Girls DA Playoffs group stage. She played the 1st half in Thursday's 1-0 win over Penn Fusion, making a difficult save and distributing the ball well out of the back.
---
Elise Anderson | Defender
FC Dallas Youth (TX)
Outstanding in 1v1 situations and cutting off the opposing offense early in the attacking third. Anderson also helped the FC Dallas midfielders start runs the other way with direct passes from the back line.
---
Alexandra Lewis | Defender
Penn Fusion Soccer Academy (PA)
Representing one of the best defensive units in the country (26 goals allowed), Lewis played all 270 minutes during the group stage for Penn Fusion. She was very busy in Thursday's match against FC Dallas Youth, as Fusion limited one of the best offenses in the county to a single goal.
---
Alexis Missimo | Midfielder
Solar SC (TX)
As Solar SC finished the group stage with an astounding 27 goals, Missimo notched a hat trick on Thursday in the team's 10-2 dispatching of New York City FC. She netted 7 goals over the 3 group games.
---
Trinity Byars | Forward
Solar SC (TX)
Finished the group stage with 7 goals, as she and Alexis Missimo both recorded hat tricks on Thursday. Byars will aim to continue her scoring spree on Saturday in the quarterfinals against Michigan side Nationals.
---
Emma Tovar | Midfielder
California Thorns FC (CA)
In California Thorns FC's best offensive performance of the postseason, Tovar put the game out of reach with a goal in the 42nd minute, and completed her brace in the 90th minute of a 3-0 victory over LA Galaxy.
---
Danielle Lewin | Forward
Tophat Soccer (GA)
Opened the scoring for Tophat with a goal in just the 3rd minute of play, and completed her brace in the 69th minute during a 5-0 rout of Dallas Texans.
---
Simi Awujo | Forward
Tophat Soccer (GA)
Tallied her 3rd and 4th goals of the group stage as Tophat stormed past Dallas Texans 5-0. After winning all 3 group games, Tophat will look to keep the streak going in the quarterfinals on Saturday against Beach Futbol Club.
College Recruiting Commitment Tracker