Players That Impressed: Girls DA U-15 Playoffs – June 26, 2019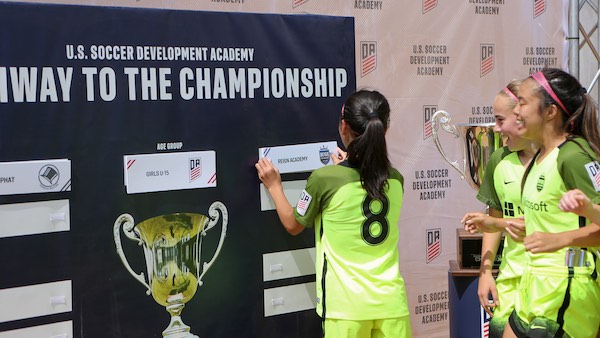 DA Playoffs Home Page | Girls DA Playoffs Schedule
The following players are just a few of the top performers from Wednesday's U.S. Soccer Girls Development Academy Playoff games in the U-15 age group.
Players That Impressed are identified from games watched by SoccerWire.com staff, and from coach and team manager submissions. Additional 'Players That Impressed' submissions will be reviewed and added to the list on a rolling basis. Please send additional player nominations to [email protected].
Lauren Chin | Midfielder
Reign Academy (WA)
Chin, a dynamic player with U.S. Youth National Team experience, shined on Wednesday in Reign Academy's 2-0 victory over LA Galaxy. She served up a brilliant set piece for the assist on the second goal, and created scoring chances throughout the match.
---
Avery Libed | Midfielder
Reign Academy (WA)
After leading the team in scoring during the regular season, Libed opened her postseason account during Wednesday's 2-0 win over LA Galaxy. Libed and the Reign attack put pressure on the opposing back line the entire 80 minutes.
---
Alexandra Schoenstadt | Midfielder
Reign Academy (WA)
Another key member of Reign Academy's potent offense, Schoenstadt scored what proved to be the game-winning goal in the 13th minute. The U.S. Youth National Team roster pool member was active on the right side all game, utilizing the right flank to attack and send in crosses.
---
Mia Minestrella | Forward
Beach Futbol Club (CA)
Piled up 4 goals during her team's 5-3 victory over Long Island SC. The U.S. Youth National Team forward netted 6 goals over the course of the group stage.
---
Ella Zimmerman | Defender
Tophat Soccer (GA)
Anchored Tophat's back line from her center back position in a 3-1 win over Solar SC. The class of 2022 Vanderbilt commit flashed brilliance on one play in particular during the first half, when she intercepted a dangerous pass to break up a 2v1 opportunity.
---
Tori DellaPeruta | Forward
Tophat Soccer (GA)
After coming close to converting several scoring chances, DellaPeruta broke through in the 76th minute with a goal that put the game out of reach against Solar SC. She has scored in all three of Tophat's playoff games so far, as they head into the knockout stage.
---
Isabel Smith | Midfielder
Tophat Soccer (GA)
Found the net for the second game in a row as Tophat finished group play with an unbeaten 2-0-1 record. Smith's 50th minute goal proved to be the game-winner in Wednesday's group stage finale against Solar SC.
---
Georgia Leb | Midfielder
Solar SC (TX)
Tallied an outstanding assist on Solar's lone goal on the day, sending in a perfect cross to Kaydence Ramirez. The U.S. Youth National Team roster pool player's creativity was on full display, despite a tough result against Tophat.
---
Taylor Zdrojewski | Forward
FC Dallas Youth (TX)
Zdrojewski's electrifying 4-goal outburst in the first half on Wednesday was the type of performance that players dream about, especially on a big stage like the DA Playoffs. She was particularly dominant on set pieces, powering home a pair of headers. Her fourth goal came on a ridiculous chip from long range. She finishes group play with 7 goals in 3 games.
---
Jayme Ramirez | Midfielder
FC Dallas Youth (TX)
Notched a pair of assists on corner kicks, placing back-to-back perfect crosses that Taylor Zdrojewski headed in for goals. Ramirez is a highly creative playmaker in one of the most talented offenses in the country.
---
Nona Reason | Goalkeeper
San Diego Surf (CA)
Showed poise and leadership between the posts for the full 80 minutes as Surf held off a talented NEFC side, 2-1 to complete a sweep of Group G.
---
Abby Succi | Defender
San Diego Surf (CA)
Entered the game in the second half and played a crucial role in preserving a narrow 2-1 lead, as Surf finished group play unbeaten. Came up with an importance clearance on a dangerous play deep in the box, as NEFC nearly equalized in the closing minutes.
---
Coco Thistle | Midfielder
San Diego Surf (CA)
Surf's leading scorer (18 goals) played a distributing role on Wednesday as her side notched a 2-1 victory over NEFC, finishing group play with a perfect 3-0-0 record.
---
Isabella Garces | Forward
New England FC (MA)
Provided the only goal of the match for NEFC against a tough Surf defense. Garces was relentless for the entire 80 minutes, and came very close to equalizing on multiple occasions in the second half.
---
Kayleigh Herr | Defender
NC Courage Academy (NC)
The U.S. Youth National Team defender anchored the Courage back line in their best performance of the postseason, a clean sheet effort against Lonestar SC.
---
Kiera Clemens | Midfielder
NC Courage Academy (NC)
Helped her side finish the Girls DA Playoffs on a high note, as her 44th minute goal proved to be the game-winner against Lonestar SC. Stayed aggressive for the full match, constantly pushing for another goal and wearing out the opposing back line.
---
Mallory Allen | Midfielder
Lonestar SC (TX)
After finding the net in both of Lonestar's first two DA Playoff games, Allen's scoring streak came to an end on Wednesday. However, the midfielder continued to be a bright spot in the possession battle and in the passing game.
---
Campbell Jewell | Forward
Cincinnati Development Academy (OH)
Recorded a brace for Cincinnati DA in their 3-0 win against Cedar Stars Academy – Monmouth. CDA's leading scorer (22 goals) helped her side reach the knockout stage, finding the net 3 times during group play.
---
Taylor Price | Forward
FC Virginia (VA)
Jumpstarted FC Virginia's attack by notching a brace as they closed the postseason with a 5-2 victory over New York City FC.
---
Madelyn Galbus | Midfielder
Penn Fusion (PA)
Scored two goals in a 5-minute span, including the game-winner in the 73rd minute, as Penn Fusion defeated Michigan Jaguars 3-1. Galbus finished the group stage with 3 goals in 3 games.
---
Talei Moodie | Defender
San Jose Earthquakes (CA)
Netted the only goal of the match and contributed to a team-wide defensive effort as San Jose tallied a 1-0 clean sheet win over IMG Academy.
College Recruiting Commitment Tracker