Players That Impressed: Girls DA U16/17 Playoffs – June 25, 2019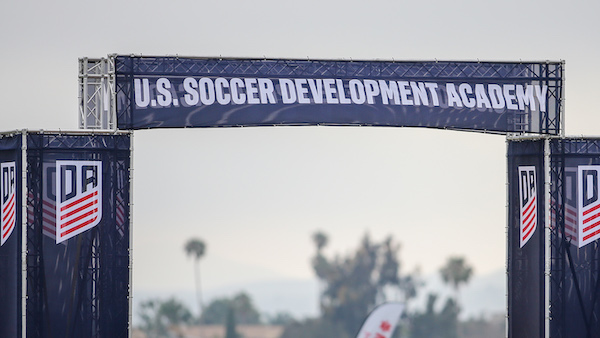 DA Playoffs Home Page | Girls DA Playoffs Schedule
The following players are just a few of the top performers from Tuesday's U.S. Soccer Girls Development Academy Playoff games in the U-16/17 age group.
Players That Impressed are identified from games watched by SoccerWire.com staff, and from coach and team manager submissions. Additional 'Players That Impressed' submissions will be reviewed and added to the list on a rolling basis. Please send additional player nominations to [email protected].
Simi Awujo | Forward
Tophat Soccer (GA)
Tophat's No. 2 leading scorer during the regular season (16 goals) has now scored in both playoff games. Awujo netted the game-winner on Tuesday against Cincinnati, and nearly found the net several more times in a relentless 90-minute effort.
---
Baleigh Bruster | Defender
Tophat Soccer (GA)
The dynamic center back with U.S. Youth National Team experience led a stifling effort by the Tophat defense in their 1-0 shutout win over Cincinnati DA. Perhaps most impressive was her direct and aggressive, yet highly technical passing out of the back, which led to numerous scoring chances for Tophat's offense.
---
Kaitlyn Giametta | Midfielder
FC Dallas Youth (TX)
Helped put the game out of reach in the first half, scoring FC Dallas' second goal in their 4-0 rout of FC Fury NY. The Texas Tech University 2021 commit showed her playmaking abilities and creativity as FCD won their second straight game to begin the playoffs.
---
Samiah Phiri | Forward
FC Dallas Youth (TX)
One of the most dangerous scorers in the country at the U-16/17 level, Phiri opened her postseason account with a goal in the 65th minute on Tuesday against FC Fury NY.
---
Wendie Fisher | Forward
Cedar Stars Academy – Monmouth
Piled up 4 goals during Tuesday's victory over Charlotte Soccer Academy, as Cedar Stars remains perfect through 2 group games at the Girls DA Playoffs. Fisher has scored 5 of Cedar Stars' 6 goals so far.
---
Sophia Louder | Defender
Cincinnati Development Academy (OH)
Played an instrumental role in Cincinnati's tough defensive effort against Tophat, the No. 2 highest-scoring offense in the country (101 goals). Louder anchored the CDA defense from her center back position, limiting Tophat to 1 goal, which was scored on a mishandled routine save.
---
Kylee Simmons | Forward
Cincinnati Development Academy (OH)
Although Cincinnati DA was ultimately held off the scoreboard Tuesday against Tophat, Simmons showed why she was her team's leading scorer in the regular season (17 goals). After netting the game-winner in CDA s playoff opener on Sunday, she battled for a hard 90 minutes on Tuesday against the No. 2 overall playoff seed.
---
Alexis Missimo | Midfielder
Solar SC (TX)
Missimo, the nation's top scorer in the regular season (51 goals), scored twice and set up several more goals in Tuesday's 10-0 blowout victory over a quality California Thorns FC side. The class of 2021 prodigy draws so much defensive attention that her highly-talented teammates are often left completely wide open as a result.
---
Makhiya McDonald | Forward
Solar SC (TX)
Under ordinary circumstances, a U.S. Youth National Team roster pool player like McDonald would be the focal point of every defense her team faces. But with Solar's loaded offense, she had plenty of space to work on Tuesday, to the tune of 4 goals.
---
Trinity Byars | Forward
Solar SC (TX)
Another one of the Girls DA's leading scorers (31 regular season goals), Byars recorded her second consecutive postseason brace against California Thorns FC. Byars showed why she is a mainstay in the U.S. Youth National Team pool, showing great instincts and tactical awareness.
---
Sophie Pilarski | Goalkeeper
LA Galaxy San Diego (CA)
Came through in the clutch for her side in a defensive battle against No. 5 overall seed Midwest United FC, which ended in a 0-0 draw. Pilarski was especially busy in the second half, executing a perfectly-timed diving save on what appeared to be the game-winner for Midwest. A few minutes later, she broke up an extremely dangerous scoring chance deep in the box, preserving the clean sheet.
---
Natalie Rouse | Defender
LA Galaxy San Diego (CA)
One of Galaxy's most consistent defenders all year long, Rouse has continued her strong play in the postseason, as the team has conceded 1 total goal through 2 games. Her 90-minute effort on Tuesday was highlighted by a critical blocked shot in the 2nd half as Galaxy shut out No. 5 seed Midwest United FC.
---
Jillian Martinez | Midfielder
Lonestar SC (TX)
UCLA commit and U.S. Youth National Team roster pool member Jillian Martinez put Tuesday's game against FC Virginia out of reach by converting a PK in the 75th minute. The class of 2020 midfielder has played all 180 minutes of grueling playoff action for Lonestar, in a pair of heated possession-based battles.
---
Francesca Yanchuk | Forward
New England FC (MA)
Stunned Tuesday's opponent, Real Colorado, with a heroic game-winning goal in the 86th minute just six minutes after Real had equalized. Yanchuk has 4 goals through NEFC's first two playoff games, both wins.
---
Campbell George | Defender
Midwest United FC (MI)
George. a Xavier University class of 2020 commit, helped the Mid-America Division champions notch a clean sheet Tuesday against LA Galaxy San Diego. She covered a ton of space up the middle from her center back position, and showed great anticipation to provide extra help for her teammates along the back line.
---
Tatiana Fung | Midfielder
Legends FC (CA)
Worked tirelessly for the full 90 minutes of a gritty, physical match against Sockers FC which saw extended periods of action in the midfield. The University of Texas 2021 commit and U.S. Youth National Team player showed her knack for winning 50-50 balls and finding passing lanes for her teammates.
---
Lexie Yela | Forward
Legends FC (CA)
Yela, a Loyola Marymount University 2021 commit, provided the only goal of the game for Legends SC in a hard-fought 1-1 draw against Sockers FC. Worked well within the potent Legends FC offense, which racked up 89 goals this season on their way to the Southwest Division title.
---
Madison Mariani | Midfielder
Sockers FC (IL)
Tough class of 2021 midfielder who leads Sockers FC with 27 starts on the season. Mariani has played the full 90 minutes in both of her team's postseason games. Following a 0-0 draw on Sunday, Mariani was very active in another physical, possession-based battle on Tuesday, a 1-1 draw against Legends FC.
---
Bella Sember | Forward
NYCFC Girls Academy (NY)
One of many U.S. Youth National Team stars who shined on Tuesday, Sember rocked a hat trick as NYCFC cruised to a 3-0 victory over LA Galaxy. It was a big breakthrough for Sember and the NYCFC attack, as they rebounded from being shut out in their playoff opener.
---
Jenna Blackburn | Forward
Nationals (MI)
Provided what proved to be the game-winning goal for Nationals in the 42nd minute, and completed her brace with another tally in the 70th minute during Tuesday's 4-1 win over NC Courage Academy.
College Recruiting Commitment Tracker