Players That Impressed: Girls DA Playoffs – U15 Quarterfinals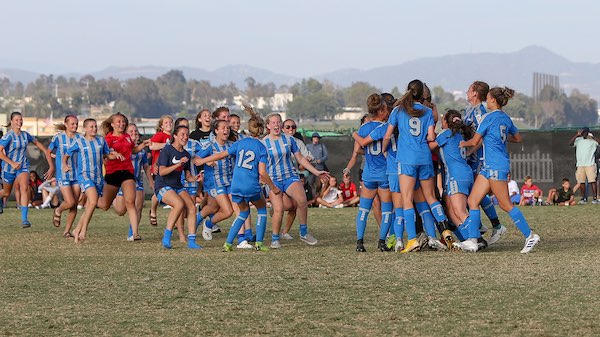 DA Playoffs Home Page | Girls DA Playoffs Schedule
The following players turned in top performances during the U.S. Soccer Girls Development Academy Quarterfinals in the U-15 age group.
Players That Impressed are identified from games watched by SoccerWire.com staff, and from coach and team manager submissions. Please send additional player nominations to [email protected].
Harlee Head | Goalkeeper
Colorado Rush (CO)
After entering in the 2nd half, Head proved to be the unquestioned hero of Rush's triumph over heavily-favored Tophat. In the final 2 minutes of the 2nd half, she made a dramatic PK save, and a tough fingertip save to push the game into overtime. She stood on her head in overtime as well, making another show-stopping save, before sealing the deal in the deciding PK shootout.
---
Peyton Nourse | Forward
Colorado Rush (CO)
Netted her 3rd goal of the DA Playoffs in the 10th minute, which allowed her side to eventually pull off an exhilarating upset in a penalty kick shootout against No. 4 overall seed Tophat Soccer.
---
Addie Whitehouse | Forward
Colorado Rush (CO)
Rush's leading scorer played a critical playmaking role for the entire 100 minutes of her team's dramatic quarterfinal victory. Whitehouse made several dangerous runs down the right side, putting pressure on the Tophat defense and nearly providing the game-wining assist on a couple occasions with some well-placed crosses.
---
Ella Zimmerman | Defender
Tophat Soccer (GA)
The class of 2022 center back with U.S. Youth National Team experience turned in a brilliant 100-minute performance during Friday's overtime thriller against Colorado Rush. Tophat ultimately fell in PKs, but Zimmerman and the back line held Real's offense to a single goal in the 1-1 battle through regulation and overtime.
---
Antonette Lopez | Defender
Tophat Soccer (GA)
Battled for the full 100 minutes of Tophat's marathon quarterfinal match, playing an important role in limiting Colorado's scoring chances. After conceding a goal in the 10th minute, Lopez and the Tophat defense played 90 straight minutes of shutout soccer.
---
Elise Evans | Defender
San Jose Earthquakes (CA)
Proactively shut down runs from Seattle's attack early in the final third, preventing numerous potential scoring opportunities. Evans' direct passing out of the back helped San Jose's offense attack quickly. She played the full 80 minutes in all 3 of San Jose's clean sheet efforts at the Girls DA Playoffs.
---
Jasmine Aikey | Forward
San Jose Earthquakes (CA)
Dominated much of the first half with her relentless work rate, covering the entire length of the field on the left side for San Jose. She nearly scored on a long-range screamer early in the first half, but was stopped on a tough save. Aikey scored what proved to be the game-winner just 2 minutes later on a breakaway, juking out the keeper and placing a shot inside the far post.
---
America Frias | Forward
San Jose Earthquakes (CA)
Opposing defenses had very few answers all week long for San Jose's dynamic offense, highlighted by Frias and Jasmine Aikey, both of whom have U.S. Youth National Team experience. Frias put Friday's quarterfinal match out of reach in the 26th minute when she found the net just 2 minutes after Aikey had opened the scoring.
---
Mailin Orozco | Midfielder/Forward
San Jose Earthquakes (CA)
Displayed her great field vision and creativity in Friday's quarterfinal, working her magic in the attacking third. She recorded a brilliant assist on San Jose's second goal, weaving through heavy traffic in the box and keeping the ball in bounds along the end line, before turning toward the goal and making a pass back to America Frias for a tap-in goal.
---
Eleanor Hays | Defender
FC Dallas Youth (TX)
Played the full 80 minutes on the back line for a 4th straight game as FC Dallas recorded their 4th consecutive postseason clean sheet. Hays and the FCD defense were rock solid in their quarterfinal match against Cincinnati DA, and will aim to continue that momentum at the DA Championships.
---
Hayden Colson | Defender
FC Dallas Youth (TX)
Another key member of the dominant FC Dallas back line, Colson also played all 320 minutes of shutout soccer during the team's 4-game winning streak at the Girls DA Playoffs.
---
Taylor Zdrojewski | Forward
FC Dallas Youth (TX)
Facing a tough Cincinnati DA defense in the quarterfinals, Zdrojewski wasted no time putting FCD on top, scoring in the 1st minute. She added another goal in the 38th minute, and provided the assist on FCD's 3rd goal with a perfectly-placed cross. She scored 9 goals in 4 games during the group stage and quarterfinal rounds.
---
Taylor Cheatham | Forward
FC Dallas Youth (TX)
The youngest player on FC Dallas' roster found the net for the 3rd time in 4 games, despite playing just 10 minutes off the bench. After entering in the 70th minute, she flashed her game-breaking speed by nearly taking a breakaway the distance, before it was finally cleared away in the box. Just a couple minutes later she broke through with a close range strike, finishing off a great feed from Taylor Zdrojewski.
---
Miranda Matson | Defender
Placer United SC (CA)
Helped Placer United pull off a stunning upset against No. 2 overall seed San Diego Surf, in a 1-0 clean sheet performance. Matson battled on the Placer back line for all 320 minutes of action at the DA Playoffs, as they conceded just 2 goals over the course of 4 games.
---
Angela Shannon | Forward
Placer United SC (CA)
Placer's leading scorer was held without a goal during the group stage, but came through in a big way in her team's quarterfinal upset against San Diego Surf. Shannon provided what proved to be the game-winning goal in the 5th minute of what became a 1-0 defensive battle the rest of the way.
---
Kate Killer | Defender
Placer United SC (CA)
Class of 2022 defender played all but 9 minutes on Placer United's back line during their 4-game run at the DA Playoffs. Killer and the defensive unit were flawless in their final 2 games, earning back-to-back clean sheets against FC Fury NY and No. 2 overall seed San Diego Surf.
College Recruiting Commitment Tracker