Players That Impressed: Girls DA Playoffs – U16/17 Quarterfinals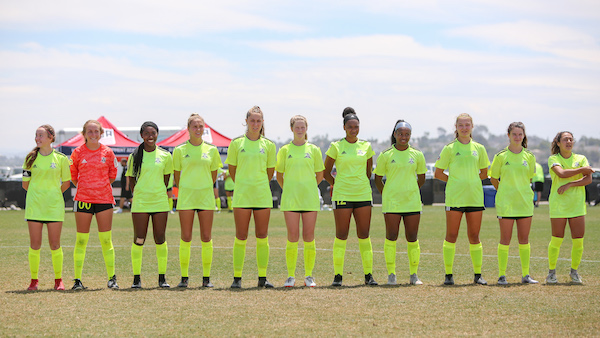 The following players turned in top performances during the U.S. Soccer Girls Development Academy Quarterfinals in the U-16/17 age group.
Players That Impressed are identified from games watched by SoccerWire.com staff, and from coach and team manager submissions. Please send additional player nominations to [email protected].
Mia Escandon | Defender
Beach Futbol Club (CA)
Stepped up in a big way on both sides of the field during Beach Futbol Club's thrilling victory over Tophat Soccer in the quarterfinals. Escandon netted Beach's only goal of the game in the 59th minute, and helped push the game into PKs as their defensive pressure limited Tophat to 1 goal as well through 120 minutes of regulation and overtime. In the deciding PK shootout, Escandon came through again with the game-winning kick from the mark.
---
Aasha McLyn | Defender
Beach Futbol Club (CA)
University of California-Berkeley class of 2021 commit helped Beach Futbol Club outlast Tophat Soccer in a grueling, 120-minute battle in Saturday's quarterfinal match. McLyn and the Beach defense stifled a Tophat side which was the 2nd highest-scoring team in the country this season, with 101 goals in 28 games.
---
Alexis Wright | Forward
Tophat Soccer (GA)
Another player who has verbally committed to the University of California for the class of 2021, Wright put Tophat on top with a 32nd minute goal in the quarterfinals against Beach Futbol Club. Tophat's 3rd-leading scorer (15 goals) found the net twice in 4 postseason games.
---
Jori Foote | Defender
Lonestar SC (TX)
Tied for the team lead with 31 games played (all starts) this season, Foote remained rock solid in the DA Playoffs as Lonestar notched 3 consecutive clean sheets in the group stage. She played every minute of action on the back line, including in their hard-fought 2-1 win in the quarterfinals over NEFC.
---
Emma Hagert | Defender
Lonestar SC (TX)
Alongside Jori Foote on the Lonestar back line, Hagert has also started all 31 games this season, and played all 360 minutes during the team's dominant run at the DA Playoffs. They took down No. 6 overall seed NEFC, a team which scored 96 goals in 29 games this season, in the quarterfinals.
---
Makenna Garcia | Goalkeeper
Lonestar SC (TX)
The class of 2020 Auburn University commit partnered with Lonestar's back line to concede 1 total goal over the course of 4 playoff games in Oceanside, Calif. Garcia and the dominant Lonestar defense will be tasked with slowing down a familiar opponent next week in the semifinals, as they go up against Frontier Division foe FC Dallas.
---
Morganne Eikelbarner | Forward
FC Dallas Youth (TX)
Class of 2022 standout netted her 2nd goal of the postseason, as FC Dallas clinched their spot in the Girls DA semifinals with a 3-0 victory over IMG Academy.
---
Brenna Brosam | Defender
FC Dallas Youth (TX)
TCU class of 2021 commit was a stalwart on the FC Dallas back line, playing the maximum 360 minutes during their 4-game sweep at the Girls DA Playoffs. FCD did not concede a single goal all week, notching their 4th straight clean sheet in Saturday's quarterfinal match against IMG Academy.
---
Elise Anderson | Defender
FC Dallas Youth (TX)
Anchored the FCD back line during their streak of 4 consecutive shutouts, culminating with a 3-0 triumph over a red hot IMG Academy squad. Anderson played all 360 minutes during FCD's perfect run through the group stage and quarterfinals.
---
Alexis Missimo | Midfielder
Solar SC (TX)
Solar's young phenom added 2 more goals in a 5-2 quarterfinal victory over Michigan side Nationals. Missimo found the net 9 times during Solar's 4-game sweep at the DA Playoffs.
---
Jenna Blackburn | Forward
Nationals (MI)
Netted her 3rd goal of the DA Playoffs in a hard-fought quarterfinal match against Solar SC, the unquestioned heavy favorite to win the U-16/17 title.
College Recruiting Commitment Tracker