Players That Impressed: Generation adidas Cup 2023 Group Stage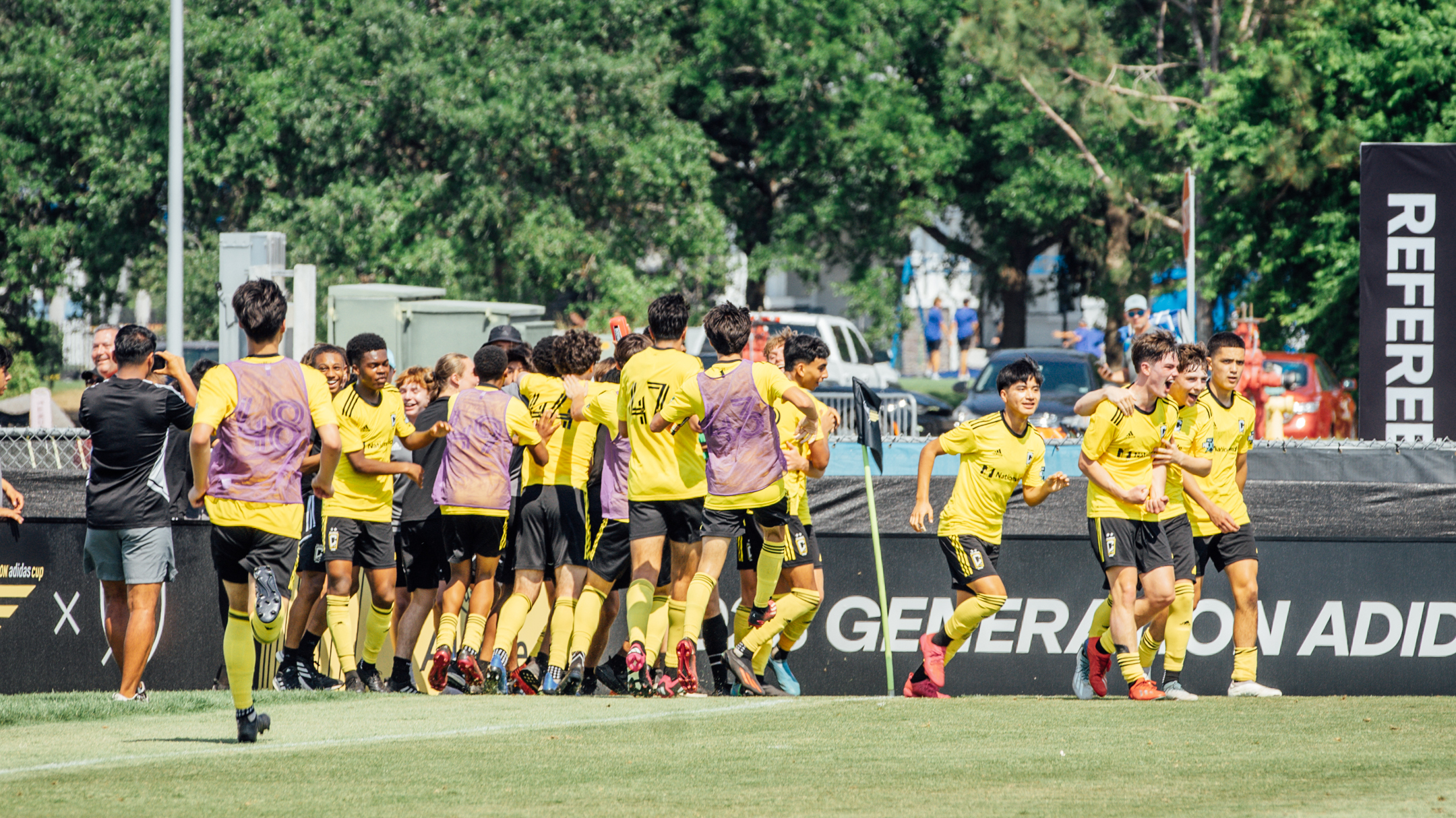 This weekend saw the start of the Generation adidas Cup with U15 and U17 teams from across Brazil, Bolivia, Canada, England, France, Nigeria, Spain, and the United States. This year's tournament features a group stage, which just concluded, followed by a 16-team knockout stage for each age group (Updated GA Cup Broadcast schedule)
SoccerWire is currently seeking Players That Impressed nominations from the competition. Coaches, parents and athletes are invited to submit nominations for up to two (2) players per team, highlighting standout performances from the event.
[Submit Your 'Players That Impressed']
See below for a listing of some of the top performances from the GA Cup's group stage.
U15
Christian Tigre Sanchez | Forward
Colorado Rapids (CO)
Sanchez was on point for the Rapids in their 2 (5)- 2(4) win over the Philadelphia Union, bagging a goal and an assist to pull off the huge win. For his efforts, he earned Player of the Matchday by MLS Next for April 3.
Here we find a Christian Tigre Sanchez in his natural environment. 🐅

With a goal and an assist, Sanchez helped the U15 Colorado Rapids take two points with a 2(5)-2(4) result.#GACup | @adidasfootball pic.twitter.com/9gQPyWLfxz

— MLS NEXT (@MLSNEXT) April 2, 2023
———————
Adrian | Winger
Real Madrid (ESP)
Real Madrid's speedy winger hammered home two impressive goals in their 3-0 win over LAFC. His touches with both his right and left foot were flawless moving seamlessly through defenders with relative ease. He can also hit shots with both pace and precision.
———————
Julian Hall | Forward
New York Red Bulls (NY)
Terrorized the Chelsea backline on Matchday 3, scoring a brace to help his side earn their spot in the knockout round. The United States U15 Youth National Team player possesses excellent speed and can hit precise shots from both long and short range.
———————
Abad Vargas | Forward
Seattle Sounders FC (WA)
Set the tone for what has been a strong run of form for the Sounders in the Generation adidas Cup (2-0-1, 7 points). In their first match against Arsenal Vargas knocked home Seattle's second goal, a low curling header off of a corner to extend their lead to 2-0. He was also instrumental in their third goal, intercepting a pass from the Arsenal backline and finding Jordy Dierks for Seattle's third of the match.
———————
Jude Terry | Midfielder
LAFC (CA)
Against Nashville SC, Terry was extremely effective at both galvanizing the LAFC attack with several dangerous passes into open space and on defense, making key clears to keep the score at 1-0. Terry has represented the United States at the U15 level but is also eligible for both Mexico and Argentina.
———————
Gustavo Delgado | Winger
Orlando City SC (FL)
Delgado scored three of Orlando's five goals from open play over the weekend and was instrumental in opening up the Purple Lions attack from the outside. His breakaway speed and dynamic first touch make him very difficult to defend against and hold back.
———————
Kevin Jimenez Gutierrez | Defender
San Jose Earthquakes (CA)
Leader of an Earthquakes backline that held a high-scoring Rapids team scoreless and earned a tough 1-1 result against Club Bolivar. He was also very effective in leading the counter-attack with his long crosses wide and short, quick passes on the inside.
———————
Eric Palei | Defender
New York Red Bulls (NY)
Integral to the Red Bulls blanking 3-0 to end group play. He made several key clears early in the match to stave off the Blues attack and calmly moved the ball through some difficult spots after New York took the lead.
U17
Campagnolo put in some solid work between the posts this weekend, earning two clean sheets against Leon (0-0, 4-1 in penalties) and against Nashville SC (1-0) to help his side get to the top of Group 9 (2-0-1, 8 points). Against the New England Revolution, he showed remarkable poise under tremendous pressure, holding onto a 3-2 win.
———————
Carlito Saylon | Goalkeeper
Sporting Kansas City (KS)
A rock in the Sporting defensive third all weekend, earning three clean sheets against Charlotte (2-0), Atlas (1-0), and Toronto FC (0-0, 4-3 on penalties) He is very effective at timing his diving saves in one-on-one situations with attackers and provides clear and consistent communication to his defenders on markings and when to pull back.
———————
Favour Apoutiziem | Goalkeeper
Remo Stars FC (NGA)
One of the surprises at this year's tournament has been the play of Remo Stars FC from Nigera, who earned three big results and book their spot in the Round of 16. Apoutiziem led the charge with multiple key saves in the penalty kick results against St. Louis SC (1-1, 5-4 in pks) and Strikers FC (2-2, 7-8). He ended group play with another strong effort, this time blanking Portland Timbers FC 2-0.
———————
Owen Presthus | Defender
Columbus Crew SC (OH)
Anchored a backline that allowed just one goal in three matches during Group Play. His expert tracking and marking often left attackers very little space to operate and gave his teammates time to organize behind him. He was also a real threat on the attack, including scoring an Olimpico in the Crew's 1-0 win over Manchester United.
A Moment of Magic💫

Owen Presthus scored an Olimpico to seal the U-17s' win over Manchester United and send the Crew through to the Round of 16.#Crew96 ✘ @CrewAcademy96 pic.twitter.com/CLskWHMjkv

— The Crew (@ColumbusCrew) April 4, 2023
———————
Devin Zachry | Forward
Strikers FC (CA)
Sored two of Strikers FC's four goals en route to the side earning top honors in Group 8 (2-0-1, 7 points). Despite often gaining the attention of multiple defenders, the 2006 striker always seemed able to find space to exploit. That he can make a precise first touch and immediately hit a shot certainly helps.
———————
Taha Habroune | Midfielder
Columbus Crew SC (OH)
Controlled possession in all three of Columbus' matches giving opponents very little time behind the ball. He can seamlessly lace in passes to his teammates at a variety of speeds, as evidenced by his work against Manchester United. Habroune is a member of the U.S. U-17 National Team.
———————
Christopher Aquino | Forward
Seattle Sounders FC (WA)
Aqunio scored a hat trick to help Seattle earn a critical 4-0 win over Chicago Fire FC. The United States U17 forward was excellent at not only creating space for himself, but holding multiple defenders so that his teammates could create their own attacking chances. The Sounders finished atop Group 1 (2-0-1, 8 points) and will be a very difficult side to take down in the Round of 16 if Aquino can continue to find his scoring stroke.
———————
Izaiah Garza | Forward
Austin FC (TX)
Netted a brace in Austin FC's critical 2-1 win over Pumas, first scoring on a penalty kick in the first half and then hammering home the game-winner. While his second goal was a strong effort, it was preceded by an excellent run off of the ball and superb timing on receiving a cross from across the pitch.
———————
Luighi Hanri | Forward
Palmeiras (BRA)
Delivered the go-ahead goal for Palmeiras in their critical 3-1 win over FC Cincinnati. His timing and run off of the ball were perfect and he hit the shot with just the right amount of pace to beat Cincinnati's goalkeeper. Hanri is the captain of a side that has won three consecutive Paulistas in their age group in Brazil and will be a tough out in this tournament.
College Recruiting Commitment Tracker