Players That Impressed: 2022 FC DELCO Girls Fall Showcase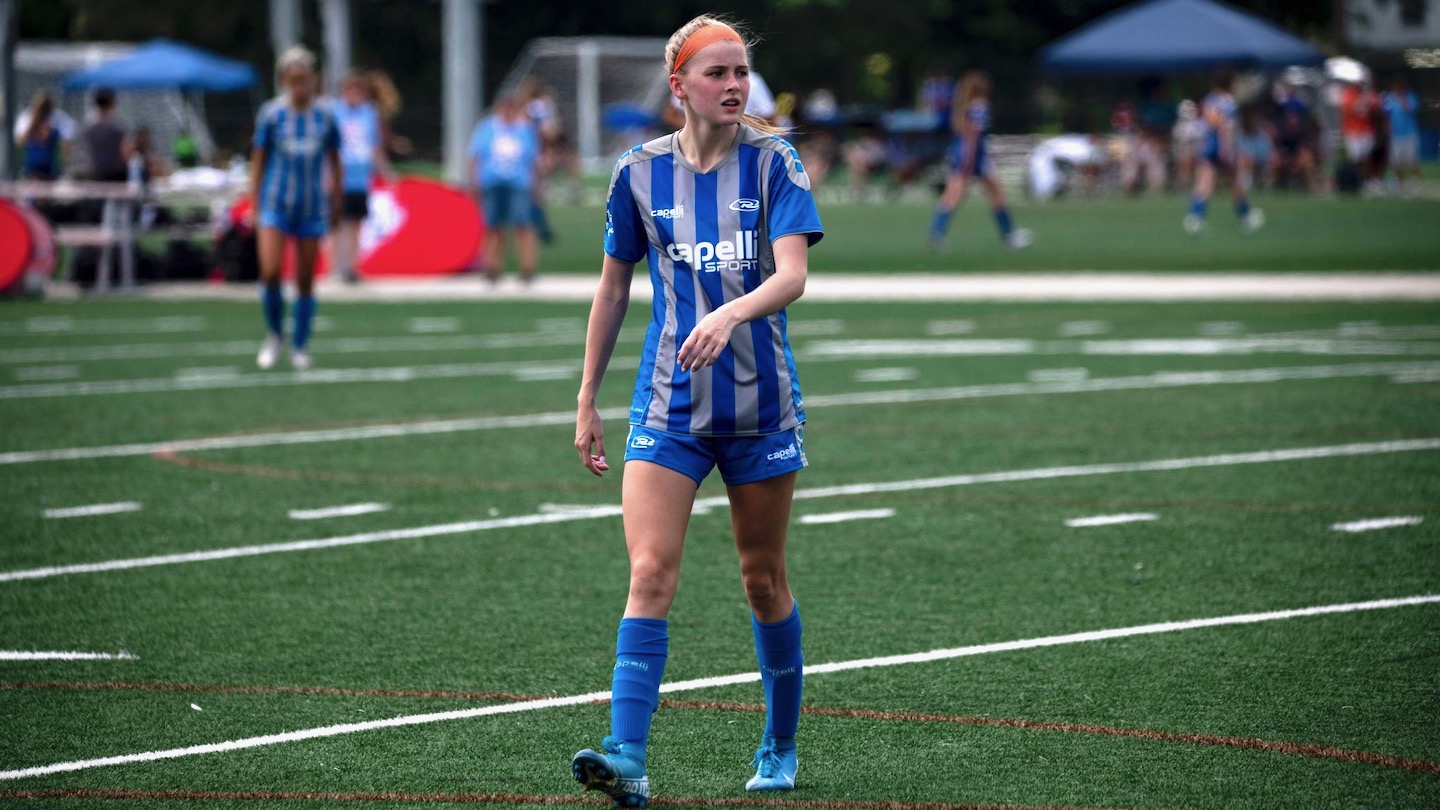 The 4th Annual FC DELCO Girls Fall Showcase was held from November 11-13 in the Philadelphia area, featuring top teams from throughout the Mid-Atlantic and Northeast regions.
In partnership with Sideline Soccer Solutions (S3), FC DELCO's tournament partner, SoccerWire is featuring Players That Impressed from the high-level college recruiting event.
See below for a listing of top performances from the tournament, sorted by high school graduation year. Recently submitted players are being added to the list on a rolling basis.
2028
Myla Hirschfield | Midfielder
Manhattan SC Revolution  (NY)
Playing up a year, Myla scored a hat trick in the first half of a 5-0 win over PDA South in U14 Elite Division competition. In addition to the goals, Myla added an assist in the second half.
———————
Jocelyn Germain | Forward
FC DELCO 2010 ECNL (PA)
Lighting performance to set the tone of the showcase, scoring 2 of the team's 6 goals in Game 1. This accompanied some spectacular performances by her teammates during their run to the U13 Championship Division title.
2027
Playing in the top flight and an age group up against 2008 girls, the starting holding midfielder led her team in minutes for the showcase and helped lead the squad to a 3-0 record on the weekend, with no goals conceded. Yezik scored 3 goals on the weekend, including 2 finishes off corners (and 1 header), despite battling larger and stronger older girls in the box; she held down the midfield and stifled the other team's attack.
———————
Madi Ladelpha | Midfielder
RNY FC Youth 2009 Girls Premier (NY)
Madi Ladelpha held her newly formed team together at the FC DELCO tournament this weekend. Her team has 10 new members who have never played at this competitive level and have only practiced together 4 times before the tournament. She became the leader on the field, directing traffic and encouraging her teammates to stay positive despite the stiff competition. Ladelpha played every minute in each game, never giving up or allowing her team to get discouraged. Her strong leadership was matched by her strong presence in the midfield, where she refused to lose any contested ball.
———————
Auslyn Wilkins | Goalkeeper
Penn Alliance Select 2009 Elite (PA)
Recorded three consecutive clean sheets in the U14 Elite Division, as her team advanced all the way to the title match and placed second overall. Wilkins had strong punts past midfield, made great saves and led her team with effective communication on the field. Highlight play of the tournament was Auslyn coming out to the 18 to slide into a goal attempt by the opponent. She joined the team in the spring of 2022, helping Penn Alliance become state champions.
———————
Anna Qawasmy | Goalkeeper
FC DELCO 2009 ECNL (PA)
Key 1v1 breakaway save in the first game against CASA to keep them off the scoreboard. Continued to hold a strong performance in goal during the remainder of the games. While playing up a year in the top bracket, Anna walked away from the tournament with a clean sheet overall.
———————
Jillian Bak | Midfielder
Rancocas Valley SC 2008 Dragons (NJ)
Jillian had an outstanding showcase, scoring 1 goal and adding 1 assist in RVSC Dragons' 5-2 win over Pipeline SC. In their second match against Penn Fusion Soccer Academy, Jillian assisted all 4 goals scored by RVSC in the 4-1 win. Jillian and teammate, Gabriella Patton, were an impressive scoring duo, with 8 goals and 5 assists between them in 2 matches. The spectacular offensive performance from Jillian and Gabriella helped the RVSC 2008 Dragons finish as champions of their bracket with a record of 2-0-1.
———————
Maria Scherr | Forward
Keystone FC Premier 2008 (PA)
Maria scored 2 goals against Penn Alliance and followed that up with 4 goals against CASA. She had an outstanding back-to-back individual performance.
2026
FC Delco ECNL '08 (G) won the top level Showcase Black Bracket A with the winning goal by Riley Karpinski #52 (forward). Lilah Sollott #46 (midfielder) fed a through ball to Riley who took it from the circle to beat the last defender and buried the shot far post from just inside the 18. Riley also scored in the 2nd game against YMS with a strong shot from the six while holding off a defender. Isabella Simaku #45 had the assist, in a great team effort.
———————
Sofia Goetter | Midfielder
FC DELCO 2008 ECNL (PA)
FC Delco ECNL '08 (G) won the top level Showcase Black Bracket A with a solid performance by Sofia Goetter #36. Sofia had the game winning goal against Next Level Soccer 08 White which set the tone for the tournament. She also had the go ahead goal in the second game against YMS. Sofia controlled ball through the midfield and finished things herself when given the opportunity.
———————
Emma Ziskowski | Midfielder
PA Dominion FC 2008 (PA)
Emma is a center attacking mid, who is calm and composed while distributing the ball. Also fast and unafraid to take the ball to goal to to step in to defend. She scored 3 goals in the tournament and racked up 4 assists. She is a versatile player with the ability to also play on the wing and as a striker.
———————
Ava Shohen | Forward
Penn Alliance Select 2006 (PA)
Ava used her speed and ball control to keep possession and set up her teammates for offensive attacks in all three games. In addition, at key points in all games she helped repel attacks from opponents by applying pressure to the other team, causing turnovers that led to additional scoring opportunities.
———————
Addy Gallagher | Defender
Philadelphia Ukrainian Nationals 08 (PA)
Played all 240 showcase minutes and helped to secure a tough win while keeping rival FC DELCO scoreless in their 1-0 victory.
———————
Gabriella Patton | Forward
Rancocas Valley SC 2008 Dragons (NJ)
Gabriella had a spectacular performance during the FC Delco Fall Showcase. She scored 7 goals in 2 matches to help RVSC Dragons finish as champions of their bracket. She scored 4 goals in our 5-2 win over Pipeline SC, and scored 3 goals in our 4-1 win over Penn Fusion. The RVSC 2008G Dragons finished the showcase as bracket champions with a record of 2-0-1.
———————
Emma Houchin | Goalkeeper
Keystone Athletic Black (PA)
Emma had a very strong weekend at the FC DELCO Fall Showcase, coming up with a series of big saves as she and the Keystone Athletic back line gave up zero total goals at the event. Houchin shut down opposing set pieces, penalty kicks, and a numerous shots on goal in the run of play. Keystone Athletic finished atop Bracket C in the U15 Showcase Division, posting a 2-0-1 record.
———————
Sofia Porczynski | Defender
Keystone Athletic Black (PA)
Porczynski is an aggressive defender with quick and accurate passing ability. She displayed powerful passes with both her left and right foot, accurately and with swiftness. Her contributions on the back line helped Keystone Athletic hold their 3 opponents without a single goal.
2025
Ivy Chaskelson | Forward
FC DELCO 2006 ECNL (PA)
Ivy Chaskelson had a strong performance on Saturday against PA Rush 06, tallying the first goal with an assist from Aubrey Beaugard and helped secure the second goal of the game, scored by Aubrey for a 2-0 win. On Sunday, the team continued their winning streak with a dominant 9-0 victory over Jersey South FC. Ivy continued her goal contributions with a hat trick, including two unassisted goals and the third assisted by Sophia Chipriano.
———————
Isabella Rogers | Defender
RNY FC Youth 2007 Girls Premier (NY)
Helped her Rochester NY FC Youth squad earn a pair of clean sheet victories in the U16 Showcase White Division, against Keystone Athletic 07 White and Penn Fusion Soccer Academy Reds 2007.
———————
Jordan McCullough | Defender
Brick Township SA Superstorm 2007 Girls (NJ)
Controlled the back line at her center back position, and had the game-winning assist on a set piece from approximately 30 yards out, U16 Showcase Black Division action against Club Ohio Dayton 07 Elite.
———————
Elise Viggiano | Midfielder
Brick Township SA Superstorm 2007 Girls (NJ)
Scored both goals in the 2-1 victory over Club Ohio Dayton 07 Elite. Controlled the midfield and played physical in the with lots of energy throughout the match.
———————
Charlotte Barnes | Forward
Next Level Soccer Academy 2007 Elite (NJ)
Charlotte's speed and quick footwork as a winger made it difficult for the defenders to stop the 15 crosses she put into the box, during her team's win over RNYFC Youth. At the 69th minute, Charlotte read the play as the opposing center back tried to pass it to the outside back, when she gained the ball she drove it into the box and slipped into the right corner while having multiple defenders surrounding her. This goal created the 1-0 lead which would give NLSA the boost they needed to finish with a 2-0 win.
———————
Reagan O'Mara | Forward
Next Level Soccer Academy 2007 Elite (NJ)
Reagan had a hat trick and 1 assist in the second game to help Next Level SA go 2-0-1 in the FC DELCO Fall Showcase.
———————
Kimberly Rudy | Defender
Reading Rage Press U16 (PA)
Kimberly was calm and collected playing center back. She was placed in the position as her teammate is out due to injury. She showed terrific decision-making in the games played along with a calmness and ability to make good decisions and control the ball. Also showed poise in the attacking third.
———————
Lola Wojciechowski | Midfielder
Northeast United Pride 2005 (PA)
Lola Wojciechowski, playing 3 years up in the U19 age group, scored 6 goals in 2 games played to lead her team to an undefeated weekend. Northeast United went 2-0-1 in Bracket A of the U19 Showcase White Division.
———————
Mya Jackson | Forward
Rancocas Valley SC Flames 2005 (NJ)
Mya had 3 spectacular individual performances at the FC Delco Fall Showcase. Mya is only a sophomore and was playing in the U19 bracket of the showcase. She finished the weekend with 5 goals and 3 assists, and scored in all 3 matches for Rancocas Valley SC. Her speed and strength on the ball paired with her relentless work rate made her a constant attacking threat.
2024
Laura Shea | Goalkeeper
FC DELCO 2005 ECNL (PA)
In the second half of a tough game against World Class FC, the score was 2-1 when a penalty kick was called. Laura made a great save to secure the win, and continued to perform all weekend.
———————
Johanna Martinez | Goalkeeper
Manhattan SC Devils 2006 (NY)
Johanna Martinez, the Manhattan SC Devils 2006 goalkeeper led the team to an undefeated weekend at the FC DELCO Fall Showcase. Martinez kept each match close, giving up only three goals over the campaign.
———————
Kila Kienzle | Midfielder
PA Rush 06 (PA)
Kila started all three games this weekend at the FC Delco cup in U-17 top division. As center midfielder, she had the main assist on four of the five goals scored by her team this weekend leading her team to a 2-1 record in the bracket.
———————
Lily Bailey | Goalkeeper
World Class SCP National League (NY)
Lily was outstanding all weekend long. In her first game vs FC DELCO ECNL, she made 12 saves in total, of which several were diving saves. World Class SCP lost 2-1 and missed a PK to tie the game late in the 2nd half. She recorded a shutout in game 2 vs. Toronto Blizzard, and in the 3rd game vs PA Classics, Lily came out of the net often bottling up thru balls and making great saves to allow her World Class SCP team to come away with a win. Lily made 28 total saves at the event.
———————
Aubrey Beaugard | Defender
FC DELCO 2006 ECNL (PA)
Aubrey scored 2 goals and had 3 assists while playing left back and left wingback for an FC DELCO defense that allowed zero goals over the three game weekend, while sweeping their opponents in the U17 Showcase Black Division.
———————
Ariel Katz | Midfielder
FC DELCO 2006 ECNL (PA)
Ariel demonstrated a consistent ability to keep possession while also leading FC DELCO's U17 ECNL team in scoring and assists for an undefeated weekend.
———————
Emma Suhoski | Midfielder
Northeast United Pride 2005 (PA)
Emma served as a utility player for her team, helping them go undefeated in their bracket. She played numerous positions during the showcase, setting up her teammates to score goals on the offensive end while helping anchor a strong defensive side.
2023
Claire Merrill | Defender
World Class SCP National League (NY)
Claire Merrill displayed her skill, speed and toughness all weekend long. In her first game battling FC DELCO ECNL forwards, Claire was basically unbeatable in 1v1 battles. She controlled the back line, forcing opponents to settle for long shots on goal. Claire continue her strong play the final 2 days and scored an upper 90 goal in the game vs PA Classics.
———————
Alivia Colgan | Midfielder
Keystone FC Composite 04 (PA)
Contributed a goal and an assist in her team's 2-1 win over Gotham FC Arsenal. Playing in her third game in three days with limited subs, Alivia's endurance and fitness really shined as she helped lead her team to the victory while filling multiple roles on the pitch.
College Recruiting Commitment Tracker