New data shows U.S. soccer players fail to develop weaker foot between U14 and college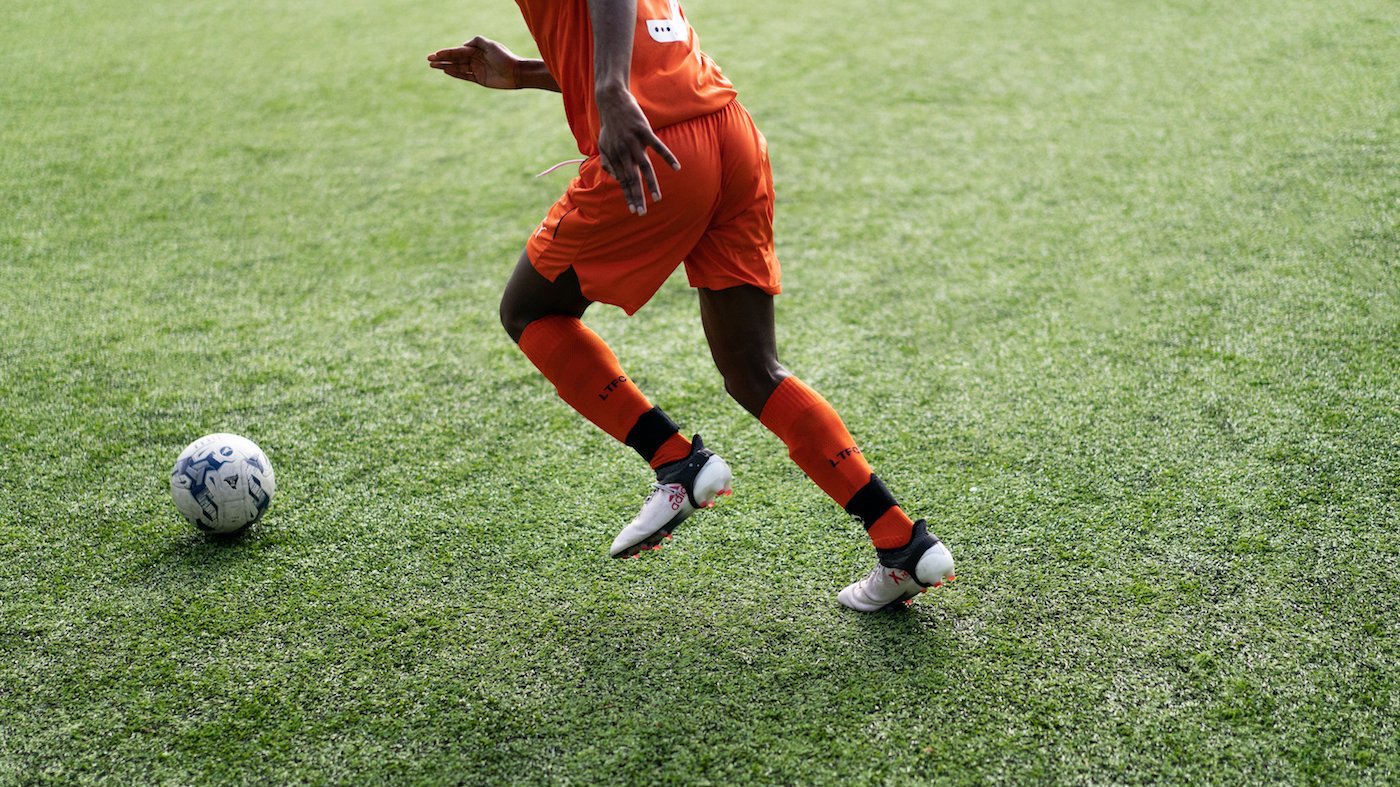 By Chris Hummer, SoccerWire Publisher
[Editor's Note: As part of our new partnership with Player Intelligence Platform provider, PlayerMaker, we bring you this coaching article examining some of the unique Key Performance Indicators (KPIs) now being tracked by the innovative new player development solution. Please read the full disclosure at the bottom of this article for more information on the relationship between SoccerWire and PlayerMaker.]
What do you think the proper balance of right and left foot usage should be in the perfect player – or team? Is it a goal to get to 50/50, or is it natural for even the best players in the world to favor one foot over the other by a measurable amount?
While these questions are not new in coaching circles, thanks to the wonders of modern technology, we can now have real conversations backed by actual data gathered across all ages and levels. And it's not just left and right leg usage, but dozens of other data points that have only been previously available at the world's biggest clubs with their armies of paid video analysts and sport scientists. 
SoccerWire collected some of this newly available data through our partnership with PlayerMaker, spanning dozens of training sessions and games in the top leagues of the U.K., Premier League Academies, NCAA men's and women's teams, and U.S. Development Academies. And the results show some potential for concern about the pace of development of more balanced players in the USA as compared to the U.K.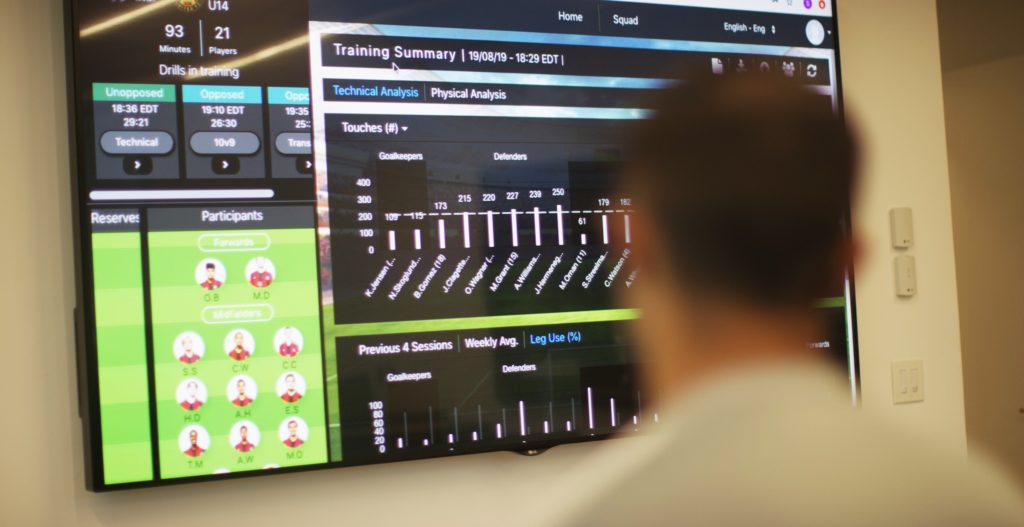 In summary, the data shows clear improvement from male youth academy to the professional teams in the U.K., but virtually no improvement in the U.S. women's game from academy to college (no women's pro teams used PlayerMaker in the 2019 season, though several are expected to in 2020).
While this might have some men's coaches in the U.S. feeling a bit left off the hook, not so fast. The data for U16 professional academies in the U.K. shows better right and left balance than NCAA men by several percentage points!
MEN'S TRAINING DATA FROM PLAYERMAKER:
In training sessions for England's Premier League and Championship divisions, male players use their right 57% of the time, leaving 43% for the left. 

In training at a top U16 Premier League academy there is noticeable change, the younger lads are using their right 65% to 35% left. 

And in elite men's NCAA, even more right-foot bias shows up with 68% right, to 32% for the left.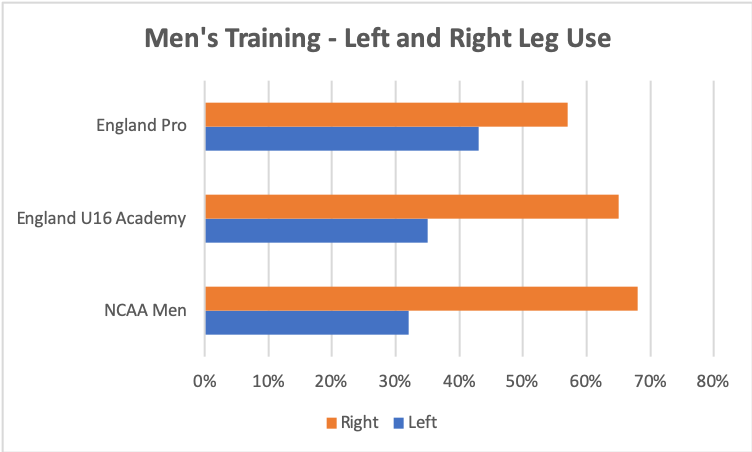 While no conclusions may be drawn looking at these differences in training for the men, the data collected on the women's side from games is a lot more clear – and this is where we got our headline from. 
There does not appear to be any real change, e.g. "development" of the balance between left and right foot usage between a top U13 Development Academy team and the average across several of the top NCAA women's programs. 
Development Academy U14 in games use right foot 72% of the time to 28% left averaged over 10 matches per team

NCAA D1 averaged over 9 matches pre team use right foot 71% to 29% for their left
So, basically no difference between girls mostly born in 2006 and women playing in ranked programs 5-9 years older.
What does all this mean? 
Should players at the professional level strive for balanced foot usage?
Generally speaking, it would seem a bridge too far and unnatural to force a 50/50 balance, but if a player were indeed equally strong and technical with both feet, it could certainly be argued that a 50/50 usage would indicate one of the ideal metrics of a "perfect" player. And therefore, it's okay for coaches at every level to emphasize more development of each player's "weaker" foot.
If one does thinks the perfect team is a 50/50 balance; then according to this data, NCAA is certainly way behind that ideal in both men's and women's.
However, could this simply be a difference in style of play? Or are college teams in the U.S. being forced to play a congested game schedule that barely allows for any training sessions that aren't all about recovery and tactical game preparation? 
Another question – or defense a college coach might propose – is club soccer actually to blame if colleges do want a better balance on average since that's where a player's technical skills foundation are built? In this case, is it too late for any college coach to develop a players' balance? In other words, the lack of advancement in this technical balance from youth to college in the USA may simply not be the fault of the college teams at all.
Whether these differences overall in our data are justified, happenstance, or a true area for concern is up to each coach to decide. What should be true in all cases however, is that knowing these differences at least creates the conversation, even if not a lot of conclusions can be drawn at this stage. 
One thing is certain. If colleges and pro clubs greatly value a more balanced right/left foot usage, pass completion ratios, or a nice balance between one-touch play and multi-touch possessions, technology like PlayerMaker being adopted rapidly at the club level will give those scouts a lot more data points to use as part of their filtering process.
Let us know what you think on Facebook or Twitter, or by email at [email protected].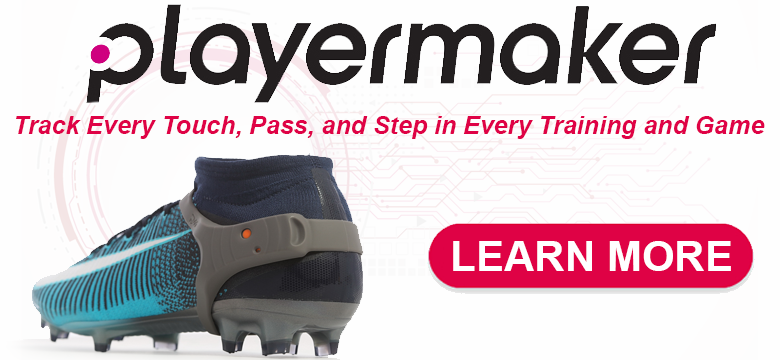 [Disclosure: SoccerWire is compensated via a marketing partnership with PlayerMaker, but we have only agreed to this because we believe this specific solution can immediately improve coaching and player development through its ability to quickly and affordably provide data on each players' interaction with the ball. Our mission is to advance the game in hopes of one day seeing American players considered among the most sought after on the world, so we've taken the step of incorporating data collected by PlayerMaker into editorial articles that promote thought in the coaching community about how to use this newly available data to design better sessions and be more effective with individual player development.]
College Recruiting Commitment Tracker