Michelle Akers Q&A: Full transcript of the USWNT legend's chat with SoccerWire.com
Editor's note: Last week SoccerWire's Sarah Gehrke struck up an email conversation with U.S. Women's National Team legend Michelle Akers about her attempts to contribute to the current USWNT program, and her general outlook on the team as it prepares to fight for its first Women's World Cup championship since the crowning achievement of her own career 15 years ago.
Their chat provided the materials for Gehrke's feature story, originally posted on Tuesday. But in order to provide a deeper perspective for readers, we are also posting the full conversation here.
SoccerWire: When did you reach out to U.S. Soccer and what type of involvement with the team did you have in mind? What was the response?
Michelle Akers: I put my name in to be an assistant coach when [former USWNT head coach] Pia [Sundhage] stepped out. Per a phone conversation with [U.S. Soccer Federation president] Sunil [Gulati], he told me I did not have enough experience to coach at that level. I disagreed.
[North Carolina head coach and former USWNT coach] Anson Dorrance taught us to coach/train ourselves from the get-go. I was so successful at the world class level because I learned how to set up my own training environments that improved my weaknesses and sustained my strengths. Fitness. Strength training. Mentality. Goalscoring. Heading. 1v1s. 1v3s. Crosses. Defending. Long balls. Receiving. And more. Were parts of my game…our game as the United States…that needed to be better in order to attain our goal to be the best in the world.
I think I know how to train. I know the mentality that is necessary to be the best. I know what it takes. The crucial elements for a player and team to be the best are always the same. Mentality. Work ethic. Fitness. Skill. Presence. Confidence. An understanding of the game, 24/7, day in and day out. That is how you become the best. I wanted to support that in my team. [Gulati] also said it is up to the [incoming] head coach to choose their assistants and not him or anyone in USSF. I agreed with that as every head coach wants their own staff, however, him stating I did not have enough experience pretty much told me he wasn't going out of his way to recommend me.
After that, [technical director] April Heinrichs asked me to join her for camp with the USYNT [youth national team]. After several tries, I hooked up with them for a week at the OTC [Olympic Training Center] in San Diego. Had a great time. Loved the kids. The kids loved me. Went home. Never got feedback or an invitation to work with them again. So. My conclusion? I either sucked horribly or what??? I have thoughts about it, but nothing conclusive.
After that, I contacted a veteran on the USWNT. We talked some about my tries at getting involved with the U.S. program, etc. and I told her I'd help them in any way possible. She shared some of the recent topics of concern and a few of the challenges they were facing. Tom [Sermanni] was the head coach at the time. He had already picked his staff and was not interested in me helping out…which I understood completely. It's his team. His staff. He doesn't know me. I respect that.
As for my goal in all this, I simply wanted to support my team or the players that would be on the team in the future. I feel the players who won multiple World Cups and Olympics would be a valuable asset to our current WNT programs, yet none are involved. Not that we don't have good coaching and committed staff, we totally do. I respect many of the coaches who work with our WNT programs….but why aren't the past World Champions and Olympic Gold Medalists involved?
They are on the men's side and they are in other countries. Why aren't we utilizing their mentality and experience to mentor and educate our youth and current WNT??? Why isn't USSF making that a priority?? Along with that, why isn't the winningest coach in the world, Tony DiCicco, involved in some capacity? Or Anson Dorrance?? Last time I looked, those guys had experience. They are the only ones who have won World Cups. Multiple times. Questions that don't make sense. Especially when we have already established such a kick-ass program. Or maybe that is the reason why. Who knows.
SW: Is there much discussion among past players regarding the program's current direction?
MA: I think we are all supportive of our team and being competitive and wanting to continue that legacy of being the best in the world, it is important to us that all is being done to achieve that end. In speaking for myself only, I am not understanding a lot of the hiring or not involving the past World Champions and Olympic gold medalists into the current WNT programs. I'd also like to see more partnership and support off the field with the past veterans and current players in pushing the game forward, i.e. contracts, salaries, opportunities, vision, equal rights, etc.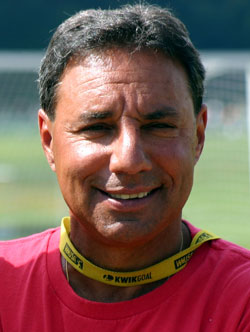 There is a rivalry there that I'm not involved in, but it is frustrating not to all be on the same team when there is so much to lose or gain for each other and our future U.S. teams. If I had one wish, it'd be for the current players to involve the oldsters in growing the game in the way we want it to grow. It'd be very fun to be a united front and discuss and act on a common vision for the good of the game.
SW: Do you think the tremendous success of the 1999 team has created expectations (and pressure) for subsequent teams? How do you think that pressure has shaped the program?
MA: Pressure? That's a tough one because only the players on the teams after '99 can really speak to that. From comments in the media, I do think the players after '99 are eager to develop their own legacy. Their own brand, so to speak. And they hate being compared to the past players and teams. Is that pressure? I don't know. My thinking on that is if they were secure with themselves and their team, they wouldn't give a crap about what the media talks about.
On the other side of it, what's so horrible about being compared to a world champion team? I always liked it when I got compared to Pele, Gerd Mueller, or [Franz] Beckenbauer. What a compliment. I'd say it has shaped the team by making the acceptable standard as being the best in the world. If we lose, the team is not up to standard. They get criticized. On the other side of it with the men, that standard does not apply. At first their standard was to qualify for a World Cup. Then it was to get out of their group, etc.
For the women, it has always been to be the world champion or [else] "we suck." Is that pressure for them now? Maybe. But from my view, they have the tools, the experience, the support, etc to make it happen as long as they are hungry for it.
SW: What is your opinion of the team's performance in 2014? Are you optimistic for the World Cup?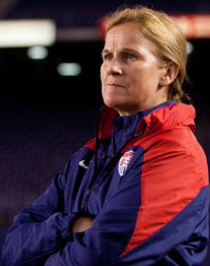 MA: 2014 was a tough year for the team. Another change in coaching staff is extremely difficult, especially with the WC approaching quickly. It'd be very tough to maintain focus as a team and keep momentum in preparing for the World Cup. Jill [Ellis] has a big job to do with little time. It will take extreme skill to get the team unified and ready to compete for a World Cup this summer. If I were those players, I'd be a bit concerned and very intense about getting the pieces put together to be the best possible under the circumstances.
As for me and what I think for my team and the World Cup? I am always optimistic for my team in any game and any situation. Our mentality is to never quit. Believe no matter what. And do it as a team. We have a lot to overcome at the moment and a lot to put together, but it is all doable given the right leadership, mentality, and hunger to be the best in the world. I will definitely have my USA shirt on cheering for my team to do what we do best: Find a way to win. Go USA.
College Recruiting Commitment Tracker