Michelle Akers reveals her USWNT snub: "It is frustrating not to all be on the same team"
The 1999 U.S. Women's National Team brought the program to its high-water mark, winning the Women's World Cup in the Rose Bowl in front of nearly 100,000 people in the stadium, and millions more at home watching on TV.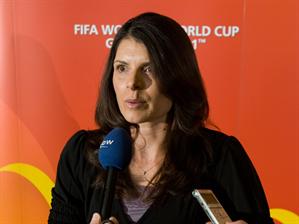 The team was everywhere.
Mia Hamm featured in dozens of commercials and even had her own Nintendo64 video game, Brandi Chastain was splashed across the covers of several national magazines and the team made myriad media appearances, including a cameo in "Air Bud: World Pup" (a cinematic masterpiece).
By all accounts, U.S. Soccer capitalized and seized the popularity of the 1999 team to expand and set expectations for the program both on and off the field.
Those expectations appear to be perfection and next summer is no exception, as head coach Jill Ellis has stated on numerous occasions that the only acceptable result for the tournament is winning it.
Even though U.S. Soccer continually refers back to the "99ers," and the constant refrain about winning the World Cup contains the implicit recognition that the team hasn't won since 1999, the federation appears to not want to involve them in the current program.
A few weeks ago, a Twitter user (not the author) asked venerated veteran midfielder Michelle Akers, one of the greatest players to ever don the U.S. jersey, what she thought about the current state of the team.
She sent the following tweets:
Scary article if its true @BulkonC @Sarah_Gehrke Sorry I offered USSF USWNT 1-2 yrs ago to b involved. They werent interested.

— Michelle Akers (@MichelleAkers10) December 25, 2014
Not sure at this point what Sunil and USSF r doing with WNT Program @BulkonC @Sarah_Gehrke We will see #legacyatstake

— Michelle Akers (@MichelleAkers10) December 25, 2014
SoccerWire.com followed up with Akers, and she provided an honest explanation of her attempts to get involved with the USWNT program and her opinions about the current state of the team.
Akers began by explaining that she put her name in to be an assistant coach when former head coach Pia Sundhage stepped down following the 2012 Summer Olympics triumph.
"Per a phone conversation with Sunil, he told me I did not have enough experience to coach at that level," Akers said. "I disagreed."
"Anson Dorrance taught us to coach/train ourselves from the get-go," noted Akers. "I was so successful at the world-class level because I learned how to set up my own training environments that improved my weaknesses and sustained my strengths. Fitness. Strength training. Mentality. Goalscoring. Heading. 1v1s. 1v3s. Crosses. Defending. Long balls. Receiving. And more. [All] were parts of my game…our game as the United States…that needed to be better in order to attain our goal to be the best in the world."
Akers continued by explaining "he [Gulati] also said it is up to the TBD head coach to choose their assistants and not him or anyone in USSF. I agreed with that as every head coach wants their own staff. However, with him stating I did not have enough experience pretty much told me he wasn't going out of his way to recommend me."
+READ: Commentary: USWNT must drop Abby Wambach now, before it's too late
Despite the lukewarm treatment from Gulati, USSF Technical Director April Heinrichs later asked Akers to join her for camp with one of the US youth national teams. However, this experience only left Akers with more questions.
"After several tries, I hooked up with them for a week at the OTC [Olympic Training Center] in San Diego. Had a great time. Loved the kids. The kids loved me," she said. "Went home. Never got feedback or an invitation to work with them again. So. My conclusion? I either sucked horribly or what???"
Akers didn't give up. Instead, she reached out to a current USWNT veteran to talk about Akers's various attempts at trying to get involved with the US program. Akers told the player that she would help them in any way possible.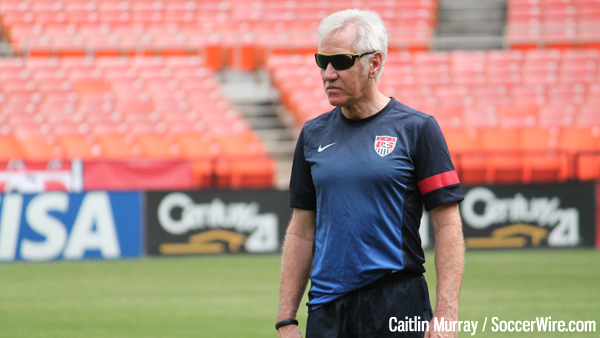 According to Akers, the player shared some recent "topics of concern and a few challenges they were facing." Tom Sermanni was the coach at the time.
"He had already picked his staff and was not interested in helping me out," Akers added, "which I understood completely. It's his team. His staff. He doesn't know me. I respect that."
That exchange is notable for two reasons: 1) it shows that veteran players expressed concern about the program to outside observers prior to Sermanni's dismissal and, 2) the message that Sermanni had already picked his staff is odd because he had only named one assist mere weeks before he was fired. In fact, in an interview with SoccerAmerica after his dismissal he said he wished he had brought in his own staff sooner.
+READ: Sermanni, Gulati and the veterans: How internal politics still rule USWNT
It is clear that Gulati didn't see a role for Akers within the U.S. Soccer coaching set up. What is less clear is how lower levels of the program, including Heinrichs and Sermanni, felt about Akers's involvement.
The USWNT legend also provided insight on her vision for a closer relationship between past players and the current squad.
"I'd also like to see more partnership and support off the field with the past veterans and current players in pushing the game forward, i.e contracts, salaries, opportunities, vision, equal rights, etc. There is a rivalry there that I'm not involved in, but it is frustrating not to all be on the same team when there is so much to lose or gain for each other and our future U.S. teams," she told SoccerWire.com "If I had one wish, it'd be for the current players to involve the oldsters in growing the game in the way we want it to grow."
Of course, the context to all of these events is the constant comparison of the current USWNT team to the successful 99ers. Akers acknowledged that it is clear the players are seeking their own identity and legacy, but also notes that there isn't anything wrong with that comparison.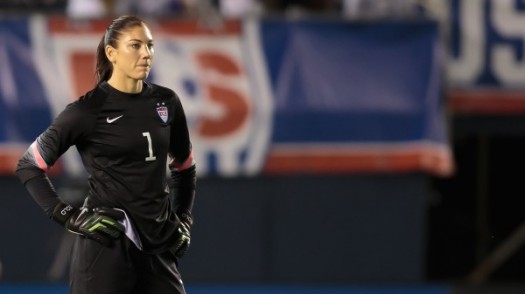 "From comments in the media, I do think the players after '99 are eager to develop their own legacy," she said, "their own brand, so to speak. And they hate being compared to the past players and teams. Is that pressure? I don't know. My thinking on that is if they were secure with themselves and their team, they wouldn't give a crap about what the media talks about. On the other side of it, what so horrible about being compared to a World champion team?"
+READ: USWNT's course in this World Cup year? Steady as she goes
Akers recognizes the pressure and high expectations on the team, but made it clear she believes the team still has the potential for greatness given the right set of conditions.
"For the women, [the pressure] has always been to be the World champion or we suck. Is that pressure for them now? Maybe. But from my view, they have the tools, the experience, the support, etc to make it happen as long as they are hungry for it."
Akers concluded her thoughts with a note of optimism and signature enthusiasm about the upcoming World Cup in Canada.
"We have a lot to overcome at the moment and a lot to put together, but it is all doable given the right leadership, mentality, and hunger to be the best in the world," elaborated Akers. "I will definitely have my USA shirt on cheering for my team to do what we do best: Find a way to win. Go USA."
College Recruiting Commitment Tracker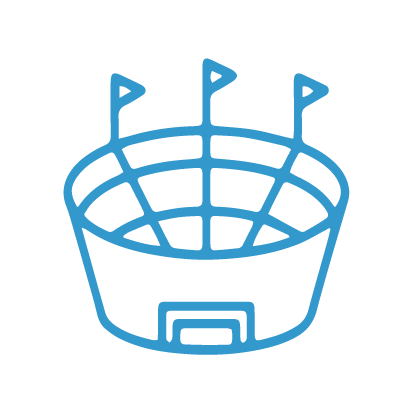 COLLEGE RECRUITING STARTS HERE
Join over 14,000 players in the SoccerWire College Soccer Recruiting Search Engine and learn how to be seen OVER 1 MILLION TIMES PER YEAR.
Basic $99 – for life
Featured $299 – for life
Featured PLUS $399 – for life
Learn More Here