LeBolt: University of New Mexico Hazing – a Sad Sign of the Times?

Members of the University of New Mexico Women's soccer team are guilty of hazing incoming freshman players, confirms the UNM president of Athletics, Peter Krebs.
Early reports alleged that athletes were forced to strip, drink alcohol to excess and sprayed with urine. What is confirmed is that police were called to the scene on a Sunday night at the women's dormitory and found 18 year old women who were extremely intoxicated, one who was having trouble breathing and needed to be hospitalized. All involved were members of the UNM women's soccer team who had participated in what they called an "initiating" event. Twin sisters, Danielle and Devin Scelsi, both freshman, have quit the team and left the university. Legal action is pending.
Hazing is prohibited by NCAA rules, and 44 states have anti-hazing laws. Alaska, Hawaii, Montana, New Mexico, South Dakota and Wyoming are the only states without laws on the books.
Hazing is unlawful in the State of Virginia. The legal code reads: "'hazing' means to recklessly or intentionally endanger the health or safety of a student or students or to inflict bodily injury on a student or students in connection with or for the purpose of initiation, admission into or affiliation with or as a condition for continued membership in a club, organization, association, fraternity, sorority, or student body regardless of whether the student or students so endangered or injured participated voluntarily in the relevant activity."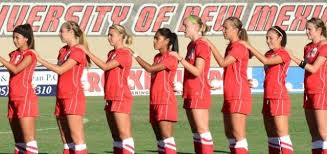 I suspect, in reading the reports of the activities at UNM, that the student-athletes did not "intend" to endanger the health and safety of their teammates. I suspect this ritual of initiation had gone on for many years. Those players who are now seniors received a similar welcome from upper classmen when they joined the team. Now it was their turn to be in charge of the fun; on this night, things just got out of hand. Way out of hand.
While we know what hazing means, we have a lot more trouble deciding what to do about it. A quick search of Virginia colleges and universities brings up policies posted prominently on their websites: William and Mary | Virginia Tech | UVA | GMU
Hazing is a criminal offense in the Commonwealth of Virginia. Hazing is considered a serious violation of university policy and is prohibited in all forms. This policy is based on the proposition that students are entitled to be treated with consideration and respect at all times and it applies to all student organizations and individuals.
+READ: Injury prevention made easy: Have your players self-monitor their training readiness
They all agree that it's against University policy and tell you that if you're caught, the university will punish you. They don't spell out consequences, but leave sanctions and discipline up to the president or presiding official to levy in accordance with the institution's policies and procedures. This, in itself, is interesting because these are the very officials whose reputations may be tarnished by making a big deal of the issue. Seems like a situation ripe for sweeping under the rug.
In responding to the UNM incident, the NCAA wrote in a statement, "Hazing is an issue our member schools address locally according to institutional policy and state laws, which can vary from school to school and state to state."
So far, the UNM women's team canceled its season opener (which incurred a $5000 fine), the 22 players who were not "true-freshmen" were suspended one game and the head coach, Kit Vela, was suspended one week without pay. Her two assistant coaches were issued letters of reprimand.
Vela has been quoted as saying "I take full responsibility."
Why?  If she knew about this practice, then she would bear some responsibility. But these are adults, albeit young adults, who have participated in dangerous behaviors. Coaches can and should teach their players about behaviors expected at college and hold them accountable to the rules and policies of the university. Did she make this a priority? Did they pay attention? Is it her job to make them respect their teammates?
I wonder how widespread these kinds of initiation practices are. I have it on good authority that over-consuming alcohol is rampant on college teams, so it doesn't surprise me to read that a progressive intoxication is part of a team activity. It makes me very sad that I am not surprised because I really want to believe in the good in our kids.
But peer pressure is huge and, especially for our girls, belonging and fitting in on a team is paramount. Very few have the self-confidence to set themselves apart from behavior they know to be wrong or unhealthy. And who would rat out people you know you will be spending 6-8 hours/day, every day all semester, for four years? Better to go along to get along.
+READ: O'Sullivan: The missing ingredient in North American soccer talent development
One very strong-minded young Division I player I know ended up transferring from her nationally ranked DI team because of the drinking and abusive environment she didn't want to be part of. She is not completely free of it at her new university. But, in responding to me about this event she writes, "I think it is related to power and how authority figures model using (or in many cases abusing) power. When coaches or other authority figures use positional power to make those under them do whatever they say, (i.e. run sprints as punishment, sit there and take it when they are yelled at) and when following those with authority instead of voicing your own opinion is the cultural norm, this sort of thing can happen. Some college sport environments don't encourage free thinking; they encourage following an abusive authority figure."
This young player has got my attention. Hazing is a crime of power just like bullying and sexual harassment. All are perpetrated by people trying to exert their authority. These upperclassmen are just making sure the freshmen know their place; they're busting them down to size a bit. It's good for them right? That's how it goes with the plebes in the military, with the cadets (rats) at VMI. The strong dominate. Sit there and take it. That's how it's done. Has this become a culture norm for team formation?
Are our girls really this beaten down? As the mother of 3 girls, I am skeptical. Then, coincidentally, I see this tweet from Brandi Chastain.
I respect Brandi so I wonder what she suggests checking out and I do.
+WATCH: Dick's Sporting Goods 'Hell Week' campaign video
Hell week at La Cueva High School. It's that time of year; college teams and lots of high school programs are getting back to the pitch for the fall season. Apparently, that's Hell Week, and Dick's Sporting Goods stores picked La Cueva HS to highlight for it's national campaign because their head coach, Amber Ashcraft, is the only female high school coach in the US with more than 300 wins.
The video begins with Coach Ashcraft chewing out this year's kids at pre-season tryouts because of last year's early exit from the State Championship. Does this make sense to anyone else?
"It's the first time we have ever 'fallen short' in the history of La Cueva," she says, near tears of rage (?). "We have unfinished business." Then she tells the girls they are gonna start with a "really nasty run."
The players tell the rest of the story: "You feel like you're gonna die," one girl says. "She told me, you're gonna be sore tomorrow – bad."  "We're just playing hard," one girl says as she crunches her teammate. "You have to play to win," says another. "You have to be ready to hurt yourself."
What?! Why is Dick's featuring this video? Because it's "inspiring"? Apparently this is Coach Ashcraft's time-tested approach to building unity, character and team. Last year didn't work out for her, so this year, she is taking no chances.
But I am appalled by the battering the girls are taking. I'm distracted by the kid who is crumpled on the ground, the other who limps off supported by teammates on either side, and most of all by the one who finds out that the knee strain she has been trying to push through is a torn ACL. Effort that leads to injury is just part of the package; collateral damage is unavoidable.
So, if hazing means to "recklessly or intentionally endanger the health or safety of a student or students or to inflict bodily injury on a student or students…" does Hell Week get a pass? Can we really indict the girls at UNM while turning a blind eye to Hell Week? For crying out loud, the girls at La Cueva have subjected themselves to this voluntarily, and they're celebrated with a national campaign!
By the way, La Cueva HS is in Albuquerque, New Mexico, one of the six states without hazing legislation. I imagine there are several who dream of attending and playing for UNM.
There is a fine line between Hell Week and hazing, and as far as I can tell, we have trampled any semblance of it here, with Dick's Sporting Goods and Brandi Chastain waving the banner. If winning the state championship at the cost of kid's physical and mental well-being is our ultimate goal, we are very lost society indeed.
Thank goodness someone called 911 to help the Scelsi sisters. Who's gonna call 911 for us if win at all costs coaching has become a cultural norm in our country?
That approach has our girls hurting themselves and each other to be part of the team. There's no law against that. We've got to police our own ranks. And begin looking at our players' futures beyond our teams as our primary objective.
Are we raising kids who can resist peer pressure in all the forms it presents itself?
The best coaches I know take a firm line against hazing, take swift and severe action when they become aware of any such behavior and take preventive action by partnering incoming players with upperclassmen as their mentors, advocates and friends. These coaches respect the game which means that first, they respect the players who play for them. This, in my book, is worth way more than any win.
—
College Recruiting Commitment Tracker