Guest commentary: Will U.S. Soccer's early-specialization decree trigger unintended consequences?
By Skye Eddy Bruce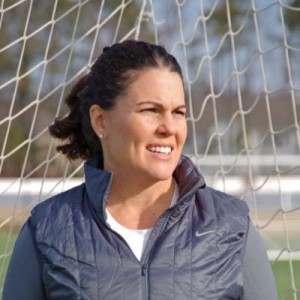 With the recent news from U.S. Soccer announcing the launch of a Girls Developmental Academy in 2017, and the mandate that players in the DA will not be allowed to play other sports or in other competitions, I am reflective of the lessons I learned as a multi-sport athlete – and as the parent of one, too.
What athletic qualities will the young athletes affected by the DA soccer-only mandate have five to 10 years from now, when they are entering the college and professional ranks as a result of their non- participation in other sports?
+READ: Bruce: U.S. Soccer will have to get girls Development Academy perfect in order to improve on ECNL
The boys DA has mandated DA-only participation for the past four years, as part of a move to a 10-month season in the fall of 2012. Has there been an overall increase in the quality of player we are producing in the boy's and men's national teams and other U.S. Soccer programs as a direct result of the "DA soccer-only" mandate?
Will U.S. Soccer players have better performances in the future because they are focusing on only one sport from the age of 13, instead of being sidetracked with multiple sport participation?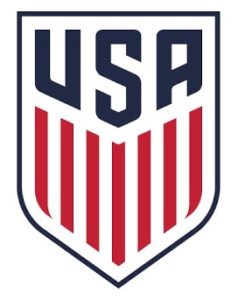 Maybe. Maybe not.
This is not a discussion regarding high-school soccer participation. There are positives and negatives for the MOST TALENTED youth soccer players who play high-school soccer.
What we need to also discuss is THE OTHER SPORTS – the OTHER SPORTS that our athletes will no longer be participating in if they are mandated to only play Development Academy soccer.
Will limiting sports participation to DA soccer – and therefore having these athletes participate in DA soccer for more hours over the course of the year – make a positive impact on their long-term soccer development? Or rather, might it hurt their long-term athletic development?
The research and science tells us that young athletes that participate in only one sport are more likely to be injured (Jayanthi, 2013), and are more likely to burn out (R.E. Smith, 1986). Will this happen? Only time will tell.
+PODCAST: ECNL President Christian Lavers on ECNL and expected launch of new U.S. Soccer Girls Development Academy 
We discuss the winning vs. development debate a lot in youth soccer. Isn't this the same debate framed in a new way?
With the increase in programming for our youth national teams, and the increased pressure for our youth national team coaches on winning, are we losing track of the DEVELOPMENT of the well-rounded athletes for our senior national teams?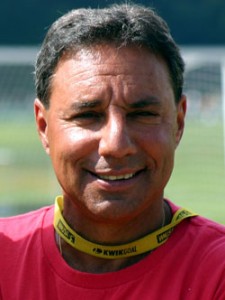 Former U.S. Women's National Team coach Tony DiCicco and his wife Diane visited my family recently on their way to a vacation in the southern states. My daughter told them she was running track this spring instead of playing high school soccer. (Those who read my previous post "High School Soccer, to Play or Not to Play" will want an explanation … She decided it would be too difficult to have fun in her high-school soccer environment, so she decided to run track instead.)
I chimed in and mentioned to Tony and Diane that I had also run track in high school, middle distance being my best races. Tony told a story about Tiffany Roberts Sahaydak – one of the USWNT players when he was an assistant coach under Anson Dorrance in the 1990s, and also a player when Tony became the head coach in the late '90s and early 2000s.
In 1994, while the WNT was in a training camp in Southern California, Tony saw Tiffany after a training session, looking a bit stressed. She was trying to muster the nerve, as a high-school player in with the full national team, to talk to Anson.
The camp was taking place in California, and the next day, Tiffany was due to participate in the 800-meter race in the state track and field championships. She needed to ask Anson if she could leave the training camp for the day to go participate in the state finals in SoCal. After Tony gave her some sage advice for the conversation with Anson, permission was granted. Tiffany ran, and WON the race the next day, with a VERY impressive time of 2:11.63.
The 800-meter is a mentally and physically grueling race. It requires a level of grit, determination and mental fortitude that few people can mobilize. As an athlete running the 800, you learn each time you race what your body is capable of accomplishing. It's a level of toughness that would be hard to arrive at during a soccer match as anaerobically – you are pushing your body to its absolute limit while strategically maneuvering the race.
Sitting there listening to Tony tell this story and thinking about Tiffany and what she brought to the game with her gritty performances demonstrative of a warrior-athlete, I couldn't help but wonder if the lessons Tiffany learned on the track impacted her future performances in soccer.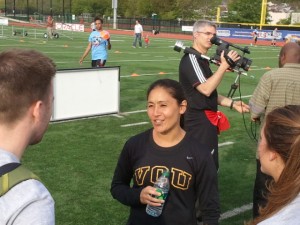 So – I asked her! This is what Tiffany told me about her high-school track experiences and how it impacted her soccer career:
"The mental aspect of track helped me prepare for the national team. The individual struggle and accountability you have on the track, the strong desire I had to perform to my individual best, these things helped me learn how to deal with pressure – and I needed that mental toughness with the national teams. Soccer helped me become a better 800m runner, and running helped me become a better soccer player."
U.S. Men's National Team goalkeeper Brad Guzan recently discussed the long history of exceptional goalkeepers coming from the United States in a recent interview with the Cruyff Football Player Development Project magazine.
"I think it's possible that given the range of sports that require excellent hand-eye coordination in the USA, such as baseball, basketball and American football, this might be contributing to the number of goalkeepers at top level in the USA," speculated Guzan, who didn't concentrate seriously on goalkeeping until he was 17 or 18 years old. Before that, he played mostly as a field player and his athletic role model growing up was Michael Jordan.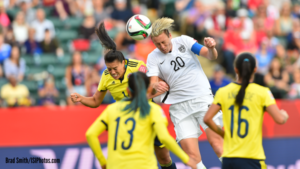 Abby Wambach, in an USA Today article published on July 3, 2015, said: "Playing basketball had a significant impact on the way I play the game of soccer. I am a taller player in soccer, in basketball I was a power forward and I would go up and rebound the ball. So learning the timing of your jump, learning the trajectory of the ball coming off the rim, all those things play a massive role."
By mandating DA-only soccer, are we taking away these supplemental learning and developmental opportunities from our most promising young soccer players? Will the eventual result be athletes who don't have the depth of experiences they need to help them be the soccer player they are capable of and dream of becoming?
Our USWNT, when surveyed last July, indicated they played a total of 14 different sports growing up. Would the team have been comprised of better soccer players, more skillful on the ball and tactically more astute if they had not played those sports and instead only played soccer from the age of 13?
+READ: O'Sullivan: The early specialization dilemma in North American soccer
When we decrease the opportunities our children have to learn and grow and develop – even in the hope of them developing and fine-tuning their soccer abilities – there will be a result.
The question is, what will the result be? Maybe it won't be significant in the long run to the quality of our national-team players and our national teams.
Or maybe it will.
My daughter had her first track meet today. She texted me after the 400m and said, "I think I might die." It's a tough race, for sure. Will the effort she exerted today in the 100, 200 and 400 impact her on the field? DEFINITELY. She grew in her confidence today. It will play out next weekend at the Jefferson Cup showcase tournament, when she needs to make another run forward from the wide back position – or make a long recovery run to defend in the third game of the showcase.
As I listen to her upstairs right now, getting ready to head to bed, I know she is a more confident athlete who is more in tuned to her deeper, physical reserves and capabilities as the result of her races. She knows that when historically she has been tired and worn out during a soccer game, well, it's nothing compared to how she felt after that 400m race.
She is a mentally stronger athlete and more technically proficient runner than when she woke up this morning. A better soccer player is going to bed tonight – and she didn't even touch a ball today.
College Recruiting Commitment Tracker