George Mason's Brenna Connell plays with a disability that is anything but disabling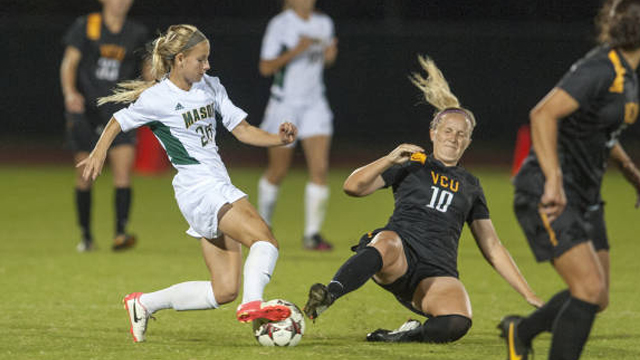 The first time I saw Brenna Connell, she was sticking her head in the doorway of George Mason University head women's soccer coach Diane Drake's office.
Pony-tailed, in a Mason t-shirt, with a soccer ball under her right arm, she was checking with her coach to ask if it would be okay to get a few extra touches before practice. There was something different about this young lady, and it was more than a bit of extra dedication.  There was something about how she held her right arm and, I'll admit, I did a double take and probably a triple take, trying to figure out what it was.
This, Connell told me later in a phone interview, is the reaction she often gets when people see her or meet her for the first time. Connell's right arm and hand are noticeably smaller than her left and this attracts attention and sometimes stares. Since elementary school Connell has known she has Ollier's disease, a rare non-hereditary disorder which affects bone development.
+READ: What does an ACL really cost? The financial and intangible costs to players and families
Trying to be politically correct and stumbling miserably, I asked Brenna how she came to be "special."
"I have never really considered myself to be special. To me, my arm is a disability, and I prefer to call it how I see it."
Connell has had to grow through some insecurity around the special attention she gets and feeling different from other kids, so she is especially glad she fell in love with and has excelled at soccer. She contends that she never had to make any adjustments because of her arm. As she points out, soccer is played with the feet.
Brenna began playing when she was a pre-schooler and joined her first travel team when she was 8 years old. She attended Sandy Spring Friends School in Olney, Maryland, where she was a soccer standout. Her small size and her disability made it impossible for her to rely on physicality as a player. Instead, she became incredibly technical. Her touch on the ball, her desire and ability to take players on, and her dynamic balance all became natural.
This earned her accolades on her high school team, then on her Bethesda Soccer Club teams, and as a regular selection for the Maryland ODP team.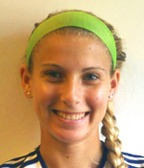 It's no surprise that she garnered lots of attention from college coaches. Connell found her right match at GMU where, as a 5-foot-4 inch sophomore, she gets a lot of minutes for the Patriots.
+READ: LeBolt: Julie Foudy offers an alternative for our childrens' soccer development
I watched her play against William & Mary and found myself dazzled. The young woman is perfectly balanced, perfectly smooth, and exceedingly coordinated when she runs, jumps, cuts and plays the ball. Your eyes fool you because you expect some inequality, but it isn't there. Connell's body has just filled in the gaps.
She tells me she has had to make some accommodations for weight room training with the team, working with the trainer to substitute bands for machines that require a matched set of limbs.
"Unfortunately, Ollier Disease doesn't get me out of doing push-ups," she jokes. No kidding. She does push-ups the best she can. She sort of tilts, she tells me. No big deal to her.
Brenna continually deflects the "special" label. When pressed, she says she has given passing thought to being a Paralympic competitor, but has never followed up. "I want to be a good soccer player for a soccer player, not a good soccer player for someone with a disability." And so she has. D1 good, and climbing.
+ READ: Synthetic turf cancer risk tiny compared to more sedentary lifestyle alternative
Her advice for other athletes with orthopedic limitations and/or challenges seeking to play sports at the most competitive levels?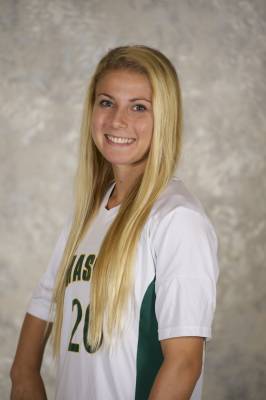 "I would say that you, as an individual, have to discover your own capabilities, regardless of what others tell you. I think another part of this process, though it is a difficult concept, is accepting what you are not capable of."
What can't you do? I have to ask.
"You can only be so good with the body you have. I'll never play for the national team and probably won't play soccer professionally," she says honestly, "Just like I'll never play basketball. I'm 5-foot-4!"
"I used to wonder if I could be better if I had two arms that were the same length. But soccer is about the feet. If I have limitations, it's not because of the arm, it's because I'm not good enough somewhere else."
Now that is quite refreshing to hear in today's youth sports culture, where every talented child is told she is destined for the big time. Brenna has every right to blame her body and her circumstances and has chosen not to. That may be at the root of her success: blaming what you can't control wastes time and energy. Brenna is all about getting down to business.
"All athletes need a thick skin," Brenna insists. "Everyone has challenges. My arm makes little difference." She admires her teammates who have come back from ACL surgery, some of whom have battled back after a second ACL repair. "How are they even running around?" Brenna says.
+READ: The Heading Arms Race: Is unilateral disarmament the answer?
Coach Drake anticipates more good things from this talented young woman, who tallied 1 goal and 4 assists in her inaugural season as a Patriot and has racked up 3 more assists so far this fall. She's fun to watch, going full-throttle every minute she's out on the pitch.
If you have a kid at home or a few on your team who like to make excuses or feel sorry for themselves or are just looking for reasons why they aren't reaching their potential, talk to them about athletes with disabilities.
Check out this video of "Futebol de 5" – soccer played by the blind – which is picking up steam in the USA. [+More information here]
It is amazing what the body can do when the mind and spirit are willing.
College Recruiting Commitment Tracker