Women's World Cup All-Stars: Sauerbrunn snub sinks what's left of FIFA's credibility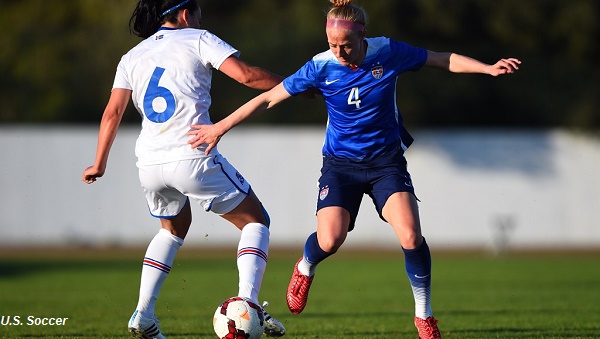 Congratulations to the 23 outstanding players named to FIFA's 2015 Women's World Cup All-Star team on Monday, a list released by the FIFA "Technical Study Group" officially charged with analyzing and documenting this summer's big event in Canada. All 23 are deserving, and all 23 left the Great White North with much to be proud of.
Lists like this – even the ones conceived by what we're led to believe is a world-class panel of experts –are imperfect by nature. But occasionally it only takes one oversight to implode the entire foundation upon which the entire exercise is constructed.
This is one of those occasions.
+READ: Five U.S. players named to FIFA Women's World Cup All-Star Squad
I believed it to be a grievous oversight when U.S. Women's National Team center back Becky Sauerbrunn was left off the FIFA shortlist for the tournament's Golden Ball (MVP) award, a gong that was eventually handed – with ample justification – to her goal-happy teammate Carli Lloyd.
So you can imagine how unimpressed I was when Sauerbrunn, the best defender in modern women's soccer and someone I consider a textbook role model for her position on par with icons like Paolo Maldini and Franz Beckenbauer, wasn't even on that All-Star list, a roster constructed to "mirror an official tournament list," in the words of FIFA's press release.
Veteran WoSo journalist Jeff Kassouf called the snub "egregious" and "ludicrous." Professional players expressed their disbelief via social media, calling it a "joke":
Not that either of them care in the slightest, and no disrespect to everyone included on the FIFA WWC All Star team…and not that (1/2)

— Bianca Henninger (@Beeyoncs) August 17, 2015
what FIFA says re: women's soccer is ever of too much relevance, but Becky Sauerbrunn & Erin McLeod left off that list can't be serious…

— Bianca Henninger (@Beeyoncs) August 17, 2015
Calm, calculating and communicative, Sauerbrunn served as the cerebrum of a USWNT defense that allowed a mere three goals in their seven-game march to the world title: The first arrived 27 minutes into their tournament-opening win over Australia, and the next wasn't conceded until the 27th minute of the Yanks' 5-2 cup final romp over Japan, by which time Lloyd's hat trick and Lauren Holiday's blistering volley had already built an insurmountable 4-0 lead.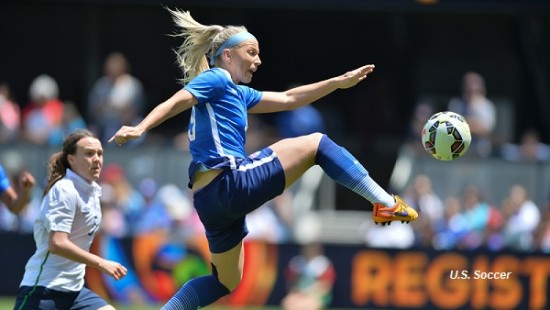 Sauerbrunn's center-back partner Julie Johnston was her younger, more swashbuckling foil and thus drew the eye more readily. Swooping into slide tackles, stepping up into midfield and serving up two assists, Johnston deserved her place on both the Golden Ball shortlist and the All-Star team.
But the manner in which FIFA's "experts" rated the USWNT's excellent back line (left back Meghan Klingenberg was also an All-Star, while her opposite number Ali Krieger was not) exposes the shallow view soccer's governing body continually takes on the women's game.
Vicente Del Bosque, the manager of the Spanish men's national team and the architect of La Furia Roja's 2010 World Cup and 2012 European Championship wins, once handed Spain and FC Barcelona's influential holding midfielder Sergio Busquets an unforgettable compliment:
"You watch the game, and you don't see Busquets. You watch Busquets, and you see the whole game."
Sauerbrunn's role in her team is different from Busquets', but the intellect, incision and influence is very similar. Both provide the platform for others to shine – and in many ways, the more effectively they do so, the harder it is for the untrained eye to see it.
+READ: FC Kansas City's Becky Sauerbrunn named 2014 NWSL Defender of the Year
Sauerbrunn's statistics, after all, aren't dazzling on paper, or on the glossy FIFA website, for that matter. Like Johnston, she played every single minute of the WWC. But she didn't notch any goals or assists, or even a single shot – heck, she didn't even block any of her opponents' shots! What kind of elite defender is that?!?
The answer? A historically good one, as those of us who marveled at the enduring stability and rigidity of the USWNT defense in Canada saw. Sauerbrunn's intelligence, positioning and nearly flawless decision-making allowed her teammates to play without fear, and provided a crucial margin for error as the Yanks' supposedly unstoppable attack sputtered for the majority of the tournament.
All this was not readily apparent on the stats sheet, but it was obvious to anyone with a basic foundation of soccer knowledge. So how on earth did the Technical Study Group miss it?
But upon further consideration, I've realized: How much expertise can we really expect from FIFA? This is, after all, the organization that routinely sleepwalks through even the most pivotal facets of women's soccer.
FIFA insisted on using artificial turf for the entirety of this year's WWC, even after a large block of the best players in the world complained bitterly and took legal action against it.
+READ: LeBolt: Ten lessons from the women of the World Cup
Handing out votes to apparatchiks who don't even pretend to hold the slightest interest in the women's game, FIFA gave its World Player of the Year award to Brazilian star Marta for five years in a row from 2006-10. And who can forget USWNT star Abby Wambach's story about FIFA honcho Sepp Blatter mistaking her wife, Sarah Huffman, for the aforementioned Marta at the award gala two years ago?
Blatter and his fellow stuffed shirts in Zurich have proven time and again that, in the words of Sports Illustrated's Grant Wahl, "Sexism has long been part of the fundamental culture at the top of FIFA."
Here's what Wahl wrote last year:
At a time when female political leaders are commonplace around the world—three of the four semifinalists at this year's men's World Cup had female heads of government—FIFA has had almost no female representation on any part of its executive level. Of the nearly 200 people who have been elected to FIFA's executive committee over the last century, all of them were men until Burundi's Lydia Nsekera became the first (and still only) elected woman in 2013 (There are also two unelected female ExCo reps, Australia's Moya Dodd and Turks and Caicos' Sonia Bien Aime, who are "co-opted members for special tasks.")​.
Maybe that Technical Study Group will finish their homework properly next time. But it probably won't matter as long as their parent organization remains a profoundly backward, bigoted body.
College Recruiting Commitment Tracker