Dure: U.S. men might not get any better. Deal with it

In the wake of a 4-0 drubbing at the hands of Argentina, it's clear the U.S. men's program is nowhere near World Cup champion level.
So what can we do about it?
Nothing, really.
What should we do about it?
Not much.
We are who we are. We're a big, diverse country. No centralized German-style or Icelandic-style program is going to fix everything. Promotion/relegation won't fix anything at all. China has a billion people, economic power and pro/rel, and it has "centralization" down pat, but World Cups often go on without them. Russia persists in pro/rel and a new autumn-to-spring league schedule (albeit with a long winter break), and it won nothing but the occasional street fight at Euro 2016.
We have plenty of pundits pointing fingers at Major League Soccer, conveniently overlooking the capitulation of the all-Euro defense against Argentina. The rigors of a relegation battle in England didn't magically improve DeAndre Yedlin's defense, nor did the chase for a Europa Cup berth make John Brooks keep track of Argentine attackers. Perhaps Brad Guzan got a lot of practice playing behind an Aston Villa defense that was mailing it in from January to May, but he also endured similar barrages at Chivas USA back in the day.
The MLS structure, with playoffs instead of relegation, is inherently neither good nor bad. It has pros and cons, just as a pro/rel system has. The prime con: A team cruising toward the playoffs has little incentive to press for a higher place, though a tweak to the playoff system could solve that problem. The prime pro: A wayward team with no shot at the playoffs can retool with younger players instead of gritting out results with grizzled veterans.
With a national team drawn from leagues all over the world, MLS isn't a viable issue, anyway. If Jurgen Klinsmann felt his players based in Europe and Mexico were inherently better, then Michael Bradley and Kyle Beckerman wouldn't be on the field.
The issues run far deeper, of course, mostly down to youth soccer. And again, this is where we find simplistic solutions, often peddled by people with a financial stake in those solutions.
Many of the suggestions are contradictory, anyway. On one hand, we say we need coaches to work with kids from age 4 to teach proper technique. On the other hand, we say teams like Argentina learned everything from street soccer. Well? Which is it?
+ READ: Dure: No full-time travel before age 12? Momentum is growing
We're so serious about youth soccer now. Everything is an "academy," from the Development Academy to the style of training that puts four Under-9 teams on the same field. And yet we still haven't seen a greater conglomeration of talent in any one place than we had when John Harkes, Tab Ramos and Tony Meola all played youth soccer together in Kearny, New Jersey.
So why aren't we trying to duplicate the Kearny experience nationwide? Because it's impossible. The USA is simply too diverse to have a "one size fits all" mentality.
That's not to say youth soccer can't be improved at all. We can borrow certain aspects of German and Icelandic success, such as opening up coaching education. Reducing cost and travel time to lower the barriers of entry would also help. The more players we have getting a quality experience, the better our soccer culture and our player pool will be.
Certainly, what we're doing these days has the opposite effect. We split into "rec" and "travel" around age 8. We give rec players few opportunities to improve. We demand more time, money and counterproductive single-sport specialization from travel players.
We could launch the best-researched, best-intentioned national soccer revamp imaginable, and it might lower the USA's odds of winning the World Cup in the next 20 years from 50-1 to 40-1. Maybe. In the meantime, it could very easily make youth soccer such a miserable experience that kids beg their parents to enroll them in football, lacrosse or Ultimate. (Yes, "ultimate frisbee" is a pro sport now, and it's pretty cool.)
And those kids won't be interested in watching soccer. Why should they?
Frankly, our fans are every bit as self-destructively elitist as our pundits and our youth organizations.
+ READ: Dure: NSCAA Convention shows soccer still needs to work on sales pitch
Being a soccer fan in this country has always had a smug outsider-ish feel to it. We sung the praises of Manchester United or the Rochester Rhinos as an act of rebellion against U.S. sports culture. When MLS came in and entrenched itself, it threatened our identity of being different. That's why you see fans insisting they'd rather watch Udinese or Detroit City FC than watch Giovinco and Pirlo face off in front of 25,000 fans in Yankee Stadium.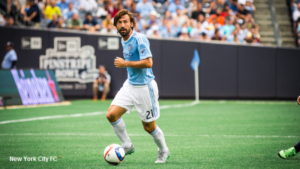 The prevailing attitude: If we're not smarter and hipper than you, what's the point? We could build the English soccer pyramid in the USA and win the World Cup, and some current soccer fans would simply have to move on to rugby or cricket just to be different.
Here's an alternate plan: Let's actually do what the rest of the world does. Let's enjoy soccer. Watch it. Play it. Gripe about it.
Then quit pretending that any of us can turn the USA into world-beaters with a few smug tweets. Only a handful of countries — Germany, Brazil, Italy, Argentina — are always good. The Netherlands are usually good, and they're sitting out a 24-team Euro right now. Spain underachieved for decades before breaking through. Colombia has had generations of excellent players, with only one World Cup quarterfinal appearance (and a Copa America trophy with several asterisks) to show for it.
+READ: USMNT vs. Argentina a crossroads for U.S. Soccer's Klinsmann experiment
And we simply cannot wave a magic wand and turn the USA into any of those countries. They have few common threads between them from an organizational standpoint, anyway. What they have in common is a love of the game.
If we dial it back a bit and enjoy soccer instead of trying to fix it like an inefficient government program or corrosive societal attitude, maybe we'll get a golden generation. Maybe our youth clubs will quit driving 400 miles for games and actually test themselves against their neighbors. Maybe that'll lower the cost of entry. Maybe it'll expose our coaches and players to different styles rather than having a suburban league, an exurban league, a regional "elite" league and an urban Hispanic league. Maybe that'll turn the USA's melting pot into an advantage rather than a disadvantage.
Or maybe not.
But if the self-appointed Twitter geniuses would just shut up a bit, maybe we'll have a unique, interesting soccer culture we can enjoy. Even if Argentina just beats us 3-0 next time, and it takes a little less beer to drown our sorrows.
—
Beau Dure's book, Single-Digit Soccer: Keeping Sanity in the Earliest Ages of the Beautiful Game, is now available in paperback at Amazon and in electronic form at Amazon, Barnes and Noble, and other online booksellers. Read more about it at singledigitsoccer.com
College Recruiting Commitment Tracker