Dure: Remembering the first women's soccer Olympic final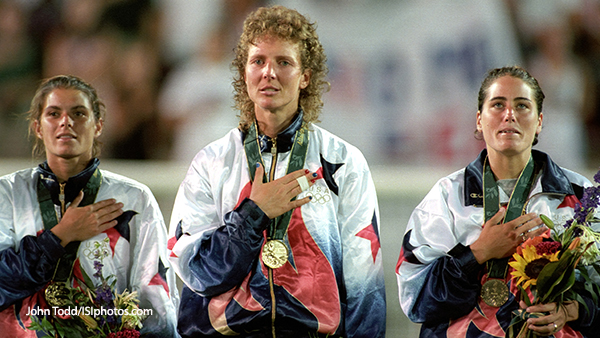 I grew up less than two miles from Sanford Stadium. On fall afternoons, my family would sometimes be in the backyard listening to Georgia football games. A few seconds after the legendary Larry Munson's excited call of a great Bulldog play, we'd hear the roar from the crowd. Georgia football and Sanford Stadium are simply the dominant features in Athens.
The Athens YMCA would take its youth football teams to play in the giant stadium before Georgia games. We didn't have many people in the stands an hour or so before game time, but just looking up and seeing row after row was intimidating. All I remember from my game was that I, unlike Carla Overbeck or Joy Fawcett, missed a tackle.
So when the Olympics introduced women's soccer, a sport I had been trying to follow through Soccer America in those days of no internet and rare TV broadcasts, and playing the final on Aug. 1 in Sanford Stadium, there was no way I could miss it. I wasn't yet writing about soccer, but when given a chance to see the sport of my adult life in the stadium of my childhood, I had to be there.
+READ: USWNT defeats New Zealand 2-0 in Olympic opener
Actually, I was supposed to be there the day before, when I would've seen the epic Nigeria-Brazil men's game. In fact, due to some ticketing mishap, I had 23 tickets for that game, though only two of us were planning to attend. We couldn't make it, though. And I'm not sure I ever got refunded for the other 21 tickets.
Meanwhile, the U.S. women played their group-stage games in Florida before heading up to Georgia for the semifinals, where Shannon MacMillan's golden goal against Norway avenged a loss at the same stage the year before in the World Cup.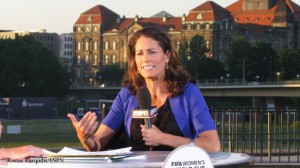 "I didn't quite understand how incredibly awesome it was to be playing in your home country," recalled Julie Foudy from the airport as she awaited a flight to Rio, where the longtime U.S. midfielder will be working for ESPN. "Anywhere you walked, when people found out you were on the Olympic team, they'd start singing the national anthem at you or saying 'USA!' That was pretty cool."
I made sure to get there in plenty of time to see the bronze-medal game between Brazil and Norway, but all I recall of that was that it was deathly hot and that Brazil subbed in a player named Michael Jackson.
The main event was breathtaking in scope. It wasn't quite a sellout, but 76,489 is quite a crowd. And they were ready to cheer.
The 1996 Olympics soccer matches were held in Sanford Stadium. The hedges had to be removed for the field. pic.twitter.com/OHi65IFhLd

— Old Georgia Pics (@OldGeorgiaPics) March 23, 2015
And it was MacMillan again who gave the USA the lead.
"Mac had scored the winner against Norway in the semifinals," Foudy said. "So Mac is there again and scores another beauty. She went sliding in [to celebrate], and we all came sliding in with her. I remember, too, the crowd just going nuts. It was complete chaos."
I was sitting about 30 rows up, even with the top of the 18-yard box in the horseshoe end of the stadium. That gave me a perfect view of the tying goal — I could see Briana Scurry's face as she saw Sun Wen's chip sail over her head.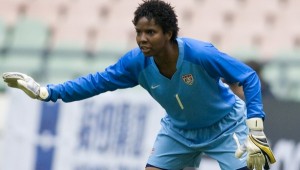 When the teams changed ends in the second half, I had a perfect seat to see the U.S. offense at work. I saw Joy Fawcett break free with the ball up the far side of the field, and then my eyes caught Tiffeny Milbrett racing through the middle.
"She's open! She's open!" I was yelling.
Fawcett must have heard me. Perfect pass, composed finish, and it's 2-1.
The crowd may not have known much about soccer, but Mia Hamm was already a notable name, even if she was never comfortable as the team's focal point. You can often see it in her body language in interviews, especially in the early days. She's polite and often thoughtful, but she's tense.
And I think the general public didn't quite know what to make of her. She had the rep and the records, but MacMillan and Milbrett scored the big goals in the Games.
But by game's end, the crowd had seen there was more to her game than goals. She was gutting it out on a bad ankle, and it's fair to say she suffered a few fouls. Tony DiCicco finally had to pull her out of the game late, and she got the ovation she deserved.
As good as China was in the 1990s, the USA had the game under control. It was all over bar the shouting of the national anthem.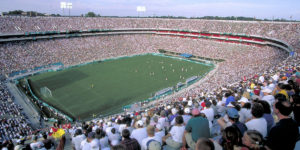 "We were standing up there, screaming, shouting the national anthem," Foudy said. "It was the first time I realized the gold medalists could sing, so we just belted it. No boom mikes to pick it up. That moment on the podium is just the best because you've worked so hard."
It took forever to get out of there. I was driving with a handicapped permit because my traveling companion was undergoing chemotherapy. (She kicked cancer's butt. Strong woman.) Getting out of the parking lot close to the stadium was an exercise in patience. We had planned to get partway up the road back to Greensboro, where I lived at the time, and stop for a late meal, but instead, we took advantage of my vast expertise in Athens fast-food places to swing by a place a couple of miles from the stadium.
The line was long, and it somehow included a couple of people on foot.
It wasn't an easy trip. But it was unforgettable. And no one got an early jump on traffic.
"What I remember most was the fun we had, the excitement shared and the awe when we got to the final stadium on game day and how big and awesome the crowd was," said Brandi Chastain. "And no one left for the medal ceremony."
—
Beau Dure is a longtime sports writer in Northern Virginia who has written three books on soccer: Long-Range Goals (a history of Major League Soccer), Enduring Spirit (a chronicle of the Washington Spirit's first season) and Single-Digit Soccer (a guide and call to action for youth soccer).
College Recruiting Commitment Tracker