Dure: Can U.S. Women ditch "Whack it to Wambach" style?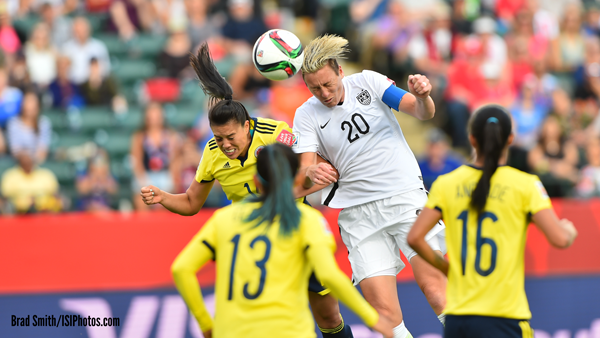 "This country, I've always said, is too large, too different to have one style of play."
So said Bruce Arena when his protege Claudio Reyna unveiled the national soccer curriculum in 2011.
And as national team coach, Arena's "style" was fluid. In the most famous win of his career, a 2-0 win over Mexico that propelled the USA to the 2002 World Cup quarterfinals, Arena abruptly shifted the team into a 3-5-2 formation, drafted in three well-rested players and unleashed a counterattack that played to Landon Donovan's strengths.
+READ:  Dure: Women's World Cup shows it's all about finishing
So when we look at a disappointing but still contending U.S. women's team in the World Cup, we have two questions to ask:
Long-term: Does the USA's general style of play need to change, as we've been promised for several years?
Short-term: Can coach Jill Ellis get this team to change it up on the fly as the games dictate?
In other words: When will we finally see the death of the "Whack it to Wambach" style?
The USA's inability to adapt first reared its head in 2003, when Germany exploited the predictable U.S. attack en route to a semifinal victory.
"Germany was more sophisticated than our game at that point, tactically speaking," Kate Markgraf told Julie Foudy. "They figured out that if they just dropped back defensively enough, we would run out of options."
Ironically, the greatest success of the Pia Sundhage era came when Sundhage was forced to change. Abby Wambach suffered a broken leg a month before the 2008 Olympics. Sundhage pushed Angela Hucles from backup midfielder to starting forward, and she scored four goals, including two in the semifinal against Japan, as the USA won gold.
After that, the team once again switched a Wambach-focused attack. And for all the fuss made over Wambach's age and recent drop in productivity against top teams, let's not diminish the dominant skills that put Wambach in that position. Her goalscoring record is enough, but there's more.
Even now, she has a unique ability to use her powerful head with finesse, taking a hard-driven 50-yard pass and flicking it with precision into the path of a teammate on the run.
The trouble, as everyone but Ellis seems to agree, is that Wambach is not a 90-minute player in this tournament. Not at this age. Not on this turf.
And the USA has shown no capacity to adapt. See the observation in Joe Dougherty's column: "Instead of preparing for a given opponent, the U.S. is going with the same approach each game." Quite a change from Arena changing everything in 2002.
+DOUGHERTY: USWNT clearly no longer the world's best
Even in the game in which Wambach didn't start, the USA kept pinging long balls toward a nonexistent towering target forward.
"The USWNT have stuck to playing "Abby Ball" without Wambach on the field," concluded analytics guru Devin Pleuler, who has the stats to back it up.
In the short term, it might be too late. Ellis, Wambach and company may be stuck with a predictable offense. They'll have to hope the defense holds as the competition improves and that they can either sneak in a moment of individual brilliance from Megan Rapinoe, Alex Morgan or clutch player Carli Lloyd. (Or that Hope Solo can slam the door in penalty kicks.)
In the long term, the USA needs players who can adapt to any situation.
It's not fair to say the USA needs to switch everything to play like FC Barcelona's men or even mimic the passing wizardry of Japan's women. If the USA has another Abby Wambach in the pipeline, they'd be shooting themselves in the foot if they failed to take advantage of those skills.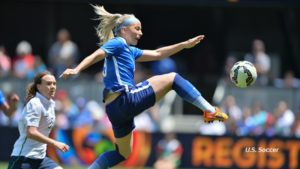 The USA needs well-rounded players. Midfielders who can win the ball, possess it and pass it — long and short. Defenders who have the tactical acumen and recovery ability of a Becky Sauerbrunn or Julie Johnston as well as the ability to find a counterattacker (think Crystal Dunn in the long term) ready to charge at the opposing goal. Forwards who can connect with each other.
+READ: Dure: USWNT beat Australia with fitness, and why not?
Win or lose, if this World Cup teaches us one thing, it's that the USA cannot simply impose its will on an opponent. The team has been fortunate thus far, and a lot of other teams look down — Sweden never really looked like Sweden, Brazil was anemic, Japan is weak at the back, and France and Germany will have to beat each other up for the right to face the USA (or China) in the semifinals.
The USA's will is wondrous. But the worst lesson to take from this World Cup would be to clutch a winner's medal, yell at the "haters" and insist nothing is broken. It most certainly is.
College Recruiting Commitment Tracker