COACHING: Lessons learned from U12 trip to play in Europe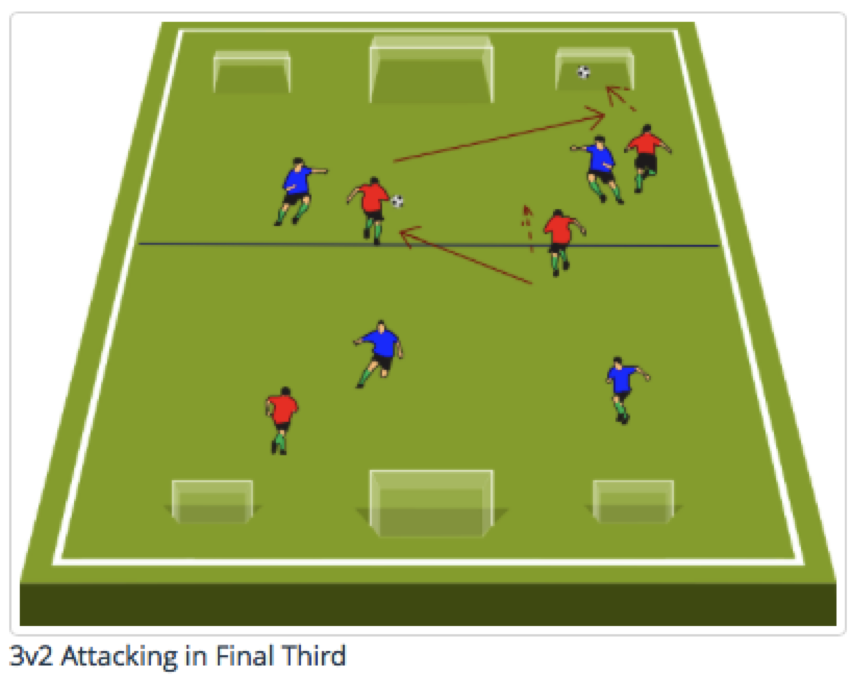 Editor's Note: This is the latest in our series of youth soccer coaching advice and practice sessions provided by ClubSportal. Read more about them at the bottom of this post or visit www.club-sportal.com for more information.
—
Last year I had the chance to take two of our club's U12 boys teams to play in tournaments in Europe, and I want to share some of my experiences, as well as some of what I learned about the difference in the level of play and competition between European youth academy teams such as FC Porto, Liverpool, Betis, Real San Sebastian.
For some background, the teams I took to Europe consisted of players born in 2003 from the Washington, DC area. For our first tournament, the team was a mix of competitive players from four different clubs, and the second tournament was our club's team that was a State Cup contender in VA.
The first tournament included some of the top academies from Europe, such as Barcelona, Inter Milan, Seville, Real Betis, Liverpool and other big name clubs. Known as Mundialito (www.mundialito.org), it is considered to be one of the top youth tournaments in Europe for hopefully obvious reasons. Our top team finished the group stage with a 2-2 record, but then lost by 10 goals in the first round of playoffs to Real Betis.
The second tournament was the Donosti Cup (www.donosticup.com), an event at an a lower level than Mundialito, and also featuring many American teams each summer. It also featured strong teams form local pro sides San-Sebastian and Bilbao. Our top team finished the group stage with 4-0 record, beat the San Diego Surf in the first round of the playoffs, and lost to the top San-Sebastian team 0-2 in a competitive game.
Hopefully, the caliber of teams and the corresponding results give you a sense of what the competition was like at each of the tournaments.
Now my thoughts on what I saw:
There were basically three different levels of play – schools (3rd tier), clubs (2nd tier), and academies such as FC Porto, Sporting Lisbon, Inter Milan and others (1st tier). Our teams were very successful against 3rd and 2nd tier teams, but there was a big gap between our teams and the top academies in the world. Why couldn't we compete against 1st tier Academies?
Our team was a "club" team. It was a very successful one, but still a club team that had weaknesses in certain positions.
More importantly, even at ages 10, 11, and 12, the game in Europe is about:

Ball movement o Movement without the ball
'Natural' understanding of where to move
Understanding when to dribble (take space) and when to release the ball
Speed of play
Simplicity of the game – no super-flashy moves (there isn't time), but a simple approach of taking the available space, releasing the ball, and providing immediate support through movement without the ball
Players understanding their tactical roles and the positions they play
Balanced teams that move the ball very well (Academy teams)
Knowing exactly how to play – we've seen a lot of "patterns" that probably result from tactical superiority
Talking to many Academy coaches on the trip, I got the impression that everything in professional academies is focused on creating an environment where players develop a "quickness of thinking," decision making, and an understanding of the game.
Dribbling moves and creativity come more "within the game" when there is an opportunity to do so, rather than being "drilled" on a regular basis.
Most of the training sessions are spent playing games where variables and conditions are set up to enforce a particular element of the game. These are done in small-sided environments encourage kids to play as a team (or a small group).
Conditions are set up in a way that players learn and instinctively understand the tactical aspects of the game from an early age.
I am not talking about 11v11 tactics or pressure-cover-balance tactics, but rather 2-4 player movement, creating space, body shape to receive the ball, and play "within the team."
Coaches in Europe are less focused on a particular "topic," like 1v1 attacking or 2v2 defending, but rather on teaching the "natural" game elements (or the game as a "whole"), with specific objectives and variables for each particular activity.
In all that we learned, the following training activity I think sums up an example of how these top academies emphasize the 'teaching the game within the game' approach, and putting the particular conditions in place to highlight certain elements to focus on while playing.
It is a continuous transitional 3v2 game in the offensive half that develops quick transition, offensive abilities, teaches tactical numerical advantage and enforces players to move without the ball to support the attack and score one touch in one of three available goals.
3v2 Attacking in Offensive Half – Score One Touch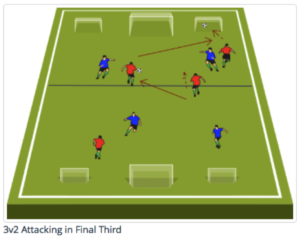 Summary:
Two Teams of 4 players. Field is split into 2 halves. Team attacking can use a support of a third player and should try to score one touch into one of the three goals.
Game gets played 3 touch max and requires a constant movement without the ball.
Ages:
9 – 12
Objective:
Attacking, Quick ball movement in transition, 1v1, 2v2, Switching the Field, Creating the Angles of Support, utilizing the numerical advantage.
Description:
Teams of 4 players
3 goals for teams to score on
Field is split into 2 halves
Player that played the ball to the offensive half has to support the attack creating a 3v2 in the attacking half.
Players to combine and finish on one of the goals – one touch.
Coaching Points:
Realize the advantage of 3v2 – utilize the depth and width of the field
Quick transition from defense to attack and attack to defense
Take the space and commit the defender before releasing the ball
Disguise the pass by switching the field
Variations:
Limit number of touches (play three or two touch game) – requires a lot of movement without the ball
###
About ClubSportal: ClubSportal – the Ultimate platform to ensure consistency and continuity of training, player development, monitoring and progression in clubs, academies, teams and associations. It provides tools to create, maintain, share and reuse Curriculums, Training Cycles, Complete Season Plans, Evaluations and Assessments. Tools for Video Analysis, Parents Education, Training Content Management, Club Communications, Events Scheduling and other. Visit www.club-sportal.com for more information.
College Recruiting Commitment Tracker