Chapter 26: ADAPT – ROOKIE: Surviving Your Freshman Year of College Soccer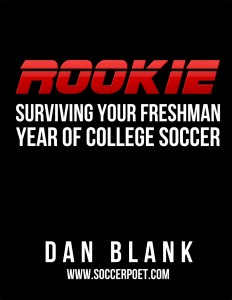 Preseason isn't necessarily just about the best players coming into camp; it's also about the players who adapt best to the new demands of the college game. Many high-profile recruits have been leapfrogged by a lesser-known player who did a better job of adjusting her game to meet the needs of her new team and coach.
Be prepared to change your position. You may have been a forward your entire life. Your college coach may ask you to play outside back. If that's the case, jump at the chance. You'll be much happier playing as an outside back than watching as a forward. Your job is to get yourself on the field.
A new coach means new rules and new expectations. Don't hang onto your old ideals at the expense of your playing time. Decide to be flexible and willing to adapt to your new environment. The sooner you adapt to these new expectations, the sooner you'll get on the field.
Your Best Self << Previous Chapter | Next Chapter >> The Social Contract
[table "" not found /]


College Recruiting Commitment Tracker