Chapter 2: GOALS – ROOKIE Surviving Your Freshman Year of College Soccer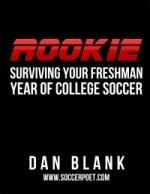 As you define and design your legacy, it's only natural that you will set some goals for yourself. Fantastic! You should have athletic goals and academic goals and goals for whatever else inspires you. Speaking from a strictly soccer standpoint, let me give you a few worthwhile goals for your freshman year. You can tweak them however you like and you are welcome to add others, but these will give you a running start.
Make the travel squad for the first away trip.
A little bit later you'll read about the tiers of a college soccer team, but for now let's just say that if you want to get in the game, you first have to go to the game. Being in the travel squad gets you in the hunt.
Get on the field.
Playing college soccer is a lot more fun than watching college soccer. Do what you need to do to get on the field. It may mean changing the way you play. It may mean changing your position. Stay flexible and do what you need to do to see the field.
Be a great teammate.
Be the type of teammate that you would like to have. Help your teammates before they ask. Do more than your fair share of the things that aren't as much fun.
Earn the respect of your coaches.
These are the folks who decide if and how much you'll play. Show them that you are someone who deserves to be taken seriously.
If you can reach these goals, then there's a pretty good chance that you'll consider your rookie season a success. If you win yourself a starting position right out of the gate, that's even better!
Legacy << Previous Chapter | Next Chapter >> The Bubble
[table "" not found /]


College Recruiting Commitment Tracker