Canceling a youth soccer tournament is no easy decision

Back in my tournament director days, I would watch the Weather Channel as intensely as viewers today watch "House of Cards" or "Say Yes to the Dress." Ok, maybe not the latter. Nothing made life more miserable for me than a storm-filled Memorial Day weekend.
So for all of you early March tournament directors, I feel your pain.
Take Jerry Ellison. Of the many people watching Jim Cantore and the Weather Channel crew reporting on Winter Storm Thor, few are doing so with as much intensity as Ellison, the director of the Arlington Spring Invitational Soccer Tournament, a two-weekend event for boys and girls U-9 to U-14 teams in Arlington, Virginia.
On Thursday afternoon, Ellison and his tournament committee announced that this weekend's girls tournament was canceled.
+READ: Latest winter blast causes another round of soccer tournament cancellations
The decision marks the first time the tournament has been canceled in the club's history. Last weekend's boys tournament was adjusted, but the event was held through the wet and chilly conditions.
Ellison said he and his tournament staff closely followed this week's weather reports and developed several scenarios, depending on how much snow fell in the Arlington area. From creating a variety of schedules to organizing contractors to clear the tournament's synthetic fields, Ellison said his staff aimed to be prepared for just about any scenario.
And because the tournament's games are played entirely on turf fields, Ellison said the tournament had contractors on standby to shovel and plow as many as seven fields. He said Arlington County officials have been especially supportive in the club's efforts to clear the fields of snow, as some jurisdictions prohibit shoveling equipment on fields.
"They've been great working with us," Ellison said of county officials.
In the end, though, it didn't matter.
"It wasn't an easy decision, and we didn't make it without careful consideration of many factors, with the number one being safety of those who would be traveling," he said.
+READ: How to be intentional with your college commitment
One of the reasons they delayed the decision, he said, is this weekend's forecast. Saturday's temperatures are expected to reach the low 40s with sunshine, while Sunday is expected to be mostly sunny with temperatures as high as 49 degrees.
But the amount of snow falling by noon on Thursday ultimately made this weekend's weather irrelevant.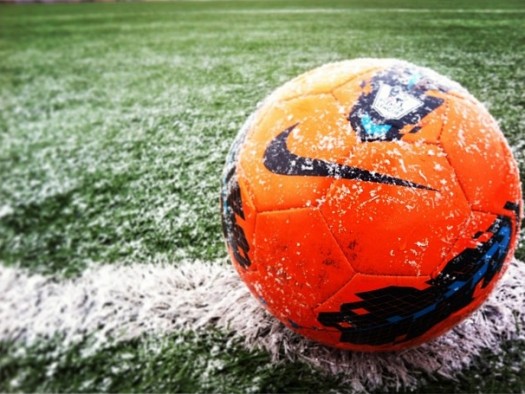 Among the options Ellison said the tournament staff had considered:
Cancel Friday evening games and continue with Saturday and Sunday games only
Continue only with the U-12 through U-14 age groups
Hosting the tournament for local teams only, acknowledging the safety concerns for visiting teams traveling from outside the Washington area
Eventually, Ellison said the most important factor for opting to cancel the tournament is the safety of the players and their families.
+READ: 'ROOKIE: Surviving Your Freshman Year of College Soccer' Chapters 1-4
"The question we always keep in the back of our minds is, 'Is it going to be safe for people coming in and can we put on a good tournament?' "
Like most tournaments, the Arlington Invitational uses its revenue to fund club activities. Ellison said the tournament helps pay for his club's scholarship program for underserved players in the Arlington community.
But while that revenue is important, safety is paramount, he said.
"At no time have we considered what it costs us," said Ellison, who in addition to serving as tournament director is also a club coach. "We don't talk about anything related to money. It's 100 percent safety and doing the right thing so people will trust that we will take care of them."
College Recruiting Commitment Tracker